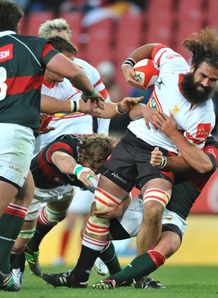 The Golden Lions maintained their position at the Currie Cup summit with a 53-36 victory over the Leopards at Ellis Park on Saturday.
Scores were level at 36-all before a late blitz of 17 points in the final seven minutes of the game saw the home side claim a full haul of points, while the Leopards bagged a four-try bonus as reward for their brave effort in the highly entertaining clash.
The Lions were expected to have little trouble against the team occupying last place on the Currie Cup log, and John Mitchell's side started strongly with three early tries seeing them into a 29-10 lead shortly before half-time - Jano Vermaak, Dylan des Fountain and Deon van Rensburg all dotting down.
Wynand Willis, however, crashed over a minute before the break to give the visitors renewed hope with a 29-15 scoreline at the interval.
A second try for Philip de Wet five minutes into the second period brought the Leopards to within seven points, but the Lions re-established their dominance thanks to Wikus van Heerden's who dotted down in the 57th minute.
Then, in a frantic period of play, the Leopards scored two tries in the space of five minutes to secure a bonus point, while Wesley Dunlop's conversions brought the scores level with just 13 minutes left on the clock.
Having let the Leopards back into the match, the Lions then slammed the door shut in the final exchanges thanks to tries from tighthead prop Jacobie Adriaanse and replacement flank Michael Rhodes. Burton Francis would finish with five conversions as the Lions outscored their neighbours by eight tries to four.