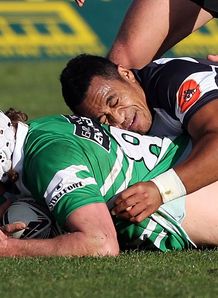 With the ITM Cup split into two divisions this year, we take a look at Saturday's results from the 'Championship'.
Manawatu got off to a winning start in 2011 after seeing off Hawke's Bay 32-23 in their tournament opener in Palmerston North.
Turbos number eight Hamish Gosling scored the match-clinching try in the 78th minute following a see-saw battle in the second half, with the hosts leading just 11-9 at half-time.
Meanwhile, Northland outscored Tasman three tries to nill in their 19-9 win in Whangarei.
The Makos were restricted to playing catch-up rugby throughout the match after the Taniwha stormed into a 12-0 lead early on.
Tasman's Andrew Goodman kept Tasman within touching distance with a pair of penalties but still trailed 12-6 at half-time.
Northland pressed on in the second half and came up just short of securing a bonus point win.
The scorers:
Manawatu v Hawke's Bay
For Manawatu:
Tries: Smith, Cama, Stone, Gosling
Cons: Cruden 3
Pens: Cruden 2
For Hawke's Bay:
Tries: McLeod, Sinoti
Cons: Horrell 2
Pens: Horrell 3
Northland v Tasman
For Northland:
Tries: Faleafa, Bancroft 2
Cons: Munro 2
For Tasman:
Pens: Goodman 3