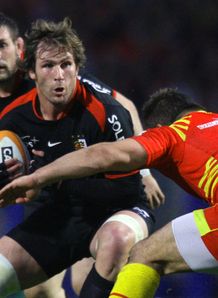 Related links
Also see
Top 14 leaders Toulouse will look to halt their recent slump as they travel to in-form Perpignan before Clermont host Biarritz.
Round 23 offers up a number of heavyweight clashed as Stade Français head to Toulon but the most important match of the weekend could be in Brive, the scene of a do-or-die relegation battle as La Rochelle fight for their top-flight lives.
With just four rounds left of the regular season, the gate is fast closing on the play-offs but nine clubs are still in the race for six places.
Elsewhere, Racing Métro will be eyeing the championship lead when they visit Bayonne while Castres and Montpellier could take a step closer to the play-offs in Agen and Bourgoin respectively.
Fixtures:
Friday, April 1
Perpignan v Toulouse
Saturday, April 2
Bayonne v Racing Métro
Toulon v Stade Français
Brive v La Rochelle
Bourgoin v Montpellier
Clermont v Biarritz
Agen v Castres
Standings:
1 Toulouse 69
2 Racing Métro 68
3 Castres 63
4 Biarritz 62
5 Montpellier 61
6 Clermont 58
7 Perpignan 58
8 Toulon 56
9 Bayonne 54
10 Stade Français 49
11 Agen 38
12 Brive 37
13 La Rochelle 33
14 Bourgoin 5
________________________________________________________________________
Previews:
USA Perpignan v Stade Toulousain
Stade Aimé Giral, Perpignan
It's the clash of the weekend as two Heineken Cup quarter-finalists in contrasting form gear up for next week's all-French showdowns.
Coming off the back of five consecutive wins, Perpignan are in great nick ahead of their European clash with Toulon in Barcelona. The Catalans were struggling in the bottom half of the standings a few weeks ago but have made a remarkable comeback and are very much still in race for the play-offs.
Toulouse on the other hand have had a very poor build up to next Sunday's clash with Biarritz. The European champions could only scrape past strugglers Brive at home before being completely outplayed in the drubbing at the hands of Racing last week.
With skipper Thierry Dusautoir out for three weeks, Byron Kelleher still absent and manager Guy Novès deciding to rest internationals Vincent Clerc, Maxime Médard and William Servat, Toulouse will arrive in Catalogne with a below-strength squad.
Good news however is the return from injury of Pumas lock Patricio Albacete and Fijian genius/problem child Rupeni Caucaunibuca.
For the hosts, Perry Freshwater is injured while Grégory Le Corvec and David Marty are suspended.
Perpignan winger Julien Candelon said joy at his team's bonus-point victory over La Rochelle last week did not last long.
"It's not a relief, it's short-lived happiness," he said.
"A relief is when a goal is achieved and ours is to finish in the top six.
"We'll go into each match like a knock-out game," Candelon said of Perpignan's run-in, which sees them playing direct rivals Racing-Metro, Toulon and Castres after Toulouse.
Previous result: Toulouse won 38-29 at home
Prediction: Considering Perpignan's form and Toulouse's team news, you have to back the hosts. Perpignan by eight points
Kick-off: 20.45 (19.45 GMT)
________________________________________________________________________
Aviron Bayonnais v Racing-Métro 92
Stade Jean Dauger, Bayonne
With four wins in their last five starts, including last week's demolition of leaders Toulouse, Racing-Métro are clearly a team with momentum.
Another positive result could well see les Ciel et Blanc take the championship lead, but their hosts have plenty to play for.
Bayonne's play-off hopes are hanging by a thread after losing the Basque derby. Given their remaining fixtures, victory is a non-negtoiable but coach Christian Gajan remains upbeat.
"I'm not worried because it was the worst account of ourselves we'd given since the start of the season," he said of the loss to Biarritz.
"I know my players are competitors, that they have a great spirit and that they can rebound."
In the knowledge that they'll have next week off, Racing have named all their big guns including Six Nations Player of the Tournament Andrea Masi at full-back but winger Benjamin Fall is also set to miss the next month through injury.
Former Stormer Joe Pietersen starts at full-back for Bayonne, who welcome back Aretz Iguiniz from suspension.
Previous result: Racing won 15-9 at home
Prediction: It'll be close but Racing are on a roll. Racing Metro by a point or two
Kick-off: 14.30 (13.30 GMT)
________________________________________________________________________
RC Toulon v Stade Français
Stade Felix Mayol, Toulon
Like Bayonne, Toulon have no room for error. Last week's defat in Castres has left RCT trailing the pack in the play-offs race. Another defeat and it'll be all over.
Club president Mourad Boudjellal has not been mincing his words this week, and has told his splayers in no uncertain terms that it's time to take responsibility and live up to their lofty salaries.
For Stade Français, the play-offs are a lost cause and their focuss is on preparing for next week's Amlin Challenge Cup quarter-final.
The news in Paris this week has centred (excuse the pun) on Mathieu Bastareaud who is rumours to be on his way to Toulon.
Gevin Henson will start at inside centre for Toulon on debut with Felipe Contepomi set to ride the bench.
Previous result: Stade Français won 22-15 at home
Prediction: Based on motivation levels, there can only be one winner: Toulon by ten points
Kick-off:14.30 (13.30 GMT)
________________________________________________________________________
CA Brive Corrèze v Stade Rochelais Atlantique
Stade Amédée Domenech, Brive
Le match de la peur is essentially a final for La Rochelle as defeat will could very well equal relegation.
Thanks to their bonus-point win over Borugoin last week, Brive have a four-point head start in the scramble to avoid the drop. Four (or five) more will surely be too much for La Rochelle to overhaul.
By the same token, victory for les Maritimes would seriously dent Brive's chances as they must face Biarritz and Montpellier in the coming weeks.
Previous result: La Rochelle won 26-21 at home
Prediction: Brive have found form of late and motivation won't be a problem. Brive by six points
Kick-off:14.30 (13.30 GMT)
________________________________________________________________________
CS Bourgoin-Jallieu v Montpellier HR
Stade Pierre Rajon, Bourgoin
A hard-fought yet uninspired victory over Stade Français last week reignited Montpellier's play-offs hopes.
Montpol have never made the knock-out stages in the professional era but a win in the Isère could see them open a gap on their nearest challengers.
Fulgence Ouedraogo has been sidelined for three weeks with a calf strain, while full-back Benjamin Thiéry is recovering from a dislocated shoulder.
Previous result: Montpellier won 28-3 at home
Prediction: Bourgoin have nothing left to play for. Montpellier by fifteen points
Kick-off:14.30 (13.30 GMT)
________________________________________________________________________
ASM Clermont Auvergne v Biarritz Olympique
Parc des Sports Marcel Michelin, Clermont Ferrand
The defending champions are in serious danger of not qualifying for the play-offs, and the Heineken Cup, if they don't finish the regular season at a sprint as trips to Stade Français and Toulouse lie large on the horizon.
Les Jaunards have suffered from Jekyll and Hyde syndrome this season: Unbeaten at home, their only win on the road came against lowly Bourgoin last year.
Confidence is at a low following a disappointing 26-17 loss at Agen last week and the time has come for Vern Cotter's men to live up to their title of champions.
Biarritz travel to the Auvergne without stalwart internationals Dimitri Yachvili, Imanol Harinordoquy and Damien Traille, who have all been kept on ice ahead of next week's European Cup quarter-final against Toulouse.
BO have also been deprived of hooker Benoit August, whose season is over due to a knee injury.
Clermont will be missing Julien Malzieu, who is injured, while Gonzale Canale, Aurelien Rougerie and Thibault Privat are all suspended. Alexandre Audebert is fit to play but Morgan Parra is not in the matchday squad.
Previous result: Biarritz won 16-13 at home
Prediction: Clermont at home? It's usually a safe bet. Clermont to win by eight points
Kick-off:16.25 (15.25 GMT)
________________________________________________________________________
SU Agen v Castres Olympique
Stade Armandie, Agen
While Agen could secure their place in the Top flight on Saturday, Castres will be looking to book a place in the play-offs.
Agen's heroic win over Clermont gave them a five point cushion above the relegation zone and another upset against heavyweight opposition is on the cards as Christian Lanta's men have won their last four home game.
But Castres are also a team on form, having climbed to third in the standings with four consecutive wins. Another success will almost guarantee a place in the play-offs.
Previous result: Castres won 38-11 at home
Prediction: Tough one to call. Castres have just once on the road this year. Agen by a whisker
Kick-off:20:45 (19.45 GMT)