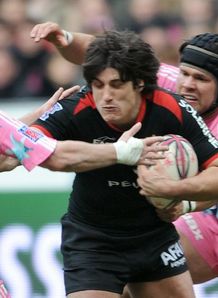 Related links
Also see
Top 14 Leaders Toulouse travel to the Stade de France for the annual gala match against Stade Français on Saturday before Toulon host Racing-Metro on Sunday.
It's a weekend of big clashes as 2009 champions Perpignan face a tricky road trip along the Mediterranean coast to second-placed Montpellier, who are unbeaten at home this season.
The big news of the week was Bourgoin being docked five points as punishment for their budget deficit. Their clash with La Rochelle was set to be a massive relegation battle but the penalty - if it holds up to the club's appeal - has essentially killed off any hopes CSBJ might have harboured of staying up.
The other clubs threatened by the drop, Brive and Agen, face tough fixtures against Clermont and Biarritz respectively.
Elsewhere, Bayonne host direct play-off rivals Castres.
Fixtures:
Friday, January 7
Brive v Clermont
Saturday, January 8
Bourgoin v La Rochelle
Bayonne v Castres
Biarritz v Agen
Montpellier v Perpignan
Stade Français v Toulouse
Sunday, January 9
Racing Métro 92 v Toulon
Standings:
1 Toulouse 51
2 Montpellier 45
3 Racing Metro 45
4 Clermont 43
5 Castres 40
6 Toulon 40
7 Biarritz 39
8 Bayonne 36
9 Stade Français 35
10 Perpignan 33
11 Agen 24
12 Brive 22
13 La Rochelle 21
14 Bourgoin 5 (pending appeal)
________________________________________________________________________
Previews:
Friday, January 7
CA Brive Corrèze v ASM Clermont Auvergne
Stade Amédée Domenech, Brive
On paper the derby du Massif Central seems a foregone conclusion, but derbies in France seldom are and Brive have shown signs of life after a difficult few months on and off the field.
Brive have not won since September 11, but three points garnered from a draw against Racing and by losing by less than seven to Perpignan indicate that things have improved significantly for les Correziens. Those results also saw the club climb out of the relegation zone....but for how long?
Clermont haven't won on the road since round two but a convincing victory over Perpignan was an illustration of les Jaunards' form.
They will be without skipper Aurelien Rougerie, who has a damaged larynx. Sione Lauaki (knee), Davit Zirakashvili (shoulder), Gonzalo Canale (thigh) and Anthony Floch (knee) are doubtful.
Wing Napolioni Nalaga is still AWOL after returning to Fiji for the birth of his child and to get married.
Brive be without former England centre Jamie Noon for six weeks.
Meanwhile, Brive loose forward Gerhard Vosloo has agreed to join Clermont next season.
Previous result: Clermont 33-9 at home.
Prediction: It'll be close, but Clermont are looking stronger every week. Clermont by five points
Kick-off: 20:45 (19.45 GMT)
Referee: Jérôme Garces
________________________________________________________________________
Saturday, January 8
CS Bourgoin-Jallieu v Stade Rochelais Atlantique
Stade Pierre Rajon, Bourgoin
La Rochelle would have highlighted this game as one of their targets at the start of the season and with morale in Bourgoin at an all-time low, it's a golden opportunity to take a step towards avoiding relegation.
Encouraged by their draw against Stade Français, the visitors will arrive ultra-motivated.
Without inspiration loose forward Julien Frier and without much hope of survival, can Bourgoin dig deep enough to resist the onslaught?
Previous result: La Rochelle won 20 -12 at home
Prediction: Bourgoin look down and out. La Rochelle by three points
Kick-off: 14:30 (13.30 GMT)
Referee: Mathieu Raynal
________________________________________________________________________
Aviron Bayonnais v Castres Olympique
Stade Jean Dauger, Bayonne
After three consecutive wins Bayonne were terrible, by their own admission, in their loss to La Rochelle last week with club president Francis Salagoïty saying they "deserved to be humiliated".
And the Basques will struggle to get up from that defeat as a stomach bug, a rampant 'flu virus and a spate of injuries have ripped through the squad.
Wing Jean-Baptiste Peyras, lock Ross Filipo, prop Clément Baiocco and fly-half Sébastien Fauqué are doubtful while Rémy Martin and Aretz Iguiniz are out for sure.
There is some good news for Bayonne however in the form of the return of the League's top tackler, lose forward Abdelatif Boutaty, and France wing Yoann Huget.
Castres pushed Toulouse all the way last week and their losing bonus point means they are still firmly in the race for a play-off spot. With a tough schedule in the upcoming weeks, more points on the road are needed.
Previous result: Castres won 25-16 at home
Prediction: Tough one to call. Bayonne are depleted but Castres have not travelled well this term. Bayonne by a whisker
Kick-off: 14:30 (13.30 GMT)
Referee: Christophe Berdos
________________________________________________________________________
Biarritz Olympique v SU Agen
Parc des Sports d'Aguilera, Biarritz
Biarritz will have revenge on their minds as they look to get back to winning ways after two losses on the road to Montpellier and Toulon.
Agen fly-half Valentin Courent kicked seven penalties when Biarritz were shock losers in round three. Since then Agen have managed to climb out of the red zone and have lost just once in their last five matches.
Biarritz welcome back prop Eduard Coetzee after a two-month injury absence. Damien Traille starts at fly-half to form an 8-9-10 combination with fellow internationals Dimitri Yachvili and Imanol Harinordoquy. Iain Balshaw is on the left wing.
Previous result: Agen won 28-23 at home
Prediction: At home, BO should be much to strong for les Maritimes. Biarritz by twelve points
Kick-off:14:30 (13.30 GMT)
Referee: Hervé Dubes
________________________________________________________________________
Montpellier HR v USA Perpignan
Stade Yves Du Manoir, Montpellier
Montpellier's win in Perpignan was one of the highlights of the early season and proved to be an indicator of form for the months to come.
Still unbeaten at home, Motpol will be looking to stay in the leading duo after a disappointing lose to Racing in Paris.
Last week's win over Brive was a long time in coming for USAP, who are under massive pressure as they still languish deep in the bottom half of the standings. But there was little to indicate that the Catalans will be able to turn their domestic season around. A place in the place is looking increasingly unlikely.
To make matters worse, prop Jerome Schuster has been ruled out for three weeks. Lock Robins Tchale-Watchou and wing Adrien Planté are also out injured.
Previous result: Montpellier won 16-6 away
Prediction:It's tough to argue with Montpellier's form at home. Montpellier by eight points
Kick-off:14:30 (13.30 GMT)
Referee: Jean-Luc Rebollal
________________________________________________________________________
Stade Français v Stade Toulousain
Stade de France, St. Denis (Paris)
The Stade de France has been sold out for France's biggest rugby game of the year - in terms of pre-match entertainment at least - as Stade Français seek revenge for last season's 29-0 humiliation at home.
Off the back a draw to lowly La Rochelle, the Parisians need to raise their game if they want a result against a team in dominant form in both France and Europe.
Win or lose, Toulouse will finish the weekend as leaders and have openly declared that they will use the trip to the capital as preparation for next weekend's Heineken Cup clash with the Dragons.
The fear is of course that Toulouse will pitch up with a below-strength team (if such a thing exists). Rupeni Caucaunibuca is set to feature in midfield as Guy Novès gives the Fijian a chance to sweat off some his impress stomach mass.
Hooker William Servat and number eight Louis Picamoles are likely to miss the clash because of injury.
Both players sustained their injuries in Toulouse's win over Castres last Sunday, Servat twisting a knee while Picamoles has a painful larynx after being caught in the throat by former All Blacks back row forward Chris Masoe.
Stade Français coach Michael Cheika has earmarked this game as "the most difficult of the season" but insists his team are not feeling the pressure. Down in ninth place...that's hard to believe.
Previous result: Toulouse won 34-16 at home
Prediction: It'll be close, but the hosts' record at the Stade France isn't great. Toulouse by three or four points
Kick-off:16:45 (15.45 GMT)
Referee: Jean-Pierre Matheu
________________________________________________________________________
Sunday, January 9
Racing-Métro 92 v RC Toulon
Stade Yves Du Manoir - Colombes (Paris)
Beaten at home back in August, Toulon will travel to the capital looking to return the favour.
Relative newcomers to the top flight, both these clubs have big ambitions, and cheque books to match. Their clash has become somewhat of an unofficial benchmark of their progress. Separated by five points in the standings, it should be another close one.
Racing finally found their way to the try-line in beating Montpellier last week, but have not been in great form of late.
Toulon have struggled to be consistent but their bonus-point win over Biarritz suggests they are going in the right direct ahead of next week's clash with Munster.
Despite being sick, RCT skipper Joe Van Niekerk has been included in the extended squad.
Previous result: Racing won 36-31 away
Prediction: Racing somehow always squeeze out a result at home. Racing by two or three points
Kick-off:21.00 (22.00 GMT)
Referee: Cédric Marchat