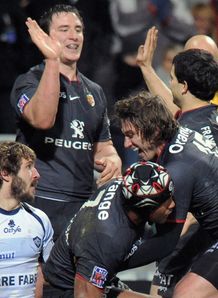 Related links
Also see
Toulouse opened up a six-point lead at the summit of the Top 14 on Sunday after a hard-fought 23-16 win at home over Castres.
Toulouse had been assured of holding their advantage before kick-off after second-placed Montpellier were earlier beaten 28-16 by third-placed Racing-Metro.
The defeat was bitter for Castres, who have not won in Toulouse since 1995 and had come into the game brimming with ambition after a five-match unbeaten run.
Full-back Maxime Medard opened for Toulouse after just five minutes as the Top 14's top scorer touched down his eleventh try of the season.
But Castres kept in touch with two penalties off the boot of Romain Teulet before Marc Andreu touched down for the vistors and Teulet converted to lead 7-13 after 20 minutes.
Toulouse battled back and thanks to David Skrela levelled 13-13 before the break.
Little separated the sides and a yellow card handed out to Castres flanker Ibrahim Diarra after 61 minutes for repeated fouls would prove the decider as Toulouse captain Thierry Dusautoir pushed through a try which gave them a 23-16 lead.
Toulouse held their advantage until the final whistle and maintained their unbeaten run at home, as Castres drop two places to sixth.
Castres full-back Teulet rued the yellow card.
"It was the turning point of the match. That undermined us because I think overall we were up for it," he said.
"It's a pity to die like that because given the showing of Toulouse we could have done something this evening."
Toulouse backs coach Jean-Baptiste Elissalde hoghlighted the importance of the victory.
"We knew this match would be complicated and it proved to be. But we managed to bounce back every time we got into difficulty," he said.