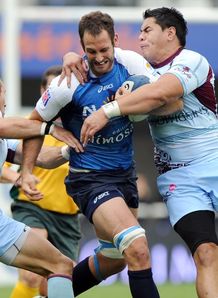 Montpellier continued their strong start to their Amlin Challenge Cup campaign on Thursday with a 39-14 win at home to Bourgoin.
Montpellier outscored their visitors four tries to one at Stade Yves du Manoir to sit comfortably at the top of Pool Three with a perfect record of three wins from three starts.
The hosts were made to work for their bonus point however as Bourgoin led 14-10 after 25 minutes thanks notably to a penalty try.
Les Heraultais rallied to lead 16-14 at the break as Argentine backs Santiago Fernandez and Martin Bustos Moyano both touched down.
It was all Montpellier in the second half though as the host scored two more tries before the hour mark to secure victory.
The scorers:
For Montpellier:
Tries: Fernandez, Bustos Moyano, Giraud, Caudullo
Cons:Bustos Moyano 2
Pens: Bustos Moyano 4, Lagarde
For Bourgoin:
Tries:Nadalo, Penalty try
Cons: Viazzo 2
Yellow cards: Giraud (Montpellier - 21st min); Fakate(Montpellier - 62nd min); Genevois (bourgoin -49th min)
Montpellier: 15 Jean-Matthieu Alcalde, 14 Adrien Pratmarty, 13 Seta Tuilevuka, 12 Florian Nicot, 11 Martin Bustos Moyano, 10 Santiago Fernandez, 9 Benoit Paillaugue, 8 Marc Giraud, 7 Johan Wasserman, 6 Vassili Bost, 5 Goncalo Uva, 4 Michel Macurdy, 3 Dannie Thiart, 2 Joan Caudullo, 1 Na'ama Leleimalefaga,
Replacements:16 Fabien Rofes, 17 Goderzi Shvelidze, 18 Kevin Kervarec, 19 Aliki Fakate, 20 Giorgi Chkhaidze, 21 Adrien Tomas, 22 Raphael Lagarde, 23 Geoffrey Doumayrou,
Bourgoin: 15 Mael Moinot, 14 Brando Va'aulu, 13 Willem van Zyl, 12 David Janin, 11 Nadalo, 10 Matias Viazzo, 9 Mickaël Campeggia, 8 Alex Tulou, 7 Wessel Jooste, 6 Coenraad Basson, 5 Camille Levast, 4 Albin Louchard, 3 Vincent Pelo, 2 Jordan Merle, 1 Arnaud Tchougong,
Replacements:16 Stephane Bougherara, 17 Olivier Milloud, 18 Sylvain Charlet, 19 Thomas Genevois, 20 Yan Labrit, 21 Jérémy Gondrand, 22 Jean-Francois Coux, 23 Silvère Tian,
Venue: Stade Yves du Manoir, Montpellier
Referee:Dudley Phillips (Ireland)