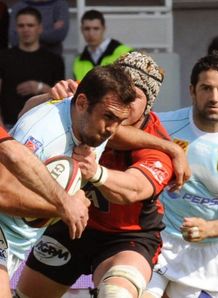 Related links
Also see
There is a full round of Top 14 action on Thursday with Toulon's visit to Perpignan the headline fixture.
Toulouse stormed to the top of the standings last weekend and look in unstoppable form. They are set to continue their strong run when they face stone-last Bourgoin at the Stade des Alpes in Grenoble.
Montpellier continue to surprise in second place and will fancy their chances at home to struggling Brive.
After a super start to the season, Bayonne's fall from grace has been spectacular and the Basques face another tough task in Paris against Stade Français.
Relegation candidates Agen and La Rochelle are both at home this week but face heavyweight opposition in the form of Racing Metro and Clermont respectively.
Elsewhere, Biarritz are at home to fellow European campaigners Castres.
Fixtures:
Thursday, November 4
Agen v Racing Métro
Perpignan v Toulon
La Rochelle v Clermont
Biarritz v Castres
Stade Français v Bayonne
Montpellier v Brive
Bourgoin v Toulouse
Standings:
1 Toulouse 37
2 Montpellier 36
3 Racing Métro 34
4 Biarritz 31
5 Clermont 30
6 Castres 29
7 Toulon 28
8 Perpignan 28
9 Stade Français 27
10 Bayonne 24
11 Brive 19
12 La Rochelle 15
13 Agen 11
14 Bourgoin 10
Previews:
________________________________________________________________________
USA Perpignan v RC Toulon
Stade Aimé Giral, Perpignan
This is without doubt the big match of Round Twelve. Perpignan got off to a slow start this season but have hit a solid run of form having lost just once in eight games (in Toulouse in a fantastic game).
The Catalans will still be ruing the last-minute penalty in Paris last weekend that allowed Racing to sneak a draw, but they will be encouraged by the performance of their pack.
Toulon on the other hand have hit a negative spiral. Three consecutive losses in all competitions, including heavy defeats to Munster and Toulouse have left President Mourad Boudjellal furious.
After the drubbing in Toulouse Les Varois went straight to a training camp in Canet-en-Roussillon where they were joined by Boudjellal who called the players in one-by-one for a grilling.
A fourth game on the road, at the near impenetrable fortress that is Stade Aimé Giral has not come at a good time. But Toulon can at least count on the return of a number of senior players including Joe van Niekerk, George Smith, Pierre Mignoni and Paul Sackey.
Results last season: Perpignan won 25-9 at home; Toulon won 33-23 at home
Prediction: On current form it's tough to see Perignan lose at home. Perpignan by six points
Kick-off: 19.00 (18.00 GMT)
Referee: Jean-Luc Rebollal
_______________________________________________________________________
SU Agen v Racing-Métro 92
Stade Armandie, Agen
Victory over La Rochelle last week has given Agen new hope of avoiding the drop. But the Pro D2 champions have a tough task on their hands as Racing roll into town looking to make up for the two points 'lost' at home to Perpignan last week.
After leading the standings for a couple of rounds, les Franciliens have laboured somewhat in their last two matches at home and will be looking to regain some form on the road.
Agen have named an unchanged starting XV while Racing will send a very strong side including Francois Steyn in the midfield, Sebastien Chabal at number eight and Jonathan Wisniewski, who has been called up to the France team, at fly-half.
Prediction: The visitors should have far too much firepower to Agen. Racing by twelve points
Kick-off: 19.00 (18.00 GMT)
Referee: Jérôme Garces
________________________________________________________________________
Stade Rochelais Atlantique v ASM Clermont Auvergne
Stade Marcel Deflandre, La Rochelle
Clermont played their best game of the season last weekend to sweep aside Stade Français. Les Jaunards finally seem to have found some form as they look to close the gap on the leading quartet.
What could be better for picking up some points than a match against struggling newcomers who are decimated by injury? But Clermont have not been great on the road this season with just one win (in Bourgoin) away from home.
Les Maritimes are sure to give the ball some air and put up the usual courageous fight, but surely they won't trouble the champions.
In other news, France lock Julien Pierre has extended his contract with Clermont.
The 29-year-old, who made his international debut in 2007 and was a member of the Six Nations Grand Slam-winning side, has been at Clermont since signing from Bourgoin in 2008 and is the squad to face Fiji next week.
Prediction: We can't see an upset here. Clermont by ten points
Kick-off: 19.00 (18.00 GMT)
Referee: Pascal Gauzere
________________________________________________________________________
Biarritz Olympique v Castres Olympique
Parc des Sports d'Aguilera, Biarritz
Biarritz are in great form having won all five of their games in October (three in the Top 14 and two in Europe). In fact BO have lost just once in their last nine starts.
Castres are in pretty good nick too coming off three straight wins, including consecutive bonus-point victories over Agen and Bourgoin.
Two points behind Biarritz, a win on the road - as they did last season - would be an ideal way to start the November holidays but Castres have yet to win away from home this term.
Damien Traille and Dimitri Yachvili have been awesome for the Basques hosts and form the half-back pairing while Imanol Harinordoquy returns to the back row.
Bad news however is the serious injury to South African prop Eduard Coetzee, who needed surgery to a broken arm and will be sidelined for two to three months.
It's a big blow for Biarritz who are already without France prop Fabien Barcella for the rest of the season.
Results last season: Castres won both games, 24-12 away and 34-6 at home.
Prediction: The hosts are ona roll. Biarritz by eight points
Kick-off:19.00 (18.00 GMT)
Referee: Cyril Lafon
________________________________________________________________________
Stade Français Paris v Aviron Bayonnais
Stade Charléty, Paris
Leaders in mid-September, the wheels have come off the Bayonne bus in spectacular fashion. Five straight losses, including three at home, have seem the Basques plummet to tenth place.
Stade Français were looking good after three consecutive wins, but were totally outplayed in Clermont last week. Despite the heavy loss, the Parisians have made significant strides forward since last season.
Bayonne trail their hosts by just three points in the standings but have never won in Paris.
Stade Français coach Michael Cheika was a happy man on Tuesday when England flank James Haskell showed up for training after being relapsed by Martin Johnson. He will however have to do without Tom Palmer, who starts for England at Twickenham on Saturday.
Results last season: Bayonne won 38-24 at home; Stade won 34-10 at home
Prediction: Form points to the hosts. Stade Français by nine points
Kick-off:19.00 (18.00 GMT)
Referee: Cédric Marchat
________________________________________________________________________
Montpellier HR v CA Brive Corrèze
Stade Yves Du Manoir, Montpellier
Two teams in two very different situations face-off on the Mediterranean coast.
While Montpellier continue to fly high thanks to victory on the road in Bayonne last week, Brive are on the verge of crisis.
A second-half meltdown and subsequent loss at home to Biarritz last week extended the Corréziens winless run to five games and they are now dangerously close to being dragged into the relegation scrap.
Fabien Galthié's team on the other hand are unbeaten at home and even without injured fly-half François Trinh-Duc (out for six weeks), les Heraultais will back themselves to bag another four points before the holiday break. Argentine Santiago Fernandez will wear the number ten jersey.
But the home side cannot be complacent considering Brive have won in Montpol three time in the last four seasons, including last year.
Results last season: Brive won both games, 30-9 at home and 25-3 away.
Prediction: The hosts are in very good form. Montpellier by nine points
Kick-off:19.00 (18.00 GMT)
Referee: Christophe Berdos
________________________________________________________________________
CS Bourgoin-Jallieu v Stade Toulousain
Stade des Alpes, Grenoble
The last thing Bourgoin need at the moment is a match against the Big Red Machine. They've moved the game to the soccer stadium at nearby Grenoble, but it's unlikely the extra spectators will prevent the hosts from getting smashed.
You couldn't ask for more contrasting situations. Bourgoin are last and are favourites to be relegated while the European champions are in breathtaking form at the top of the standings.
A few of Guy Novès' boys are also still stinging from being left out of the national team, so don't expect them to do Bourgoin any favours.
Results last season: Toulouse won 41-3 at home; Bourgoin won 15-13 at home
Prediction: No mystery here. Toulouse win win with a bonus point
Kick-off: 21.00 (19.00 GMT)
Referee: Franck Maciello
Get the best odds on Rugby Union with Oddschecker.com