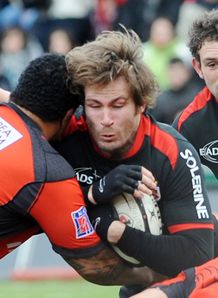 Related links
Also see
We're set for another weekend of heavyweight clashes in France as Toulon visit Toulouse, Clermont host Stade Français and Racing Métro face Perpignan.
Toulon head to Toulouse on Saturday looking to extend a three-game winning streak against Europe's form side at the moment but will have to do so without the league's top points-scorer, kingpin Jonny Wilkinson.
You couldn't ask for a tighter situation at the top of the standings as Montpellier share the lead with Toulouse and Racing.
Montpol must travel to Bayonne this weekend. The Basques lie in tenth position, but such is the congestion in the midfield that they could leapfrog to as high as fourth!
The most significant battle of the weekend will probably take place in Agen where the La Rochelle face their former ProD2 rivals in a crucial battle in the relegation scrap.
Elsewhere, Biarritz will look to continue their revival away to Brive while Bourgoin are on a hiding to nothing in Castres.
The big news this week was the announcement of the French squad for the November Tests. A few notable absentees from the ranks of Toulouse and Stade Français will surely add a pinch of spice as those players will have a point to prove.
Fixtures:
Friday, October 29
Racing Métro v Perpignan
Saturday, October 30
Clermont v Stade Français
Bayonne v Montpellier
Agen v La Rochelle
Castres v Bourgoin
Brive v Biarritz
Toulouse v Toulon
Standings:
1 Montpellier 32
2 Toulouse 32
3 Racing Metro 32
4 Toulon 28
5 Stade Français 27
6 Biarritz 27
7 Perpignan 26
8 Clermont 25
9 Castres 24
10 Bayonne 24
11 Brive 18
12 La Rochelle 15
13 Bourgoin 10
14 Agen 7
________________________________________________________________________
Previews:
Racing-Métro 92 v USA Perpignan
Stade Yves Du Manoir - Colombes (Paris)
Still unbeaten at home and with four wins from five starts, Racing will be looking to take control at the top of the standings against a Perpignan side that impressed despite their defeat in Toulouse last week.
Perpignan were one of only two teams to win in Colombes last season and having lost just once in their last seven games, the Catalans will fancy their chances of another win on the outskirts of Paris.
Racing will however field a very strong side as Lionel Nallet returns to the second row, Benjamin Fall come back to start at full-back while Frans Steyn will play in midfield. Sebastien Chabal's back problems have not stopped him from lining up at number eight.
Results last season: Perpignan won both games, 18-14 away, 31-12 at home.
Prediction: It's tough to argue with the hosts' record at home. Racing by less than five
Kick-off: 20:45 (18.45 GMT)
Referee: Romain Poite
________________________________________________________________________
ASM Clermont Auvergne v Stade Français Paris
Parc des Sports Marcel Michelin, Clermont Ferrand
What a strange sight it is to see the defending champions down in eight place. Five losses in ten games is far from what we've come to expect from Clermont and coach Vern Cotter has admitted that his side team are frustrated by their form.
But a closer look at the standings will reveal that victory on Saturday could lift les Jaunards up to fourth and their unbeaten record at home - including two bonus-point wins - suggests that all is not lost.
Stade Français travel South looking to go one better than the draw they snatched in the Auvergne last season. Coming off the back of five wins (in all competitions), the Parisians have a spring in their step. Les Stadistes have are the championship's top try scorers, and showed they can defend too by shutting out Toulon last week.
Two Parisians in particular will have fire in their bellies after being left out of the French team. Julien Dupuy - who was the first choice scrum-half last year, and Mathieu Bastareaud, who Marc Lièvremont reckons is too fat for Test rugby.
Results last season: 19-19 draw in Clermont; Stade Français won 19-10 at home
Prediction: Marcel Michelin is a true fortress. Clermont by six points
Kick-off: 14:15 (12.15 GMT)
Referee: Jean-Luc Rebollal
________________________________________________________________________
Aviron Bayonnais v Montpellier HR
Stade Jean Dauger, Bayonne
Bayonne's fantastic start to the season has slowly lost momentum as they've lost four consecutive games and dropped from first to tenth! Three of those losses were with a bonus point however, so the Basques are still very much in touch with the big hitters.
Back at home after given Racing a tough time last week, the Basques will be looking to extend their winning run against Montpellier after winning both games last year.
But Montpol are a very different side to the inconsistent rabble that struggled last year. Leaders after ten rounds in France and top of their group in the Amlin Challenge, must be taken seriously.
Wing Yoann Huget, who has been called up to the France team, starts for Bayonne while prop Clément Baïocco and loose forward Dwayne Haare both return. Try Flavell, Benjamin Boyet and Remy Martin all start.
For Montpellier, Fabien Galthié has named all his big guns, including Bleus François Trinh-Duc and skipper Fulgence Ouedraogo.
Results last season: Bayonne won both games, 26-3 at home; 22-16 away
Prediction: We'll back the hosts to come right. Bayonne by a whisker
Kick-off: 14:30 (12.30 GMT)
Referee: Laurent Sclafer
________________________________________________________________________
SU Agen v Stade Rochelais Atlantique
Stade Armandie, Agen
This is probably the biggest match of the year for La Rochelle. Already eight points clear of their fellow newcomers to the Top 14, a win for les Maritimes will constitute a massive step towards avoiding relegation.
The teams met in European competition a fortnight ago when La Rochelle ran out 30-23 winner at home.
Agen dominated the ProD2 last season, but have found life much harder in the top flight. After six consecutive games without a win, the Agenais are in huge trouble at the foot of the standings despite their positive intentions on the field.
Agen's last game at home was a successful one however as they shocked Gloucester in the Challenge Cup...
La Rochelle have never won in Agen in the professional era - this would be a perfect time to change that record!
Results last season (in ProD2): Agen won 26-10 at home; La Rochelle won 20-10 at home.
Prediction: Tough to call, we'll back the hosts to keep things interesting at the bottom of the table. Agen by five points
Kick-off: 14:30 (12.30 GMT)
Referee: Christophe Berdos
________________________________________________________________________
Castres Olympique v CS Bourgoin-Jallieu
Stade Pierre Antoine, Castres
Another week, another crunch match for Bourgoin who are stuck in the drop zone. With just one wins from their last six domestic games, it's difficult to see CSBJ snatch a result at Stade Pierre Antoine, where Castres are unbeaten this season.
Castres, who have a new president, scored their first bonus-point win of the season last week (against) Agen and are clearly on an upward curve.
Bougoin arrive with a squad ravaged by injury although they welcome back fly-half Alberto Di Bernardo.
Castres points machine Romain Teulet is the championship second highest scorer, averaging over 15 points per game.
Results last season: Castres won 29-9 at home; Bourgoin won 16-9 at home
Prediction: Bourgoin have lost on their last five trips to Castres. Castres to win with a bonus-point
Kick-off: 14:30 (12.30 GMT)
Referee: Hervé Dubes
________________________________________________________________________
CA Brive Corrèze v Biarritz Olympique
Stade Amédée Domenech, Brive
As usual, Brive have started their season in poor fashion but wins at home to Perpignan and Toulon and one on the road to Stade Français suggest that the Corréziens are worth more than their eleventh place in the standings.
But they are just as capable of falling flat, as was the case in defeat to La Rochelle last week. There will be no room for inconsistency this week as a Biarritz roll into town off the back of wins in the Basque derby and over the defending champions.
Unbeaten in Europe, Biarritz have been climbing the standings and are now within striking distance of the leader quartet. A record of three consecutive wins against Brive will give BO extra confidence.
The return of Damien Traille, who is set to focus on playing fly-half, is a big boost for the Basques. More good news is the two-year contract extension of American wing Takudzwa NGwenya.
Results last season: Biarritz won both games, 15-12 away, 12-6 at home
Prediction: Tough to call but Biarritz look in good form.Biarritz by two or three points
Kick-off: 14:30 (12.30 GMT)
Referee: Patrick Pechambert
________________________________________________________________________
Stade Toulousain v RC Toulon
Stade Ernest Wallon, Toulouse
Les Rouge et Noires from the Ville Rose host Les Rouge et Noires from theRade in Saturday's headline fixture.
Unbeaten in six matches, Heineken Cup included, Toulouse are in great form. Their win against Perpignan last week, in the match of the season so far, was an ominous sign.
The Toulousain pack has been devastating with an in-form Byron Kelleher calling the shots from the base and charging around the fringes.
The France team announcement on Wednesday would have had a mixed reception in Toulouse where manager Guy Novès would have been quietly happy to see he'll more players at his disposal than usual.
For David Skrela, Vincent Clerc, Louis Picamoles and Clément Poitrenaud however, the news of their omission would have been a bitter pill to swallow. Expect a reaction this weekend.
Apart from Clermont, Toulon were the only side to win in Toulouse last season with a grinding 6-3 success. But les Varois arrive without a few key players and off the back of defeats to Paris and Munster.
Wilko is away on England duty while Sébastien Bruno, George Smith, Laurent Emmanuelli and Joe Van Niekerk have all been given a rest. Japanese international Christian Lomana makes his return however after seven months on the sidelines with a dislocated hip.
For Toulouse, prop Census Johnston has gone home to Samoa to nurse a knee injury but wing Cedric Heymans and flank Grégory Lamboley are set to return to the starting line-up.
Results last season: Toulon won both games, 18-13 at home; 6-3 away
Prediction: The Big Red Machine looks unstoppable. Toulouse by ten points
Kick-off:16:25 (14.25 GMT)
Referee: Jean-Pierre Matheu