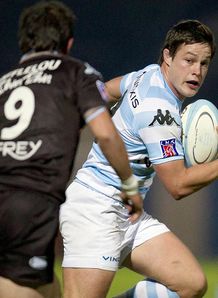 Related links
Also see
Top 14 leaders Racing-Metro retained their place at the summit on Friday, but had to work for a 15-9 win over a gutsy Bayonne who were worth their bonus point at the Stade Yves-du-Manoir.
Benjamin Boyet kicked three penalties for the visitors - including one which gave them first blood on four minutes - but Racing came back with Jonathan Wisnieski landing a pair of his own for a 6-3 half-time lead in the absence of Argentinian star Juan Martin Hernandez and former Bayonne wing Benjamin Fall.
A Wisnieski drop goal brought the hosts back onto level terms after Boyet had threatened an upset, before Mirco Bergamasco sent over two penalties to claim a seventh win in ten matches as Racing stretched their advantage over Toulon to five points.
Bayonne, five wins for five losses, are sixth, two points behind 2009 champions Perpignan, who go up against European champions Toulouse on Saturday.
Racing coach Simon Mannix was not happy at the finish.
"We are not satisfied with our showing - it was not the kind of performance I expected of the players," he said.
"We didn't find our rhythm. But I am very happy with four points - we were realistic in the final stages."