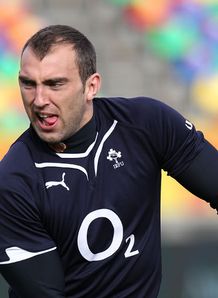 Related links
Skipper John Muldoon returns to the Connacht side that take on I Cavaleiri Estra in the Amlin Challenge Cup on Saturday.
St Marys prop Rob Sweeney makes his debut on the starting XV as does scrum-half Cillian Willis and wing Darragh Fanning.
All three have featured in Connacht's opening salvo of Magners League matches as impact replacements and have been rewarded for their efforts.
Galway natives Johnny O'Connor, Andrew Browne and John Muldoon are included in the strong lineup as Connacht look to replicate last year's unbeaten pool run.
Muldoon returns to the side having recovered from a broken arm sustained during Irelands Summer tour against the All Blacks and O'Connor has been passed fit following a back injury.
The teams:
I Cavalieri Estra: 15 Rima Wakarua, 14 Niccolò Tempestini, 13 Denis Majstorovic, 12 Winston Mafi, 11 Filippo Vezzosi, 10 Alberto Chiesa, 9 Pino Patelli, 8 Noa Soqueta, 7 Filippo Cristiano, 6 Luca Petillo, 5 Wouter Moore, 4 Luca Beccaris, 3 Gabriel Bocca, 2 Lorenzo Giovanchelli, 1 Leandro Poloni
Replacements: 16 Alessio Neri, 17 Davide Stefani, 18 Gerlando Marino, 19 Nicola Belardo, 20 Alessandro Lunardi, 21 Sebastian Rodwell, 22 Ed Lewis Pratt, 23 Filippo Giusti
Connacht: 15 Troy Nathan, 14 Darragh Fanning, 13 Niva Ta'auso, 12 Miah Nikora, 11 Fionn Carr, 10 Ian Keatley, 9 Cillian Willis, 8 John Muldoon (C), 7 Johnny O'Connor, 6 Andrew Browne, 5 Bernie Upton, 4 Michael Swift, 3 Rob Sweeney, 2 Adrian Flavin, 1 Brett Wilkinson
Replacements: 16 Dermot Murphy, 17 Barry Fa'amausili, 18 Ronan Loughney, 19 Mike McComish, 20 Michael McCarthy, 21 Frank Murphy, 22 Aidan Wynne, 23 Shane Monahan
Date: Saturday, 9 October
Venue: Stadio Lungobisenzio, Prato
Kick-off: 15:00 (14.00GMT)
Referee: Mathieu Raynal