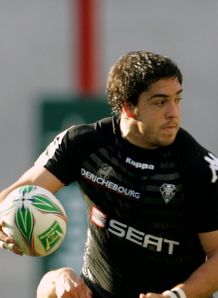 Brive kick-off their Amlin Challenge Cup campaign at home on Friday against Italian side Petrarca Padova.
These sides have faced each other twice before with Brive coming out as victors on both occasions.
The French side have left out many of the first-choice but have included Luciano Orquera at fly-half.
South African flyer Scott Spedding starts at full-back while English scrum-half Shaun Perry will provide cover from the bench.
The teams:
Brive:15 Scott Spedding, 14 Julien Caminati, 13 Guillaume Namy, 12 Régis Lespinas, 11 Mathias Atayi, 10 Luciano Orquera, 9 Augustin Figuerola, 8 Julien Le Devedec, 7 Vincent Forgues, 6 Simon Azoulai (c), 5 Damien Browne, 4 Thibault Dubarry, 3 Pat Barnard, 2 Guillaume Ribes, 1 Vasil Kakovin.
Replacements:16 Benoit Cabello, 17 Victor Laval, 18 Pascal Idieder, 19 Jonathan Elgoyhen, 20 Jean-Philippe Bonrepaux, 21 Shaun Perry, 22 Benoit Manteaux, 23 Viliame Waqaseduadua,
Petrarca Padova : 15 Juan Pablo Sanchez, 14 Nicolň Borgato, 13 Roberto Bertetti, 12 Alessandro Chillon, 11 Warren Spragg, 10 Tim Walsh, 9 Alberto Chillon, 8 Zane Ansell, 7 Nicolas Galatro, 6 Nicola Bezzati (c), 5 Doug Fletcher, 4 Mantvydas Tveraga, 3 Dario Chistolini, 2 Nicola Gatto, 1 Carlo Fazzari.
Replacements: 16 Ornel Gega, 17 Chris Caporello, 18 Agustin Costa Repetto , 19 Michele Sutto, 20 Alessandro Billot, 21 Scott Palmer, 22 Fabio Faggiotto, 23 Alberto Dal Corso,
Date: Friday, October 8
Venue: Stadium Municipal, Brive
Kick-off: 20:00 (18.00GMT )
Referee: David Jones