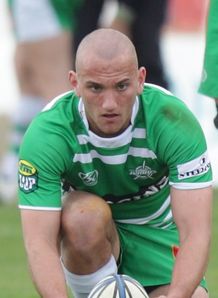 Aaron Cruden scored fifteen points to help Manawatu get their second win of the ITM Cup season, a rare 20-8 victory over Tasman in Palmerston North on Sunday.
The result, their first win over the Makos in five attempts, sees Manawatu leapfrog Tasman and Otago in the standings and climb to twelfth though both teams are destined for the bottom seven.
After a largely forgettable first half which saw the Turbos trailing 8-3, Cruden ignited the encounter with crucial linebreak which set up lock Fraser Stone to score and give the hosts the lead.
Cruden then provided his team with the game-winning try as he stepped his way around four defenders to touch down and extend the lead to beyond seven points.
Tasman's half-time lead came courtsey a try just before the break after some neat interplay by full-back Tom Marshall and scrum-half Kaide Whiting down a right wing blindside ended with Marshall dashing 40m to score his third try of the season.
Cruden and his Tasman counterpart, James Marshall, scored the rest of the points from the kicking tee.
The scorers
For Manawatu:
Tries: Stone, Cruden
Cons: Cruden 2
Pens: Cruden 2
For Tasman:
Tries: T. Marshall
Pens: J. Marshall
The scorers
For Manawatu:
Tries: Stone, Cruden
Cons: Cruden 2
Pens: Cruden 2
For Tasman:
Tries: T. Marshall
Pens: J. Marshall