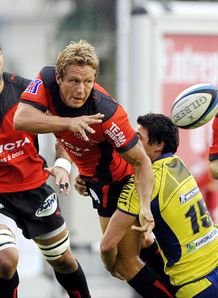 Related links
Also see
There are three huge games in France this weekend: Toulon face Clermont in Marseille, Stade Français visit Perpignan and Toulouse host the leaders.
Despite neither Toulon nor Clermont having had the start to the season they had hoped for, their clash at the 60 000 seater Stade Vélodrome - home of Olympique de Marseille - is the headline fixture of Round Seven.
Giants Perpignan and Stade Français find themselves in the wrong half of the standings, adding extra spice to an already much-anticipated clash.
The weekend's action kicks off in Toulouse, where surprise leaders Bayonne's will be out to prove their strong start to the season is no fluke.
The other surprise package of the early season, Fabien Galthié's Montpellier outfit, hit the road and head to Agen while Racing-Métro will have one eye on the championship lead at home to Bourgoin.
Elsewhere, play-off hopefuls Castres host Brive in a mid-table clash.
In other news this week, the Ligue Nationale de Rugby has slapped both Bayonne and Brive with a 5000 Euros fine as punishment for the mass punch-up that erupted in their match on September 1.
Fixtures:
Friday, September 17
Toulouse v Bayonne
Saturday, September 18
Agen v Montpellier
La Rochelle v Biarritz
Perpignan v Stade Français
Castres v Brive
Racing Métro v Bourgoin
Toulon v Clermont
Standings:
1 Bayonne 21
2 Racing Metro 18
3 Montpellier 17
4 Toulouse 17
5 Clermont 15
6 Brive 15
7 Toulon 15
8 Biarritz 14
9 Stade Français 14
10 Castres 14
11 Perpignan 14
12 La Rochelle 9
13 Agen 7
14 Bourgoin 6
________________________________________________________________________
Previews:
Friday, September 17
Stade Toulousain v Aviron Bayonnais
Stade Ernest Wallon, Toulouse
After their third straight loss on the road in Biarritz last week, Toulouse know they must secure four points at a sold-out Stade Ernest Wallon before the Heineken Cup and Six Nations begin to sap them of resources. Victory against the Top 14 leaders will also provide some welcome momentum as the defence of their European crown looms large on the horizon.
Bayonne will arrive bubbling with confidence after taking five victories from their opening six matches. A solid win over the champions Clermont last week showed that the Basques are the real deal. With an upset win in Toulon already under their belts, they will play without any pressure.
But in twelve attempts, Bayonne have won just once in Toulouse (back in May 2007) and have conceded an average of 38 points in their last three visits, so fans of L' Aviron shouldn't hold their breath.
Toulouse are resting hooker William Servat, who hurt his knee last week. Loose forward Louis Picamoles is, however, back from injury. Prop Dan Human and centre Florian Fritz should be fit to play but front rower Benoit Lecouls and back row Grégory Lamboley are both doubtful.
Bayonne have bolstered their pack - a sign of their ambitions on the road - while fly-half Sébasiten Fauqué will make his first appearance this season and is included in the starting XV.
Previous result: Toulouse won both games: 21-17 at home and 15-13 away.
Prediction: You have to be very brave to bet against Toulouse at home. Toulouse by seven points
Kick-off: 18:45 (16:45 GMT)
Referee: Mathieu Raynal
________________________________________________________________________
Saturday, September 18
SU Agen v Montpellier HR
Stade Armandie, Agen
Agen sent a below-strength team to Toulon last week and were swept aside in consummate fashion. Back at home and with a few first-choice players back the team, the newcomers will be looking for their second win of the season against a Montpellier side that has struggle on the road in recent years.
Agen's comeback to draw against Perpignan a fortnight ago suggests that they should not be taken lightly and they have impressed with their willingness to get the ball wide.
Poor travelers they may have been in the past, but Montpellier's metamorphosis under Fabien Galthié leads one to believe that the past has little bearing on the current side. A shock win in Perpignan is a case in point.
Few would have expected to see Les Héraultais lying third after six matches, but Fulgence Ouedraogo and co. have been full value for their four wins.
Prediction: It'll be close, but Montpellier's defence could be the winner here. Montpellier by a whisker
Kick-off: 14:30 (12:30 GMT)
Referee: Hervé Dubes
________________________________________________________________________
Stade Rochelais Atlantique v Biarritz Olympique
Stade Marcel Deflandre, La Rochelle
Outclassed but tenacious in Paris last week, La Rochelle return home hoping to add a third win to home victories over Castres and Bourgoin.
But after a shaky start to the season, Biarritz look to be on an upward curve as illustrated by their deserved wins over Stade Français and Toulouse.
But BO have yet to win on the road this term - in fact they have not won away from home in nine attempts - and with three consecutive away games next up, this is probably their best chance at getting points before the end of the month.
Prediction: Don't expect La Rochelle to go down easily, but the visitors should have too much firepower. Biarritz by three or four points
Kick-off: 14:30 (12:30 GMT)
Referee: Jérôme Garces
________________________________________________________________________
USA Perpignan v Stade Français Paris
Stade Aimé Giral, Perpignan
This is one off the big games of this season, not just this weekend.
Having lost twice to Perpignan last season, Stade Français will fancy their chances of turning the tables on the Catalans, who are having their worst start to the season in years.
Plagued by injury, Perpignan have failed to impress and despite a laboured win over Bourgoin last week, are languishing in eleventh place.
Stade Français, on the other hand, have shown some very promising signs, especially on attack, but their second-half meltdown against Brive last week raised more serious questions about their ability to challenge in big clubs in high-pressure matches.
Loose forward Juan Manuel Leguizamon's 80-day ban for eye-gouging hasn't done much for morale either
Previous result: Perpignan won both games: 20-14 in Paris; 44-23 at home.
Prediction: It's always tough to visit the Catalan coast. Perpignan to grind out a narrow win
Kick-off:14:30 (12:30 GMT)
Referee: Cyril Lafon
________________________________________________________________________
Castres Olympique v CA Brive Corrèze
Stade Pierre Antoine, Castres
Separated by a single point in a congested mid-table, two teams coming off contrasting results face-off in the Tarn, where the hosts have lost just once in sixteen games.
Castres took a positive mindset to Montpellier last week and came back empty handed and dropped to tenth place as a consequence.
Brive will arrive full of confidence after their bonus-point win over Toulon was backed up their stunning comeback to shock Stade Français last week. Les Corréziens are however expected to give a couple of senior players a rest..
Previous result: Brive won 11-9 at home; Castres won 35-10 at home
Prediction: Castres' home record speaks for itself. Castres by eight points
Kick-off:14:30 (12:30 GMT)
Referee: Jean-Pierre Matheu
________________________________________________________________________
Racing-Métro 92 v CS Bourgoin-Jallieu
Stade Yves Du Manoir - Colombes (Paris)
Depending on how Bayonne fare in Toulouse, Racing could very well finish the weekend as the championship leaders.
A couple bonus points picked up on the road and an unbeaten record at home make les Franciliens one of the form teams of the tournament.
It would be tough to bet against Pierre Berbizier's men when they face the championships' tail-enders, but lest we forget that Bourgoin bet Racing twice last season.
In all honestly, a repeat looks unlikely, despite les Isérois solid showing in Perpignan last week.
A three-way relegation battle is becoming a sideshow to Top 14, and Bourgoin are looking like serious candidates for the drop.
Racing will be without Juan Martin Hernandez, who is out for two weeks, and Sebastien Chabal, who is expected to be rested due to a cracked rib.
Bourgoin will have to make do with full-back Silvère Tian, who has not recovered from an ankle sprain suffered last week in Perpignan. Scrum-half Mickaël Forest is still not match fit.
Good news however is that hooker Olivier Milloud is back in training and South African prop Albertus Buckle is fit and has been included in the matchday squad.
Previous result: Bourgoin won both games: 17-13 at home; 18-17 in Paris.
Prediction: One-wap traffic. Racing to win by fifteen points
Kick-off:14:30 (12:30 GMT)
Referee: Stephan Pomarede
________________________________________________________________________
RC Toulon v ASM Clermont Auvergne
Stade Vélodrome, Marsielle
A lot is expected of this rematch of last year's humdinger of a semi-final, won at the death by Clermont.
The Stade Vélodrome has been kind to both sides, neither of whom have lost there in the Top 14, though Toulon lost to Cardiff in the European Challenge Cup Final at the iconic stadium in Marsielle.
Both sides have been far from their top form so far this season, but Toulon's bonus-point win against a hapless Agen outfit last week would have been a huge boost for morale.
Director of Rugby Philippe Saint-André has highlighted this game as a potential turning point in Toulon's season and has included all the big names in his squad.
As for the champions, les Jaunards were beaten for the third time this season in Bayonne last week as they once again failed to find their rhythm.
This is the sixth time the team have met since Toulon's return to the top flight with the Auvergnats having won three games to RCT's two (both in Toulon).
Scrum-half Morgan Parra is back in the Clermont squad along with second row Thibault Privat. French international lock Julien Pierre and former Springbok Marius Joubert are still injured.
Toulon lock Dean Schofield has been pulled from the squad after hurting a thigh in training on Tuesday. He'll be out of action for between two and four weeks. Jocelino Suta is however fit to replace him. Scrum-half Matt Henjak (pulled calf) is the most notable absentee from Toulon's group.
Previous result: Toulon won 26-21 at home, Clermont won 39-3 at home.
Prediction: It'll be close, but Toulon will a huge support in Marseille. Toulon by a point or two
Kick-off:16:25 (14:25 GMT)
Referee: Christophe Berdos