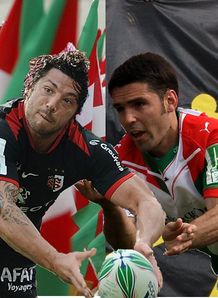 Related links
Also see
Toulon and Perpignan have a chance to get their seasons back on track this weekend but most eyes will be on Toulouse's trip to Biarritz.
The action kicks off on Friday when leaders Bayonne host defending champions Clermont.
The bottom half of the Top 14 table makes for interesting reading as title hopefuls Biarritz, Toulon and Perpignan find themselves well off the pace.
Toulon and Perpignan have home games against the bottom two clubs this weekend, so all it not lost - yet. For Biarritz however, a rematch of last year's Heineken Cup Final has not come at the best time.
Having had just one game at home so far, Racing-Métro have done well to be in the top half of the standings. With games in Paris against La Rochelle and Bourgoin next on the menu, expect Pierre Berbizier's team to come charging towards the top.
Elsewhere, two in-form clubs meet in Montpellier as Castres seek their first win on the road.
In other news, axed Fijian wing Rupeni Caucaunibuca is reportedly likely to join Castres after Toulon said they weren't interested in his services.
Fixtures:
Friday, September 10
Bayonne v Clermont
Saturday, September 11
Montpellier v Castres
Toulon v Agen
Perpignan v Bourgoin
Racing-Métro v La Rochelle
Stade Français v Brive
Biarritz v Toulouse
Standings:
1 Bayonne 17
2 Toulouse 16
3 Clermont 14
4 Castres 14
5 Stade Français 13
6 Montpellier 13
7 Racing-Métro 13
8 Brive 11
9 Biarritz 10
10 Toulon 10
11 Perpignan 10
12 La Rochelle 9
13 Agen 7
14 Bourgoin 4
________________________________________________________________________
Previews:
Aviron Bayonnais v ASM Clermont Auvergne
Stade Jean Dauger, Bayonne
Surprise leaders and unbeaten at home so far this season, Bayonne seem to have gotten their house in order after last season's debacle.
The hosts face the champions with plenty of confidence and four wins under their belts while Clermont are still scratching around trying to find their best form.
Clermont travel minus three of their South Africans since Marius Joubert (ankle), Brent Russell (hamstring) and Willie Wepener (hand) are all injured.
France scrum-half Morgan Parra is also sidelined with bruised ribs, meaning he will miss out on playing against his former half-back partner at Bourgoin, Benjamin Boyet, who has played an influential role in Bayonne's revival his year.
Ex-All Black lock Troy Flavell (hamstring) and full-back Pepito Elhorga (thigh) return for Bayonne after injuries that have seen them ruled out since the start of the season.
Italy's Australian-born utility back Craig Gower is also back in the squad, but Kiwi lock Ross Filipo is not yet ready for first team duty.
Results last season: Clermont won 38-13 at home; Bayonne won 22-13 at home
Prediction: Tough one to call, but considering the their form, we'll have to back the home team. Bayonne by a whisker
Kick-off:20:45 (18:45 GMT)
Referee: Cédric Marchat
________________________________________________________________________
Montpellier HR v Castres Olympique
Stade Yves Du Manoir, Montpellier
Montpellier continue their marathon against the big hitters. After consecutive matches against Biarritz, Racing, Perpignan, Toulouse and Clermont, they must now face Castres, who led the champions for much of last season before bowing out in the play-offs.
Montpol have certainly done well for themselves however. Victory in three of the above mentioned matches means they trail Saturday's visitors by just a single point in sixth place. With a solid defence and an attacking mindset, they are set to cause a few more upsets this year.
Last Sunday's heavy defeat in Clermont will have brought them down to earth hovewer, so complacency is not a danger.
Castres, who have recovered well since their hiccup on the opening day have the top of the table in their sights, assuming they win and other results go their way.
Les Castrais have been in the news this as it's looking more and more likely that they will take a gamble and recruit Rubeni 'Caucau.' Good luck to them!
Results last season: Castres won 33-18 at home; Montpellier won 15-0 at home
Prediction: Home wins against Racing and Toulouse have convinced us Montpellier are the real deal. Montpellier by five points
Kick-off: 14:30 (12:30 GMT)
Referee: Mathieu Raynal
________________________________________________________________________
RC Toulon v SU Agen
Stade Felix Mayol, Toulon
Toulon have no margin for error. Already beaten at home twice this season, RCT find themselves in the unexpected position of being just above the relegation zone!
A big win against Agen is thus needed. The hosts should be cautious however as Le SUA have been a pleasure to watch on attack since their return to the top flight. Their fight back from 20-0 down to draw 23-23 with Perpignan was simply sensational and proof that they have the metal toughness to take on the big teams.
Toulon have a long list of injured players including scrum-halve Fabien Cibray (out for six month) and Matt Henjak. Lock Jocelino Suta, front rowers Jean-Charles Orioli and Jean-Philippe Genevois as well as Christian Loamanu are also not available.
Centre Mafileo Kefu has been banned for 30 days for his swinging arm high tackle on Alexis Pallison last week.
There is some good news however as Dean Schofield and Fotunuupule Auelua are both fit again. Paul Sackey is also back after being rested.
Prediction: The faithful at Mayol will accept nothing less than victory. Toulon by ten points
Kick-off: 14:30 (12:30 GMT)
Referee: David Rosich
________________________________________________________________________
USA Perpignan v CS Bourgoin-Jallieu
Stade Aimé Giral, Perpignan
What is going on in Perpignan? Injuries can only partially explain the slump in form of the 2009 champions, who have just not come to the party this season.
Beaten at home by Montpellier, the Catalans needed a late rally to save a draw in Agen last week after throwing away a 20-point lead. Like Toulon, Saturday's host need a big win or risk losing contact with those at the top end of the standings.
Things however are even worse in Bourgoin, who are stuck in the basement and will stay there even if they produce a massive upset.
Perpignan have been boosted by the return of loose forward Damien Chouly, centre Gavin Hume and wing Adrien Planté but have lost wing/full-back Jeoffrey Michel.
Bourgoin President Gaston Maulin, they man who rescued the club from a financial crises has stepped down. New boss Arnaud Tourtoulou is expected to continue the work done by his predecessor's to stabilise the club.
Results last season: Bourgoin won 17-6 at home; Perpignan won 49-20 at home
Prediction: We can see only one result here. Perpignan to win with a bonus point
Kick-off: 14:30 (12:30 GMT)
Referee: Sébastien Minery
________________________________________________________________________
Racing-Métro 92 v Stade Rochelais Atlantique
Stade Yves Du Manoir - Colombes (Paris)
Racing's midtable position is probably not a true reflection of their strong start to the season which has been spent mainly on the road. Their only home game so far offered up a victory against the defending champions, so les Franciliens will be feeling positive and aiming for a bonus point against the new kids on the block.
News has centred around Racing boss Pierre Berbizier, who has made no attempt to hide his contempt for this week's referee Christophe Berdos.
Berbizier still blames Berdos for his side's loss in last season's play-offs and has gone so far as to label his appointment for this match as a "provocation."
"I have no pleasure in crossing paths with this person....I've had no contact with him and don't want any," Berbizier spat out at the midweek press conference.
Skipper Lionel Nallet and fly-half Jonathan Wisniewski are amongst those returning from being rested while Frans Steyn is back from duty with the Springboks. Sebastien Chabal has been given a rest.
As for La Rochelle, after an impressive start to the season, watching Toulouse run 50 points past them last week was a stark reminder that life in the Top 14 is not going to be easy.
Prediction: It should be one-way traffic. Racing to win with a bonus point
Kick-off:14:30 (12:30 GMT)
Referee: Christophe Berdos
________________________________________________________________________
Stade Français Paris v CA Brive Corrèze
Stade Charléty, Paris
In recent years Brive have not enjoyed their trips in Paris, where they have conceded an average 39 points in their last three games.
Les Brivistes will however arrive in the capital with a fair measure of confidence after their bonus-point win over Toulon last week. With away games in Castres and Toulouse next up, Ugo Mola's team will be hoping to pick up at least a losing bonus in Paris.
Stade Français had a cracking start to the season but came back down to earth with a bump in Biarritz last week. Back at Stade Charléty, where they have yet to lose Mickael Cheika will want to get some momentum back with more exciting rugby.
Scrum-half Julien Dupuy is an uncertain starter with a sprained ankle. Centre Gonzalo Tiesi and full-back Hugo Southwell have both been ruled out meaning Guillaume Boussès should partner Mathieu Bastareaud in midfield while Argentine Martin Rodriguez could wear number fifteen.
Results last season: Stade Français won 44-12 at home; Brive won 26-14 at home
Prediction: History suggest the hosts will come out on top. Stade Français to win by eight points
Kick-off:14:30 (12:30 GMT)
Referee: Jérôme Garces
________________________________________________________________________
Biarritz Olympique v Stade Toulousain
Parc des Sports d'Aguilera, Biarritz
Four months after losing the Heineken Cup Final to Toulouse, Biarritz will have revenge on their minds. Initially set to take place at the Estadio Anoeta in Saint-Sébastien, BO's less-than-brilliant form has pushed them to rather play at their traditional home.
After another poor start to the season, the Basques were reassured by victory over Stade Français last week but still remain in a tight spot at the wrong end of the standings.
The next step is to move beyond the restrictive forwards-based game they have relied on so far and start spreading the ball around.
Toulouse on the other hand have been keen to give the ball some air and the influence of new backs coach Jean-Baptiste Elissalde has given the European champs' backs a new lease on life. A 50-point drubbing of La Rochelle was an obvious boost to confidence.
Toulouse back row Grégory Lamboley has an Achilles tendon injury and wont travel to the Atlantic coast, neither will lock Yoann Maestri, who has been ruled out for three weeks.
Results last season: Toulouse win 23-3 at home; Biarritz won 26-10 at home
Prediction: It'll be tight. Biarritz to grind out a narrow win
Kick-off:16:25 (14:25 GMT)
Referee: Franck Maciello