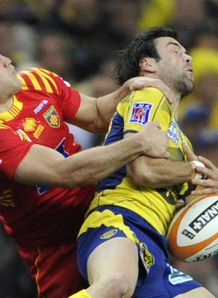 Related links
Also see
The new Top 14 season kicks-off where it left off last June with a rematch between losing finalists Perpignan and champions Clermont.
Friday will see six of the seven Round One fixtures take place before newly-promoted La Rochelle take on last season's surprise package Castres on Saturday.
The action kicks off in Toulouse when the reigning European champions host Agen, who are back in the Top 14 after a three-year stint in the ProD2.
Title hopefuls Toulon will expect to extended last season's unbeaten run at home into this campaign against Bayonne.
Ambitious Racing-Métro face a tough trip to Brive while Montpellier visit Biarritz.
New Stade Français coach Michael Cheika will expect a winning start to his tenure as Bourgoin travel to the capital.
Fixtures:
Friday, August 13
Toulouse v Agen
Toulon v Bayonne
Biarritz Olympique v Montpellier
Brive v Racing-Métro 92
Stade Français v Bourgoin
Perpignan v Clermont
Saturday, August 14
La Rochelle v Castres
________________________________________________________________________
Previews:
Friday, August 13
Stade Toulousain v SU Agen
Stade Ernest Wallon, Toulouse
A sold-out stadium awaits eight-time champions Agen when they travel to the most successful club in European rugby. Agen last made the final in 2002 and won't be under any illusions that they'll go that far this season.
Toulouse will line-up a mostly French side with Pumas Patricio Albacete and Alberto Vernet Basualdo struggling with knee and shoulder injuries respectively, Fijian wing Vilimoni Delasau out with a hamstring problem, South African loose forward Shawn Sowerby sidelined after a hernia operation and Byron Kelleher still not recovered from his fractured jaw.
That means new Argentine signing Nicolas Vergallo starts in the number nine jersey inside David Skrela in a team stacked with French internationals. Former Bourgoin loose forward Sylvain Nicolas get his first start in red and black.
Agen will also be missing three Fijians: Suspended Rupeni Caucasus has still not returned to France, and newly recruited Saïmoni Vaka and Osea Kolinisau only expected to be fit in September.
A handful of other injuries look set to make Agen's opening day a very tough one.
Prediction: Despite missing a busload of stars, Toulouse should win easily
Kick-off: 18:45 (6:45 GMT)
Referee:Laurent Cardona
________________________________________________________________________
RC Toulon v Aviron Bayonnais
Stade Felix Mayol, Toulon
Toulon closed their doors on Wednesday to prepare away from prying eyes as the pressure starts to build on a club with lofty ambitions.
Club owner Mourad Boudjellal has labelled his side "favourites" for the Top 14 title and we tend to agree with him. A couple of pre-season wins have suggested things are going the right way.
The hosts will have to do with their first-choice half-back pairing as Pierre Mignoni has pulled out and Jonny Wilkinson has a shoulder injury.
Carl Hayman, George Smith, Rudi Wulf and Paul Sackey all earn their first Toulon caps.
Normal captain Joe Van Niekerk is absent, so the team will be led by Juan Martin Fernandez-Lobbe.
Bayonne won just one game on the road all of last season (in Montpellier) so a trip to fortress Mayol won't be easy.
For the Basques, who are still thanking their lucky stars that Montauban ran out of money, a couple of new faces expected to make a big impact will be missing.
Former Stormers full-back Joe Pietersen (groin) and Bayonne skipper Rémy Martin (shoulder) have joined former All Blacks lock Troy Flavell on the sidelines and will miss the season opener.
French international Lionel Mazars starts in midfield with former Bourgoin hero Benjamin Boyet at fly-half.
Results last season: Toulon won both games. 14-8 away and 31-13 at home
Prediction: On paper, the hosts should dominate. Toulon by fifteen points
Kick-off: 19:00 (17:00 GMT)
Referee: Cédric Marchat
________________________________________________________________________
Biarritz Olympique v Montpellier HR
Parc des Sports d'Aguilera, Biarritz
Having lost just twice at home last season, Biarritz will start as favourites as they aim for an improved better domestic campaign.
The hosts will be without stalwarts Imanol Harinordoquy (ribs) and Damien Traille (hamstring) with neither expected to be back very soon.
Biarritz have had just one warm-up match ahead of the new season, a 21-7 win over newcomers La Rochelle. Marcelo Bosch starts at full-back with Iain Balshaw in midfield. Wings Takudza Ngwenya and Ilikena Bolakoro have been suspended for disciplinary reasons.
For the visitors, who smashed ProD2 side Carcassonne in preseason, skipper Fulgence Ouedraogo and Benjamin Thierry should be fit to start despite sitting out training earlier this week.
Results last season: Montpellier won 22 - 18 at home; Biarritz won 26 - 10 at home
Prediction: BO are usually reliable at home. Biarritz to win by ten points
Kick-off: 19:00 (17:00 GMT)
Referee: Sébastien Minery
________________________________________________________________________
CA Brive Corrèze v Racing Métro 92
Stade Amédée Domenech, Brive

Two clubs who spent big money last year but had very different results face off in the Limousin region.
Good news for Racing is that Head Coach Pierre Berbizier has finally not been cited for his outburst against the match officials following his side's loss to Clermont in the play-offs last season.
Bad news however is that Berbizier's team travels South without a number of big names.
Francois Steyn, Andrea Masi, Karim Ghezal and Scott Zimmerman are all still recovering from their injuries. Lionel Nallet has also not been named in the squad nor has Juan Martin Hernandez, who is yet to take contact in training.
Newly-recruited wings Mirco Bergamasco and Benjamin Fall are both expected to start however.
Like last year, the hosts have a very tough draw in the first half of the season, making their opening game at home even more vital.
Brive beat English Premiership champions Leicester 29-17 in preseason but the memory of their home defeat to Racing last season will still be fresh in their minds.
Noises coming out the CABCL have all been positive as they aim to make amends for last year's disappointments that included three losses and two draws at Stade Amédée Domenech.
Results last season: Racing won both games: 18-10 away and 25-18 at home.
Prediction: Tough one to call but we'll stick our necks out and back Brive to win by a whisker
Kick-off:19:00 (17:00 GMT)
Referee: Mathieu Raynal
________________________________________________________________________
Stade Français v CS Bourgoin-Jallieu
Stade Charléty, Paris
At their new (temporary) home on the southern outskirts of Paris, Stade Français are looking for a fresh start after last season's couchmare.
The Parisians narrowly lost 25-22 on the road to a near full-strength Toulon in preseason, so things aren't looking bad for their latest Aussie coach (their third after Ewen McKenzie and John Connolly).
Scrum-half Julien Dupuy returns from suspension to start while Brian Liebenberg is back from injury and is on the bench.
Bourgoin have had more trouble with the DNACG, who have placed a limit on the club's salary budget which has jeopardised the arrival of Griquas prop Albertus Buckle.
Former Reds wing Brando Va'aulu and former Griquas prop Ruan du Preez and Hurricane Alex Tulou are set to make their Bourgoin debuts. Veteran Test prop Olivier Milloud and former Oyonnax forward Silvère Tian are amongst the injured absentees.
Results last season: Stade Français won both games: 20-6 at home and 22-16 away
Prediction: It should be a first win at Stade Charléty for the hosts. Stade Français by twelve points
Kick-off:19:00 (17:00 GMT)
Referee: David Rosich
________________________________________________________________________
USA Perpignan v ASM Clermont Auvergne
Stade Aimé Giral, Perpignan
The clash of the weekend will take place in front of a full house as Perpignan seek some sort of revenge for their defeat at the Stade de France.
Perpignan were unbeaten at home last season, so will start as favourites.
Clermont coach Vern Cotter has left out all of the French internationals that toured in June, though they will be available for next week's match against Bourgoin.
New recruits Sione Lauaki and Ti'i Paulo have both been named in the matchday squad.
Tighthead Davit Zirakashvili has a calf injury and has been replaced by Pumas prop Martin Scelzo.
The hosts have a long injury list including lock Olivier Olibeau, centre Gavin Hume, hooker Marius Tincu, scrum-half Florian Nicolas Laharrague, and wing Andrien Planté. Loose forward Henry Tuilagi is still on holiday.
Manny Edmonds starts at fly-half but centre Maxime Mermoz is on the bench.
Results last season: Perpignan won 19-3 at home. Clermont won 22-17 at home. Clermont won 19-6 in the Final
Prediction: Clermont will miss their French internationals. Perpignan to win by six points
Kick-off:19:00 (17:00 GMT)
Referee: Jérôme Garcès
________________________________________________________________________
Stade Rochelais Atlantique v Castres Olympique
Stade Marcel Deflandre, La Rochelle
La Rochelle, one of the oldest clubs in France, have been given the spotlight on the opening weekend as they host Castres in Saturday's only game.
If the hosts are going to win any games this season, it's likely to be at home and at the start of the season before the lack of depth in their squad can truly be exposed.
Unfortunately for the les Maritimes they face one of last season's most consistent teams, bolstered by the returns from injury of Georgian hooker Aksventi Giorgadze (broken leg) and lock Mathieu Rolland.

Prediction: Castres by seven points.
Kick-off:20:45 (18:45 GMT)
Referee: Cyril Lafon