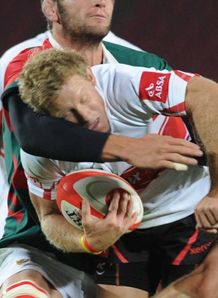 John Mitchell's time in charge of the Lions got off to a good start on Friday with a 43-13 trouncing of the Leopards in the Currie Cup.
The Lions were every bit as impressive in the second half as the first. Stiffer challenges await but for a young team this was an extremely good night at the office.
Scrum-half Jano Vermaak was an inspiration, scoring two tries, while Marius Delport, Waylon Murray and Jaco Taute also scored, with Herkie Kruger converting three and landing four penalties.
Leopards captain Wilhelm Kock and winger Deon Scholtz scored second-half consolations for the Leopards.
The scorers:
For the Leopards:
Tries: Scholtz, Koch
Pen: C Dumond
For the Golden Lions:
Tries: Vermaak 2, Delport, Murray, Taute
Cons: Kruger 3
Pens: Kruger 4
Lions: 15 Jaco Taute; 14 Tonderai Chavhanga, 13 Marius Delport, 12 Waylon Murray, 11 Michael Killian; 10 Herkie Kruger, 9 Jano Vermaak; 8 Jonothan Mokuena, 7 Franco van der Merwe (c), 6 Derick Minnie, 5 David Bulbring, 4 George Earl, 3 Ross Geldenhuys, 2 Martin Bezuidenhout, 1 JC van Rensburg.
Replacements: Francois du Toit, Kevin Buys, Warren Whiteley, Robert Kruger, Chris Jonck, Elton Jantjies, Deon van Rensburg.
Leopards: 15 Russell Jeacocks; 14 Deon Scholtz, 13 Jovan Bowles, 12 Neill Jacobs, 11 Dumisani Matyeshana; 10 Cecil Dumont, 9 Michael Bondesio, 8 RW Kember, 7 Wilhelm Koch (c), 6 Victor Joubert, 5 Anthonie Gronum, 4 Ligtoring Landman, 3 Philip Lemmer, 2 Gavin Williamson, 1 Divan Kotzé.
Replacements: 16 Pellow van der Westhuizen, 17 Aranos Coetzee, 18 Draad Linde, 19 Riaan Swanepoel, 20 Jean Tiedt, 21 Kempie Rautenbach, 22 Danie Dames.
Referee: Lourens van der Merwe
Assistant referee: Mlungiseli Mdashe, Stefan Breytenbach