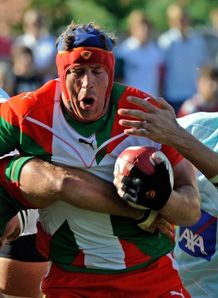 Related links
Also see
There are six Top 14 clashes on Friday as Perpignan play host to Biarritz while leaders Castres visit play-off hopefuls Toulon.
On the eve of the national side's clash with Italy, France's domestic league reaches the final straight with three teams facing the prospect of relegation and joining Albi in the drop to the ProD2
Montauban, Bayonne and Bourgoin have five games left to save their bacon.
Montauban look to be in the most trouble and must come up with something special at home to Racing Metro. Bayonne will be hoping to take advantage of the Six Nations weekend against an under-strength Clermont side. Bourgoin lead the trio and have arguably the easiest game of the weekend - albeit on the road - against Albi.
Stade Français have one last chance to revive their European and play-off qualification hopes against Brive, who are in a similar boat. The losers can forget about finishing in the top six.
Trailing the leaders by seven points, Toulouse know they need to continue the sprint for the line they started in Paris last week with another strong performance at home to Montpellier.
Fixtures:
Friday, March 12
Toulon v Castres
Bayonne v Clermont
Toulouse v Montpellier
Albi v Bourgoin
Brive v Stade Français
Perpignan v Biarritz
Saturday, March 13
Montauban v Racing Metro
Standings:
1 Castres 67
2 Clermont 65
--------------
3 Perpignan 62
4 Toulouse 60
5 Toulon 59
6 Racing Metro 55
--------------
7 Stade Français 49
8 Biarritz 47
9 Brive 47
10 Montpellier 42
11 Bourgoin 40
12 Bayonne 39
--------------
13 Montauban 37
14 Albi 19
________________________________________________________________________
Previews:
Friday, March 12
RC Toulon v Castres Olympique
Stade Felix Mayol, Toulon
Two in-forms team lock horns at fortress Felix Mayol as Toulon clash with league leaders Castres for the fourth time this season after having been drawn in the same European Challenge Cup pool.
Toulon convincingly won both those European games while Castes narrowly won at home in the Top 14 back in October.
The home side have a near-full strength squad at their disposal with the only absentee being Jonny Wilkinson since Sébastien Bruno has recovered from a minor foot problem.
It took a last-gasp effort to get the better of Biarritz last week, but Toulon remain unbeaten at home.
"This (the home record) was one of my primary objectives when I arrived here (last summer from English club Sale)," said Toulon boss Philippe Saint-Andre.
"I wanted to impress on the players this enduring history of Stade Mayol being a fortress.
"It is easier said than done, but one tries to play an effective style, to be generous in attack, courageous, intelligent and disciplined."
However, while Saint-Andre is full of praise for Castres, conceding they are a better balanced, more powerful and mature side, he is desperate for his players not to take their foot off the pedal with a play-off place virtually within their grasp.
"Now is not the time to sit back smoke a cigar and relax eating chocolate," said Saint-Andre.
"We have been in contention for a place in the top six since the beginning of the season and it would be a crying shame to put a spanner in the works with just five games remaining."
Previous result: Castres won 21 - 19
Prediction: Off the back of three straight wins, Castres are looking to set themselves up for automatic qualification for the semi-finals, but Toulon look unstoppable at home. Toulon by six points
Kick-off: 19:00 (18.00 GMT)
Referee: Jérôme Garces
________________________________________________________________________
Aviron Bayonnais v Clermont Auvergne
Stade Jean Dauger, Bayonne
Thanks to a bonus-point win against Albi last week, Bayonne put their heads above water but must raise their game once again as they host one of the League's biggest guns.
Just two points clear of the drop zone, the Basques are playing for survival, but the Six Nations schedule might just have thrown them a lifeline as Clermont travel west missing seven internationals.
But Bayonne don't have a great record at home against the heavy hitters: Castres, Toulon, Perpignan, Racing and Toulouse have all take four points from Stade Jean Dauger this season and the absence of Italy fly-half Craig Gower from the home side won't help them.
Previous result: Clermont won 38-13
Prediction:Bayonne's win in Montpellier two rounds ago was a sign of revival, so we'll back them to cause an upset. By a whisker
Kick-off: 19:00 (18.00 GMT)
Referee: Cyril Lafon
________________________________________________________________________
Stade Toulousain v Montpellier HRC
Stade Ernest Wallon, Toulouse

After being upset by Toulon, Toulouse bounced back in the best possible manner by thumping Stade Français in Paris last Saturday.
Even without their Six Nations players, the Toulousains have the resources to mount a serious challenge for a place in the top two.
With Clermont and Castres both on the road this weekend Toulouse - like Perpignan - will know they have a golden opportunity to close the gap on the leaders.
But Guy Novès' team will do well not to underestimate a Montpellier side who have caused a few upsets this season and are in desperate need of points.
If a couple of results elsewhere don't go their way, Montpol could find themselves on the edge of the relegation zone at the end of the weekend.
Deprived of François Trinh-Duc but with Fulgence Ouedraogo leading the charge, les Montpelliérains will look to sneak a losing bonus point before another tough trip to Clermont.
Previous result: Toulouse won 12-30
Prediction: The Big Red Machine should be kicked into top gear at home. Toulouse to win by fifteen points
Kick-off: 19:00 (18.00 GMT)
Referee: Stephan Pomarede
________________________________________________________________________
SCA Albi v CS Bourgoin-Jallieu
Stadium Municipal, Albi
Bourgoin enter the third week of a crucial period that could save them from relegation.
With two wins from their previous do-or-die battles against Bayonne and Montauban, les Berjalliens could take a huge step towards securing their survival against a side with nothing to lose but nothing much to gain.
After six straight losses, Albi have only a very far-fetched mathematical chance to avoid the drop. The ProD2 beckons for them, but can Bourgoin avoid it?
Previous result: Bourgoin won 26-16
Prediction: Considering Albi's negative spiral, we have to back the visitors. Bourgoin to win by seven
Kick-off:19:00 (18.00 GMT)
Referee: Nigel Owens (RFU)
________________________________________________________________________
CA Brive-Corrèze v Stade Français
Stade Amédée Domenech, Brive

Stade Français' hopes of reaching the play-offs are fading fast as they travel to Stade Amédée Domenech, where Brive are undefeated since October.
The Parisians have won just once on the road this season - last month in Bourgoin - although they have picked up no less than four draws on their travels.
Six points off the play-off pace, Stade's confidence took a massive blow in being humiliated by Toulouse last week and their squad is seriously depleted with influential players such as Mathieu Bastareaud, Dimitri Szarzewski, James Haskell and the Bergamasco brothers away on Six Nations duty.
Lionel Beauxis is set to play at full-back while Charlie Davies fills in at fly-half and Ignacio Mieres shifts from ten to nine.
Stade's flamboyant president Max Guazzini was furious beyond belief following last Saturday's limp display at the Stade de France and coaches Jacques Delmas and Didier Faugeron have read the riot act to the players.
Delmas has not minced his words and is clear about what he wants to see from his players.
"I don't want to see fear in their eyes, which there was against Toulouse, and they have to fight for everything out there on the pitch, otherwise they may as well wave the white flag, because we will come away with nothing," he said.
Two points worse off than their visitors, Brive's ambitions of making it back into Europe are also hanging by a shoestring.
Off the back of two losses - to Biarritz and Castres - a third negative result will spell the end of their chances of making the cut.
Good news for the Correziens is the return from injury of South African loose forward Gerhard Vosloo and fly-half Fabrice Estebanez.
Previous result: Stade Français won 44 - 16
Prediction: Considering Stade injry and confidence crisis and Brive current home form, we'll back the hosts. Brive to win by five
Kick-off:19:00 (18.00 GMT)
Referee: Mathieu Raynal
________________________________________________________________________
USA Perpignan v Biarritz Olympique
Stade Aimé Giral, Perpignan
After being denied victory over Toulon at the very death last week, the clash of the weekend is a case of last chance saloon for Biarritz.
Already trailing the play-offs cut off by eight points, an unlikely win in Catalogne is a non-negotiable.
The task is as difficult as they come since Perpignan are unbeaten at Aimé-Giral in the Top 14 this season.
To make matters worse, the Six Nations has deprived BO of Imanol Harinordoquy and Dimitri Yachvili, arguably their two best players. But the Basques will draw encouragement from the teams' previous meeting, when they outclassed the defending champions to win 27-12.
Perpignan are fuming after loose forward Grégory Le Corvec was slapped with a pre-inquiry suspension after being cited for allegedly eye-gouging Clermont lock Jamie Cudmore.
Le Corvec has vigorously denied the charge, accusing Cudmore of blatantly lying and the club have issued a strongly-worded statement expressing their stupefaction at the decision to suspend their player before he is found guilty.
"We have the distinct impression that we are not been treated as other teams. If it is upsetting that Perpignan is the champion of France, we should be told so," said Perpignan Director Paul Goze.
"We shall make public the video evidence which the citing commissioner refuses to look at. We will use every means in our power to fight against this farce and the bias involved even if it means going to court to be heard."
Nicolas Mas, David Marty, Ovidiu Tonita and Marius Tincu are all away on national duty while Rimas Alvarez-Kairélis and Julien Candelon are on the injury list.
Better news for Perpignan fans however is that Gerrie Britz, Gavin Hume, Jérôme Porical, Perry Freshwater, Maxime Mermoz and Jean-Pierre Perez are available.
Previous result: Biarritz won 27-12
Prediction: You can't argue with the champs' home record. Perpignan to win by eight points
Kick-off:20:45 (19.45 GMT)
Referee: Jean-Luc Rebollal
________________________________________________________________________
Saturday, March 13
Montauban v Racing Metro 92
Stade Sapiac, Montauban
Montauban have their backs to the wall and will be counting on the fierce Sapiac crowd to give Racing a hot reception in Saturday's only game.
Toulon, Biarritz, Clermont and Perpignan have all left Sapiac empty-handed this season, and another big performance is needed if the green armada are to lift themselves out of the relegation zone.
Racing on the other hand are fighting for a place in the top six and will be smarting from their last-minute loss to Montpellier last week.
With Sébastien Chabal and Lionel Nallet in duty with les Bleus and young fly-half sensation Jonathan Wisniewski out for a month with a hamstring tear, Pierre Berbizier's men will need to draw on all their resources.
Previous result: Racing won 17-12
Prediction:A tough one to call. When in doubt, go for the home side. Montauban by a point or two
Kick-off:20:45 (19.45 GMT)
Referee: Patrick Pechambert