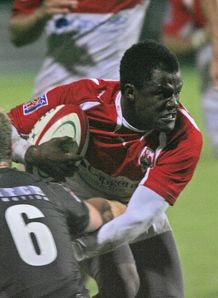 Related links
Also see
Biarritz took a step in the right direction in the Top 14 on Friday, with a 12-6 win over Brive in a dreadful game.
Both teams were missing several front line players to injury and international call-ups, and the rain fell and fell and fell on the Parc ds Sports Aguilera.
Bless the hardy 6,000-odd souls for turning up in such weather - which has already seen one match in Biarritz postponed this season - but you can be sure they are unlikely to make a second trip when the rain is falling and the Six Nations is on.
The Basques controlled the longer parts of the game and deserved their win, which was sealed by three penalties from Valentin Courrent and a drop goal from Julien Peyrelongue.
Brive replied with two penalties from Fabrice Estebanez and were reasonable value for their defensive bonus point.
Beyond that, there was little else to report.