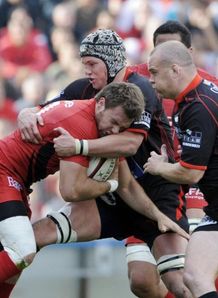 Related links
Also see
After a three-week break the Top 14 gets back into full swing this weekend as Toulouse host Toulon and Castres travel to Racing Metro.
Who will hit the ground running after the holidays? How much will the absence of the 27 members of the French and English national teams affect the results?
With a gap opening between sixth-placed Toulon and their nearest challengers (Brive) the candidates for the play-offs are becoming clearer with seven rounds to play.
The big story is the absence of giants Biarritz and Stade Français from that list or six. The Parisians still have a chance of sneaking through the back door and will be counting on a win in Bourgoin on Saturday.
The Biarritz cause however seems to be much more of a long shot and a win for the Basques over Brive on Friday will probably ruin the Correziens' chances too.
The other Basque club is in even bigger trouble. Bayonne are slipping ever closer to relegation and a trip to Montpellier - who have been near-unstoppable at home this season - looks like a tough assignment.
Of course the Top 14 always dishes up the unexpected, so don't bet your house either way. If you're looking for a safe bet though, you can be sure Clermont will run rings around ProD2-bound Albi on Saturday.
Of course the weekend's main attraction will be Toulon's trip to Toulouse where the hosts will be seeking revenge for their defeat at the Velodrome in September.
Racing Metro will be hoping to take a step closer to the play-offs at home to co-leaders Castres in the weekend's other big fixture.
Top-of-the-table Perpignan travel to the ever-intimidating Sapiac in Montauban.
The official transfer window opened on Monday meaning that clubs and players are free to start signing 'pre-contracts.' Fijian international Seremaia Bai has been the first to jump ship, inking a transfer deal from Clermont to Castres.
Fixtures:
Friday: February 19
Biarritz v Brive
Saturday: February 20
Racing Metro v Castres
Clermont v Albi
Montpellier v Bayonne
Bourgoin v Stade Français
Montauban v Perpignan
Toulouse v Toulon
Standings:
1 Perpignan 60
2 Castres 60
3 Clermont 56
4 Toulouse 55
5 Racing-Métro 52
6 Toulon 51
7 Brive 46
8 Stade Français 45
9 Biarritz 42
10 Montpellier 37
11 Montauban 33
12 Bourgoin 31
13 Bayonne 29
14 Albi 20
________________________________________________________________________
Previews:
Friday: February 19
Biarritz Olympique v CA Brive-Corrèze
Parc des Sports d'Aguilera, Biarritz
It's looking more and more likely that Biarritz will have to pin their hopes of qualifying for next season's Heineken Cup by winning the current edition. The Basques' nine-point deficit on Toulon looks too big considering their domestic form.
Brive however are still in with a shout, especially if Toulouse can do them a favour by beating Toulon. The Correziens have made a remarkable comeback after a poor start to the season. They've lost just twice in nine starts in the Top 14 since the end of October. The five-point gap to sixth place is more than closeable and they'll be looking up.
While visitors will be missing Steve Thompson, Riki Flutey and Alexis Palisson through Six Nations call ups, BO will be without arguably their four best players, Dimitri Yachvili, Fabien Barcella, Damien Traille (all injured) and Imanol Harinordoquy. Promising full-back Paul Couet-Lannes, Magnus Lund and League convert Karmichael Hunt are also crocked.
Previous result: Biarritz won 15-12
Prediction:Brive are looking good, but home ground advantage in France should never be ignoredBiarritz by a point or two.
Kick-off: 20:45 (19.45 GMT)
Referee: Cyril Lafon
________________________________________________________________________
Racing-Métro 92 v Castres Olympique
Stade Yves Du Manoir - Colombes (Paris)
It's one of the big games of the weekend. Castres and Racing have provided the biggest surprises of the season. Neither the league co-leaders nor the ProD2 champions have played electrifying rugby, but you can't argue with the results gathered by their pragmatic styles.
Castres spent a week in Corsica with the intention of revitalising their squad ahead of the final sprint for the play-offs and look like genuine contenders for automatic semi-final qualification. With a full-strength squad, they'll be aiming to regain sole leadership of the league.
Sébastien Chabal has returned to training after being forced to withdraw from France's Six Nations squad with a back injury, but is unlikely to start for Pierre Berbizier's team, who know they can beat anyone after their victory over Clermont last month.
Previous result: Castres won 9-6
Prediction:Paris' other club have been impressive at home this year, so we'll back Racing to win by four.
Kick-off: 14:15 (13.15 GMT)
Referee: Romain Poite
________________________________________________________________________
Clermont Auvergne v SCA Albi
Parc des Sports Marcel Michelin, Clermont-Ferrand
This could end up looking like a cricket score. Clermont have broken the 30-point barrier eights time this season already. At home against a club bound for relegation, no one will be surprised if they score 50 or more.
Clermont centre Marius Joubert will attempt another comeback after two hamstring operations. Julien Bonnaire and Julien Pierre have been kept with the national side and despite them hardly playing in the Six Nations so far, Clermont's request to give them game time was denied.
Previous result: Clermont won 40-8
Prediction:The hosts might be missing five internationals, but this should be a breeze.Clermont to win with a bonus point,
Kick-off: 14.30 (13.30 GMT)
Referee:Sébastien Minery
________________________________________________________________________
Montpellier HRC v Aviron Bayonnais
Stade Yves Du Manoir, Montpellier
Bayonne have yet to win on the road this season so a trip Montpellier, who have one of the best home records in the league, makes for a stiff challenge. But if Bayonne are to entertain hopes of survival, this is the kind of game where they must pick up at least a point.
Montpellier's 15-0 win over leaders Castres last month was proof of how good they can be at Stade Yves Du Manoir. But the absence of Fulgence Ouedraogo and François Trinh-Duc will severely weaken Montpol so the Basque visitors could be in with chance.
Montpellier aren't completely out of the woods yet either, and with fixtures against Racing, Toulouse and Clermont next on the agenda, another home win will be very welcome.
Previous result: Bayonne won 26-3
Prediction:Montoellier's home form cannot be ignored.Montpellier by eight points
Kick-off: 14:30 (13.30 GMT).
Referee: Jean Matheu
________________________________________________________________________
CS Bourgoin-Jallieu v Stade Français
Stade Pierre Rajon, Bourgoin
Two clubs under enormous pressure, for very different reasons, face off at Pierre Rajon.
Stade Français simply cannot afford to drop any points if they are to have any hope of making the final six. In fact a bonus point win is probably required if they are to stay in contention. But without five French internationals and a couple of suspended players, the Parisians will be far from full-strength.Coming of the back of a 49-20 drubbing away to Perpignan, Bourgoin need to get the train back on the tracks. Just two points clear of the drop zone, their postponed game with Bayonne is set to become a relegation play-off.
Bourgoin can play some good rugby. They will look to their home wins over Racing, Castres, Biarritz and Perpignan this season for inspiration. Three consecutive home games will provide CSBJ with a real chance to save their skin.
Bourgoin's Pablo Cardinali has returned to training after recovering from the fractured eye socket he sustained in December.
Previous result: Stade Français won 20-6
Prediction:Tough one to call considering the scalps Bourgoin having claimed this year, but Stade Français will not be short on motivation.Stade Français by a whisker
Kick-off: 14:30 (13.30 GMT
Referee: Jean-Luc Rebollal
________________________________________________________________________
Montauban v USA Perpignan
Stade Sapiac, Montauban
Just two points ahead of Bourgoin and four clear of Bayonne, (who both have a game in hand, against each other), Montauban are danger of slipping into the relegation zone if they don't start picking up points.
Perpignan on the other hand are riding high after bouncing back from the disappointment of their European campaign. The champions are back at the top of the standings thanks to three straight wins, but their form on the road is still questionable.
An away win will come in very handy for the Catalans who must face Clermont, Biarritz, Stade Français and Toulon in the next four rounds.
Previous result: Perpignan won 28 - 9
Prediction:Sapiac is a tough place to visit, we we'll back Perpignan to win by five
Kick-off: 14:30 (13.30 GMT)
Referee: Franck Maciello
________________________________________________________________________
Stade Toulousain v RC Toulon
Stade Ernest Wallon, Toulouse
What face will Toulouse present in front of a sold-out crowd on Saturday? The big red machine was gathering momentum before the 24-day break and the absence of seven Bleus is bound to make a difference.
Toulouse manager Guy Novès will not need to warn his team of how dangerous Toulon can be. Phillipe Saint André's team has already beaten Toulouse this season and recently won in Paris against Stade Français.
In fact Toulon have had the better of their hosts this weekend twice in three meetings, losing 19-18 in this fixture last year.
Already qualified for the European Challenge Cup quarter-finals and looking good for a place in the Top 14 play-offs, Toulon's ambitions continue to grow.
Toulon will of course be missing Jonny Wilkinson, but Felipe Contepomi as about as good a replacement as les Varois could ask for. Scrum-half Pierre Mignoni is injured, but the visitors otherwise have a full-strength squad to choose from including lock Joce Suta, who is back from a twenty-day suspension.
In addition to their missing French internationals, Toulouse could be without Jean-Baptiste Elissalde, but David Skrela is fit (for how long, nobody knows).
As usual, Toulon and Toulouse have been in the news: Toulon have been linked with both Shane Williams and Paul Sackey while Toulouse manager Guy Novès has been ranting about unavailability of his French internationals.
Good news for Toulouse however comes in the form of Maxime Médard's two-year contract extension.
Previous result: Toulon won 18-13
Prediction:Toulon have all the ammunition necessary to win, but we've learnt our lesson when it comes to Toulouse at home. Toulouse to win by four
Kick-off: 16:25 (15.25 GMT)
Referee: Pascal Gauzere