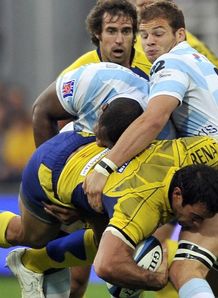 Related links
Also see
With the dust barely settled after the weekend's European action, Clermont visit Racing on Wednesday while the Basque derby headlines on Thursday.
With the Six Nations fast approaching, this week's fixtures have been moved forward to allow the French national team a few extra days to prepare at their headquarters at Marcoussis where they will gather on Friday.
When the teams met in Round Six, all the home teams came out on top. Four months later, expect most of those results to be reversed in the return leg.
Under-pressure Stade Français have the unenviable task of travelling to co-leaders Castres as the Parisians try to rescue their domestic season.
Toulon will fancy their chances of avenging their one-point defeat to Montpellier in September in front of their home fans while Brive will be looking to continue their revival (in the Top 14 at least) when they host Montauban.
On Thursday, revenge will be in the air in Perpignan when Bourgoin face the defending champions, who are still smarting from their early-season upset as well as their European elimination.
Toulouse will be chasing a bonus point in Abli before Bayonne and Biarritz bash each other in the always-bruising Basque derby, with both clubs' domestic seasons hanging in the balance.
Fixtures:
Wednesday, January 27
Racing Metro v Clermont
Toulon v Montpellier
Brive v Montauban
Castres v Stade Français
Thursday, January 28
Albi v Toulouse
Perpignan v Bourgoin
Bayonne v Biarritz
Standings:
1 Clermont 56
2 Castres 56
-------------
3 Toulousain 50
4 Perpignan 50
5 Racing Metro 48
6 RC Toulon 46
-------------
7 Stade Français 45
8 Biarritz 42
9 Brive 42
10 Montpellier 37
11 Montauban 32
12 CS Bourgoin31
------------
13 Bayonne 25
14 Albi 20
________________________________________________________________________
Previews:
Racing-Métro 92 v Clermont Auvergne
Stade Yves Du Manoir - Colombes (Paris)
Just four days after running Viadana ragged in Europe, leaders Clermont face a stiffer challenge when they head to Paris to take on another in-form side.
Despite having nothing to play for, Racing dug deep to beat Wasps in the Challenge Cup on Thursday. After consecutive defeats to Bourgoin and Perpignan ended their nine-match winning streak, les Franciliens would obviously be looking to get their challenge for the play-offs back on track - no easy task against a free-scoring Clermont side bubbling with confidence.
Good news for the hosts however is Clermont's decision to rest skipper Aurélien Rougerie, prop Thomas Domingo, hooker Mario Ledesma, locks Jamie Cudmore and Thibault Privat and wing Napolioni Nalaga.
All of Racing's stars are fit for action (Nallet, Chabal, Steyn, Masi etc).
Previous result: Clermont won 30-22
Prediction:Clermont have strength in depth and should still be able to line up a fantastic side. Clermont by a whisker
Kick-off: 19:00 (18:00 GMT)
Referee: RFU Referee
________________________________________________________________________
RC Toulon v Montpellier HRC
Stade Felix Mayol, Toulon
Toulon will be in high spirits after running six tries past Castres to qualify for the Challenge Cup quarter-finals. The Mayol faithful will now have their sights set on a play-off spot, which is on the cards if they can beat their visitors from down the Mediterranean cost.
Jonny Wilkinson is away at an England training camp in Portugal but Toulon are by no means short of firepower as Pumas playmaker Felipe Contepomi is set to wear number ten. Back row Fernandez Lobbe, scrum-half Pierre Mignoni and centre Sonny Bill Williams also return to the squad.
Montpellier have been in good form of late, claiming the scalps of Stade Français and Castres at home, but the question marks over the ability to travel remain. French internationals Francois Trinh-Duc and Fulgence Ouedraogo will start.
Previous result: Montpellier won 21-20
Prediction:The hosts are still unbeaten at fortress Mayol. Toulon to win by six points
Kick-off: 19:00 (18:00 GMT)
Referee: Laurent Cardona
________________________________________________________________________
CA Brive-Corrèze v Montauban
Stade Amédée Domenech, Brive

After a massively disappointing European campaign - they didn't win a single game - Brive's hopes of salvaging their season lie in their slim, but realistic, chances of making the Top 14 play-offs.
Off the back of wins against Toulouse, Perpignan and Albi the Corréziens have a golden opportunity to throw their name into the play-offs hat, especially considering that rivals Stade Français and Biarritz have tricky away matches.
Of course it'll all mean nothing if they can't beat a Montauban side that has won just once in seven games.
Brive welcome back recently called-up France squad members Alexis Palisson and Fabrice Estebanez after they were rested for the Scarlets' visit last weekend.
Previous result: Montauban 23-20
Prediction:Montauban will be happy with a loisng bonus point. Brive to win by ten points
Kick-off: 19:00 (18:00 GMT)
Referee: Stephan Pomarede
________________________________________________________________________
Thursday, January 28
Castres Olympique v Stade Français
Stade Pierre Antoine, Castres
If Stade Français play with the same boring predictability they did in Edinburgh on Saturday, they have little chance of picking up points in Castres. Coach Jacques Delmas has been reading the riot act all week as another defeat could see the Parisians fall off the pace in the play-offs race.
Despite setting the pace for most of the season so far, only one Castres player (prop Luc Ducalcon) has made France's Six Nations squad, meaning the Tarnais are a solid bet to finish the regular season in the top two. Off the back of an away loss to Montpellier in the Top 14 and Toulon (albeit with a below-strength team) in the Amlin Challenge, the co-leaders will be out to rebuild some momentum.
The form stats don't look good for the Stade Français who have yet to win on the road this year (although they have picked up four draws) while Castres are unbeaten at home.
At least the Parisians will have a specialist scrum-half, for a change, after young Benjamin Tardy was unable to play in the Heineken Cup. Hugo Southwell should move back to full-back.
Previous result:Stade Français won 44-18
Prediction:Stade might be desperate, but the numbers don't lie. Castres by five points.
Kick-off:20:45 (19:45 GMT)
Referee: Patrick Pechambert
________________________________________________________________________
SCA Albi v Stade Toulousain
Stadium Municipal, Albi
Since the creation of the Top 14, Albi have never beaten Toulouse at the Stadium Municipal and with a bunch of Toulouse players smarting from being dropped from the national side, things could get messy.
Albi have nothing more than a mathematical chance of avoiding relegation while Toulouse will be putting the pedal to the metal to catch the leaders.
The hosts have however shown signs of life at home. Wins against Perpignan and Biarritz are worth noting, as well as their impressive performance in Toulouse in September when they came desperately close to a huge upset.
Toulouse Guy Novès was doing his usual 'toys-out-the-cot' show on Tuesday, letting everyone know how ridiculous he thinks it is to see his team play two games in six days.
David Skrela, Yves Donguy and Romain Millo-Chluski return from injury for the visitors. Skrela will start outside Byron Kelleher. Previous result: Toulouse won 19-13
Prediction:Toulouse to win with a bonus point.
Kick-off:19:00 (18:00 GMT)
Referee: Christophe Berdos
________________________________________________________________________
USA Perpignan v CS Bourgoin-Jallieu
Stade Aimé Giral, Perpignan
After four straight losses in all competitions, Perpignan romped to a morale-boosting victory over Racing-Metro in the last round. However, defeat to Northampton would have rubbed salt into their European wounds (meaning they've loss six of their last nine starts) so expect the defending champions to come out and make a statement.
That's not good news for relegation-threatened Bourgoin, who were 17-6 winners when the teams met in September. It's been an up and down ride for the Berjalliens since then but qualification for the Challenge Cup quarter-finals is a positive sign.
Previous result: Bourgoin won 17-6
Prediction:Before the break during the Six Nations, The Catalans will be looking for five points. Perpignan to win with a bonus point
Kick-off:19:00 (18:00 GMT)
Referee: David Rosich
________________________________________________________________________
Aviron Bayonnais v Biarritz Olympique
Stade Jean Dauger, Bayonne
As if the Basque derby needed any more spice! One of the most fiery rivalries in world rugby is set to get even more explosive as Bayonne fight to save their Top 14 lives and Biarritz grapple to stay in play-off contention.
Already six points behind Bourgoin in the first non-relegation position, another loss for Bayonne would spell disaster. Since the arrival of new Head Coach Christian Gajan, the Bayonnais have scored morale-boosting but largely meaningless wins against Racing-Métro and Roma in the Amlin Challenge. Time for the real stuff.
In eighth place, Biarritz are in a spot of bother themselves. Despite looking good in Europe, their domestic campaign is on the verge of being completely derailed after their loss at the Stade de France in Round Eighteen.
Previous result: Biarritz won 12-6
Prediction: Tough to call. The away team won in both derbies last season. Biarritz could have some tired legs, so we'll back the hosts. Bayonne by a point or two.
Kick-off:20:45 (19:45 GMT)
Referee: Jérôme Garces