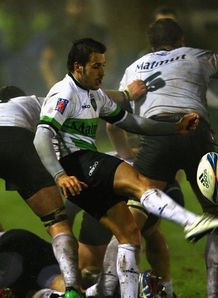 Montauban and Albi have names their teams for the all-French Amlin Challenge Cup encounter at Sapiac on Friday.
Montauban have an outside chance of qualify for the quarter finals, but need Newcastle to lose at home to Padova which is highly unlikely. Albi have little more than pride to play, meaning that neither team is at full-strength.
The home sode have however included internationals Julien Laharrague and Scott Murray in their strating line up.
Montauban won 17-7 in the away leg.
The teams:
Montauban:15 Julien Laharrague, 14 Adrien Figueiredo, 13 Jean Philippe Viard, 12 Félix Le Bourhis, 11 Sylvain Jonnet, 10 Cédric Coll, 9 Julien Audy, 8 Matthew Clarkin (c), 7 Abdellatif Boutaty, 6 Romain Sazy, 5 Karim Ghezal, 4 Scott Murray, 3 Beka Sheklasvili, 2 Brice Mach, 1 Goderzi Shvelidze.
Replacements:16 Bogdan Balan, 17 Silviu Florea, 18 Joël Koffi, 19 Julien Raynaud, 20 Andrew Henderson, 21 Shannon Paku, 22 Julien Larroque, 23 Mirko Lozupone.
Albi:15 Geoffrey Palis, 14 Baptiste Hecker, 13 Saula Radidi, 12 Michel Denetre, 11 Lucas Borges, 10 Blair Stewart, 9 Anthony Poujol, 8 Vincent Clement (c), 7 Clément Maynadier, 6 Daniel Farani, 5 François Tisseau, 4 Crisjan van der Westhuyzen, 3 Florian Prime, 2 Cyriac Ponnau, 1 Christophe Lafoy.
Replacements:16 Pierre Saby, 17 Pierre Correia, 18 Benjamin Sore, 19 Thomas Vervoort, 20 Yogane Correa, 21 Kevin Boulogne, 22 Benjamin Lapeyre, 23 John Stewart.
Date:Friday, January 22
Venue: Sapiac, Montauban
Kick-off:19:30 (18.30 GMT)
Referee: Carlo Damasco