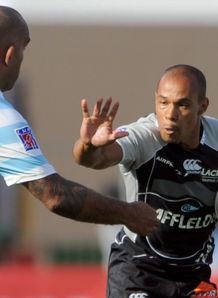 New Bayonne coach Christian Gajan will examine a number of first-team options in his first game in charge of the team on Saturday.
He fields a strong team for a match effectively a dead rubber, as Bayonne are definitely out of the competition and Racing Metro have only a very vague mathematical chance of qualification.
Nevertheless, Craig Gower, Pepito Elhorga and Denis Avril are all picked for the match and Toto Perugini warms the bench as a propping option.
Racing Metro coach Pierre Berbizier has opted to rest a number of first-line players, with fly-half Jonathan Wisniewski, Francois Steyn and Johnny Leo'o all warming the bench, so it seems unlikely the team will get the bonus point win it needs to stay in with its mathematical chance of qualification.
The teams:
Bayonne: 15 Pepito Elhorga, 14 Jean Baptiste Peyras, 13 Sam Gerber, 12 Craig Gower, 11 Clement Lagain, 10 Manny Edmonds, 9 Cedric Garcia, 8 Dwayne Haare, 7 Jacques Deen, 6 Guillaume Bernad, 5 Nicolas Laffite, 4 Robin Linde, 3 Denis Avril, 2 Arnaud Heguy, 1 Aretz Iguiniz.
Replacements: 16 David Roumieu, 17 Salvatore Perugini, 18 Renaud Boyoud, 19 Mikaera Tewhata, 20 Jean-Jo Marmouyet, 21 Julien Puricelli, 22 Mickael Lopez-Herrero, 23 Filimoni Bolovucu.
Racing Metro:15 Brent Ward, 14 Dan Scarbrough, 13 Henry Chavancy, 12 Andrea Masi, 11 Mani Vakaloa, 10 Andrew Mehrtens (capt), 9 Nic Berry, 8 Fabrice Culine, 7 Remi Vaquiin, 6 Ashley Clarke, 5 Jacques Cronje, 4 Santiago Dellape, 3 Craig Smith, 2 Benjamin Noirot, 1 Mehdi Merabet.
Replacements: 16 Olivier Diomande, 17 Mikaele Tuugahala, 18 Clement Baiocco, 19 John Leo'o, 20 Jerome Fillol, 21 Jonathan Wisniewski, 22 François Steyn, 23 Epi Taione.
Date: Saturday 16th January
Venue: Stade Jean Dauger
Kick-off: 20.45 (19.45 GMT)
Referee: Carlo Damasco (Italy)