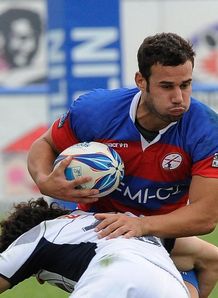 Top 14 pace-setters Castres host Rovigo in the Amlin Challenge Cup on Friday in a dead rubber.
Although neither side is realistically able to qualify for the next round, this match will be used as an opportunity to impress the respective coaching teams as the leagues in France and Italy enter the final straight.
Castres have named former Stade Français scrum-half Alexandre Albouy at number nine while tighthead Luc Ducalcon will be looking to regain the form that saw him called up for France last year.
Castres won 76-11 the last time the teams met.
The teams:
Castres Olympique: 15 Matthieu Bourret, 14 Matthieu Nicolas, 13 Romain Cabannes, 12 Pierre-Manuel Garcia, 11 Paul Bonnefond, 10 Thomas Bouquié, 9 Alexandre Albouy, 8 Joe Tekori, 7 Darron Nell, 6 Steve Malonga, 5 Kirill Kulemin, 4 Matthias Rolland, 3 Luc Ducalcon, 2 Akvsenti Giorgadze, 1 Yannick Forestier,
Replacements: 16 Marc-Antoine Rallier, 17 Gideon Lensing, 18 Yoann Rayssac, 19 Ludovic Michaux, 20 Yannick Caballero, 21 Thomas Sanchou, 22 Romain Boscus, 23 Philip Christophers.
Femi-CZ Rugby Rovigo:15 Stefan Basson, 14 Andrea Pratichetti, 13 Gabriel Pizarro, 12 German Bustos, 11 Pablo Calanchini, 10 Riccardo Bocchino, 9 Pietro Travagli, 8 Jacobus Immelman, 7 Shalk Van der Merwe, 6 Alejandro Abadie, 5 Mark Burman, 4 Tomasso Reato, 3 Massimiliano Ravalle, 2 Flavio Damiano, 1 Andrea de Marchi.
Replacements: 16 Rik Dolcetto, 17 Nicola Quaglio, 18 Giovanni Boccalon, 19 Marco Barion, 20 Younes Anouer, 21 Juan Cruz Legora, 22 Andrea Bacchetti, 23 Marcello De Gasperi.
Date:Friday, January 15
Venue: Stade Pierre Antoine
Kick-off: 19.00 (18.00 GMT)
Referee: John Paul 'JP' Doyle