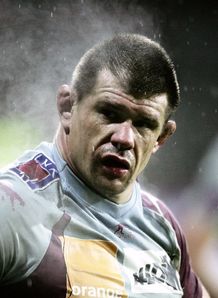 Bourgoin and Bucuresti Oaks have named their respective teams for Thursday's Amlin Challenge Cup meeting Stade Pierre Rajon.
There had been fears that the game would be postponed due to the snow in Bourgoin, but workers has toiled to removed the blanket of snow from the pitch.
Former France international Olivier Milloud gets a run at loosehead for Bourgoin while drop kick specialist Sebastien Laloo and former Clermont scrum-half John Senio form the half-back paring.
Bourgoin won the teams' previous meeting 21-19.
The teams:
Bourgoin: 15 Alberto Di Bernardo, 14 Albert VuliVuli, 13 Matias Viazzo, 12 Rudi Coetzee, 11 Mael Moinot, 10 Sebastien Laloo, 9 John Senio, 8 Yann Labrit, 7 Wessel Jooste (c), 6 Bogdan Leonte, 5 Thomas Genevois, 4 Albin Louchard, 3 Vincent Pelo, 2 Jean-Philippe Genevois, 1 Olivier Milloud.
Replacements:16 Rémy Vigneaux, 17 Arnaud Tchougong, 18 Erwan Iapteff, 19 Coenraad Basson, 20 Jérémy Gondrand, 21 David Janin, 22 Anthony Forest, 23 Camille Levast.
Bucuresti Oaks:15 Bote Botezatu, 14 Madalin Lemnaru, 13 Ionut Dimofte (c), 12 Catalin Dascalu, 11 Catalin Fercu, 10 Florin Vlaicu, 9 Vali Ivan, 8 Vasile Rus, 7 Mihai Macovei, 6 Stelian Burcea, 5 Valentin Popirlan, 4 Valentin Ursache, 3 Sami Maris, 2 Bogdan Zebega, 1 Cristian Balan.
Replacements:16 Andrei Radoi, 17 Misu Adascalitei, 18 Cosmin Ratiu, 19 Daniel Carpo, 20 Vali Calafeteanu, 21 Csaba Gal Minya, 22 Dan Dumbrava, 23 Nicolae Nere.
Date:Thursday, January 14
Venue:Stade Pierre Rajon, Bourgoin
Kick-off:19.30 (18.30 GMT)
Referee: Stefano Penne