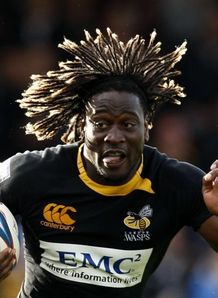 Related links
Teams
Wasps will be looking to extend their lead at the top Pool 4 of the European Challenge Cup when they host Roma at Adams Park on Thursday.
Serge Betsen returns for the home team to take up the captains band whilst Tony Hanks is making use of his strength in depth.
Lachlan Mitchell, Hugo Ellis, Marty Veale and Dan Leo come into the team to play off stalwarts such as Danny Cipriani, Tom Varndell, Paul Sackey and Mark van Gisbergen.
Wasps have earned their top spot through clinical wins and have their sights firmly on the play offs.
"For the next two weeks the Amlin Challenge Cup becomes our focus and we have the opportunity to secure a quarter-final spot, which is very important to this team," said Hanks.
The Wasps players and management no doubt have to put the Premiership behind them for the time being.
"There's no doubt that our last two fixtures in the Guinness Premiership have been enormously disappointing, and it is important that we front up as a full squad and produce a performance which shows that we've learnt from those two games."
Wasps playing at home is a handful for most teams. Roma, it must be said will have to perform a miracle on Thursday if they have a hope of pulling off a victory. The Italians have had a terrible time trying to organise their defense and logic determines that they will spend a lot of time behind their own goals on Thursday.
The teams:
Wasps: 15 Mark van Gisbergen, 14 Paul Sackey, 13 Lachlan Mitchell, 12 Steve Kefu, 11 Tom Varndell, 10 Danny Cipriani, 9 James Honeyben, 8 Hugo Ellis, 7 Serge Betsen (capt), 6 Dan Leo, 5 George Skivington, 4 Veale Marty, 3 Bob Baker, 2 Joe Ward, 1 Martin Rice.
Replacements: 16 Rob Webber, 17 Gabriel Bocca, 18 Ben Broster, 19 John Hart, 20 Will Matthews, 21 Mark Robinson, 22 Dom Waldouck, 23 Ben Jacobs,
Roma: 15 Paolo Buso, 14 Diego Varani, 13 Juan Gauthier, 12 Pietro Valcastelli, 11 Hayden Reid, 10 Max Freschi, 9 Giiulio Toniolatti , 10 Max Freschi 8 Alberto Saccardo, 7 Filippo Giusti, 6 Alessandro Boscolo (capt), 5 Andrea Pegoretti, 4 Emiliano German, 3 Tino Paoletti, 2 Tommaso D'Apice , 1 Nicolas De Gregori
Replacements:16 Marcelo Martino, 17 Adrien Vigne Donati, 18 Fabio Gentili, 19 Michael Aldrige, 20 Lance Persico, 21 Andrew Skeen, 22 Carlo Vannini, 23 Giovanni Manozzi
Date: Thursday, January 14
Venue: Adams Park
Kick-off: 20:00 GMT
Referee: Andrew McPherson