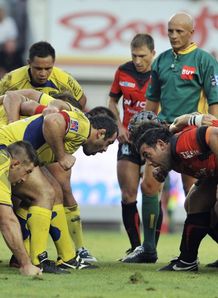 Related links
Also see
Clermont host Toulon in the pick of Sunday's clashes while Stade Français must travel to Montauban in the midst of a scrum-half crisis.
Once again the strength in depth of a number of squads will be tested as the Top 14 gears up it's second round of fixtures this week.
After demolishing Brive in a seven-try rout on Wednesday, second-placed Clermont host an in-form Toulon side looking to secure a play-off spot.
Stade Français are lagging behind in the race to make the top six and hence the play-offs. The Parisians visit the cauldron that is Sapiac in Montauban without either of their first-team scrum-halves.
With Julien Dupuy suspended for six months, Stade were dealt a severe blow on Wednesday when Noël Oelschig broke his hand, ruling him out for six weeks. Owner Max Guazzini is reluctant to spend any more money on a replacement so youngsters Benjamin Tardy (21) and Charlie Davies (19) will have to mature very quickly.
As we enter the last third of the season, Bayonne are in massive trouble as they sink ever deeper in the relegation quagmire. With Toulouse rolling into town on Sunday, things look bleak on the Basque coast.
On the other side of the river, in Biarritz, the pressure is also mounting as BO still trail Toulon by five points, meaning qualification for both Europe and the play-offs is fast becoming a major concern. Points at home to Montpellier are desperately needed.
Elsewhere, high-flying Racing Metro will back themselves to extend their winning streak to ten games when they host Bourgoin while champions Perpignan will be looking for a rare away win in Brive.
Castres have a golden opportunity to extended their lead at the top of the standings at home to basement tenants Albi.
In news from the ProD2, Mont de Marsan have been docked five points for financial irregularities.
Fixtures:
Sunday, January 3
Castres v Albi
Racing Metro v Bourgoin
Montauban v Stade Français
Brive v Perpignan
Biarritz v Montpellier
Clermont v Toulon
Bayonne v Toulouse
Standings:
1 Castres 51
2 Clermont 47
3 Racing Metro 47
4 Toulouse 45
5 Perpignan 45
6 Toulon 42
7 Stade Français 39
8 Biarritz 37
9 Brive 33
10 Montpellier 33
11 Montauban 30
12 Bourgoin 27
13 Bayonne 24
14 Albi 19
Previews:
Castres Olympique v SCA Albi
Stade Pierre Antoine, Castres
Top hosts bottom as Castres rub their hands at the prospect of a bonus point.
With the hosts unbeaten at Stade Pierre Antoine and Albi yet to win on the road this season, it's tough to see the result going any other way than in the Castres' favour.
The Tarnais impressively cruised past Montauban on Wednesday while Albi competed well but were outclassed in Toulon.
Previous result: Castres won 25-21
Prediction: Looks like a no-brainer. Castres to win by fifteen, at least
Kick-off: 15:00 (14.00 GMT)
Referee: Franck Maciello
________________________________________________________________________
Racing Metro 92 v CS Bourgoin-Jallieu
Stade Yves Du Manoir - Colombes (Paris)
Not long ago, when Racing were wallowing in the relegation zone, it would have been unimaginable to think that les Franciliens would he aiming to equal Toulouse's record of eleven straight Top 14 wins.
A betting man would back the Parisian side to rack up number ten on Sunday, but they'll face a much harder challenge when they go to Perpignan next week.
Back to the match at hand as Bourgoin head to the capital in search of their first away win this season.
While Bourgoin won 17-13 the last team the teams met, a repeat seems unlikely with the hosts play a ruthlessly efficient brand of rugby these days.
Pierre Berbizier's side haven't exactly been exciting as they've ground out a series of narrow wins, with the majority of their points coming from the kicking tee, but one can't argue with their results.
Racing wing Sireli Bobo is a doubtful starter with a thigh injury as is full-back Brent Ward, who has stitches in his left hand.
Previous result: Bourgoin won 17-13
Prediction: We'll back the host to make it ten in a row. Racing by eight points.
Kick-off: 15:00 (14.00 GMT)
Referee: Laurent Cardona
________________________________________________________________________
Montauban v Stade Français
Stade Sapiac, Montauban
Still without a single away win this season, Stade Français must visit one of the most intimidating venues in France as they seek revenge for Montauban's shock 40-35 win in Paris in September.
Coach Jacques Delmas read the riot act after his team threw away a fourteen-point lead in twenty minutes to lose in Montpellier on Wednesday, pointing a finger at their poor kicking in the last quarter. And justly so. Stade should have put their opposition away. Sadly that has been their problem all season as double try-scorer Geoffroy Messina admitted after the Montpellier disaster.
"When you lead by fourteen points you cannot hide behind the referee," said Delmas.
"We just let everything go, we simply lacked ambition and the boys refused to play.
"We gave away too much ball. There were too many bad choices made by us."
The Parisians remain France's best attack (412 points), with Mark Gasnier the league's top try-scorer charts with six touchdowns, but that leaky defence needs attention.
In addition to their scrum-half problems, Stade Français flank Mauro Bergamasco has joined Sergio Parisse on the injury list with a sprained knee.
Montauban are in a spot of bother themselves. While their win of Clermont early in December would have been encouraging, the prospect of playing five of their next seven matches on the road will be a worry considering they are just six points clear of the red zone.
Montauban have been boosted by the news that loose forward Emmanuel Etien has recovered from a shoulder injury fast enough to be fit to start.
Previous result: Montauban won 40-35
Prediction:We'll stick our necks out and back the hosts. Montauban by a whisker
Kick-off: 15:00 (14.00 GMT)
Referee: Jean-Pierre Matheu
________________________________________________________________________
CA Brive-Corrèze v USA Perpignan
Stade Amédée Domenech, Brive

Perpignan's season is in danger of being derailed after they slipped to fifth in the standings following Wednesday's defeat in Toulouse.
In fairness to the Catalans the scoreline at the Stadium de Toulouse was not a true reflection of a game they dominated for large parts.
But their form on the road is becoming a real concern. Losses away to Albi, Bourgoin and Treviso are not what you'd expect from the champions of France and on Sunday they face another tough challenge.
With Brive having rested a couple of players for their derby in Clermont on Wednesday - where they were smashed - the crowd at Stade Amédée Domenech will demand that les Corréziens come out guns blazing.
They same can be said for the visitors, who will now place all their eggs in the domestic basket after crashing out of the Heineken Cup.
Riki Flutey is set to start for the hosts as he looks to regain some form after a long injury lay-off. Perpignan wing Farid Sid has extended his contract until 2013.
Perpignan capitain Nicolas Mas is being rested but prop Jérôme Schuster returns from suspension.
Previous result: Perpignan won 21-9
Prediction: Perpignan played some decent rugby in Toulouse so we reckon their could come good. Perpignan by two or three points
Kick-off:15:00 (14.00 GMT)
Referee: Jérôme Garces
________________________________________________________________________
Biarritz Olympique v Montpellier HRC
Parc des Sports d'Aguilera, Biarritz
After adding the scalp of Stade Français to those of Biarritz and Perpignan, Montpellier leave the Mediterranean for the Atlantic coast in high spirits.
Unfortunately for les Heraultais their form on the road has been consistently awful. Six losses from eight away games makes a repeat of last season's 46-3 drubbing in Biarritz seem more likely than the 22-18 win snatched in Montpellier earlier this season.
Biarritz will be thinking along those lines as this is another must-win fixture for the Basques as they chase a place in the top six.
Wednesday's win over Bourgouin was no more than satisfactory according to Damien Traille and another step up will be needed against Montpellier before they take on Stade Français in Paris next week.
Previous result: Montpellier won 22-18
Prediction: The BO pack should have too much grunt for their visitors. Biarritz to win by ten points
Kick-off:15:00 (14.00 GMT)
Referee:Jean-Luc Rebollal
________________________________________________________________________
Clermont Auvergne v RC Toulon
Parc des Sports Marcel Michelin, Clermont Ferrand
Undoubtedly the clash of the weekend as two in-form and ambitious teams go head to head.
After impressive displays in the Heineken Cup, Clermont simply crushed Brive on Wednesday to return to second in the standings.
"We wanted to finish the year in style and I think we did that," said Malzieu of the seven-try demolition.
"We've been trying to play a bit in our last three matches. And when we put it all together it really causes trouble for teams.
"It creates space and we can use that to score tries. We have to continue in the same vein."
For their part, Toulon have won nine of their last eleven games in the Top 14 and Amlin Cup and were 26-21 victory when they hosted Clermont in September. With just five point separating the teams, Toulon have a chance to make a giant leap forward in the standings.
The league's top points scorer Jonny Wilkinson will start for the visitors outside former Clermont scrum-half Pierre Mignoni.
Sebastien Bruno is being rested and Sonny Bill Williams is still injured, but lock Ross Skeate has recovered from his ankle injury.
The hosts are boosted by the return of Fijian winger Napolioni Nalaga, while fit-again South African centre Marius Joubert could get a chance on the bench.
Previous result: Toulon won 26-21
Prediction:Toulon will probably be satisfied with a losing bonus point. Clermont by six points.
Kick-off:17:00 (16.00 GMT)
Referee: Romain Poite
________________________________________________________________________
Aviron Bayonnais v Stade Toulousain
Stade Jean Dauger, Bayonne
Once again Toulouse came up with the right results despite playing some uninspiring rugby as a late intercept try against Perpignan left the scoreline a little unfairly lopsided in their favour.
But after their solid win against Cardiff, success against the champions would have helped lift the confidence in the Toulouse camp a little more following a run of poor domestic results.
And when the Big Red Machine is running high on confidence, everyone should beware.
More good news for Guy Novès' side is the likely return of Byron Kelleher while Jean-Baptiste Elissalde is also not far away from being fit. Thierry Dusautoir will however be missing with a shoulder injury.
Their isn't much good news for Bayonne who who have lost seven of their last eight matches and are becoming serious relegation candidates with every passing round.
The Basques didn't play badly against Racing on Wednesday. One feels that with a little more confidence they would have come away with a better result and Club president Francis Salagoity is remaining positive.
"They were not far away, you can not blame [the players] much," he said.
"Our forwards have been performing, the backs also. But we ran into a team with confidence, unlike us. Hopefully 2010 will start with a victory."
But the golden rule in France is 'win your home games', and with a record of four losses from five starts at home, Bayonne are in trouble.
A week ahead of the relegation showdown with Bourgoin, Bayonne need a boost in confidence.
Previous result: Toulouse won 21-17
Prediction: It's not often that we predict a home loss for Bayonne, but considering their form, it seems only logical. Toulouse to win by five points
Kick-off:20:45 (19.45 GMT)
Referee:Patrick Pechambert