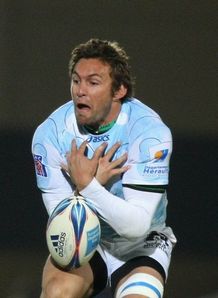 Montpellier have made numerous rotational changes to their side for the Amlin Challenge Cup trip to Madrid on Saturday to face Olympus.
The most significant is the move of utility back Jacques Schutte from right wing to fly-half, where he partners international scrum-half Adrien Tomas.
Madrid have made far fewer changes, as you would expect. Tighthead prop Sebastien Hattori starts ahead of the injured Javier Salazar and there are two changes in the back row, with Mtthew Cook and Juan Gonzalez replacing Cesar Bernasconi and Martin Acena respectively.
Olympus Madrid: 15 Manuel Mazo, 14 Pablo Feijoo, 13 Martin Heredia, 12 Javier Canosa, 11 Juan Cano, 10 Cesar Sempere, 9 Hernan Quirelli, 8 Matthew Cook, 7 Juan Gonzalez, 6 Rafael Camacho, 5 Jesus Recuerda, 4 Sergio Souto, 3 Sebastian Hattori, 2 Chema Bohorquez, 1 Alejandro Onega Camacho.
Replacements: 16 Javier Arbelaitz, 17 Ion Insausti, 18 David Gurgenazde, 19 Ivan Criado, 20 Carlos Arenas, 21 Cesar Bernasconi, 22 Martin Acena, 23 Ignacio Gutierrez.
Montpellier: 15 Jean-Matthieu Alcalde, 14 Sebastien Max, 13 Geoffrey Doumayrou, 12 Florian Nicot, 11 Thierry Brana, 10 Jaques Schutte, 9 Adrien Tomas, 8 Giorgi Chkhaidze, 7 Jérome Vallée, 6 Vassili Bost, 5 Mickael Demarco, 4 Mamuka Gorgodze, 3 Juan Figallo, 2 Joan Caudullo, 1 Olivier Tissot.
Replacements: 16 Mickael Ladhuie, 17 Na'ama Leleimalefaga, 18 Michel Macurdy, 19 Sakiusa Matadigo, 20 Ollie Smith, 21 Maxime Castell, 22 Robin Solana, 23 Kevin Kervarec.
Date: Saturday, December 19
Venue: Estadio Universitara
Kick-off: 16.00 (15.00 GMT)
Referee: Andrew McPherson (Scotland)
Assistant referees: Graham Knox (Scotland), Bob Nevins (Scotland)