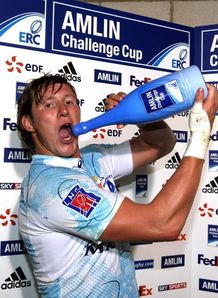 Montpellier will be looking for nothing less than five Amlin Challenge Cup points against Olympus Madrid at Stade Yves du Manoir.
Friday's fixture against the Spaniards is a vital one for Montpol, who are currently trailing Worcester and pace-setters Connacht in Pool Two.
But with a maximum return on home soil their goal before next week's return leg, the French side have rolled out a strong line-up for the clash.
Lions and England centre Ollie Smith starts the game outside Florian Nicot with the assured Benjamin Thiery running matters from fly-half.
The teams:
Montpellier: 15 Jean-Matthieu Alcalde, 14 Jaques Schutte, 13 Ollie Smith, 12 Florian Nicot, 11 Thierry Brana, 10 Benjamin Thiery, 9 Adrien Tomas, 8 Giorgi Chkhaidze, 7 Vassili Bost, 6 Mathieu Petitdemange, 5 Mamuka Gorgodze, 4 Michel Macurdy, 3 Kevin Kervarec, 2 Joan Caudullo, 1 Na'ama Leleimalefaga.
Replacements: 16 Fabien Rofes, 17 Olivier Tissot, 18 Mickael Demarco, 19 Marc Giraud, 20 Maxime Castell, 21 Sebastien Max, 22 Robin Solana, 23 Juan Figallo.
Olympus Madrid: 15 Manuel Mazo, 14 Pablo Feijoo (capt), 13 Martin Heredia, 12 Javier Canosa, 11 Juan Cano, 10 Cesar Sempere, 9 Hernan Quirelli, 8 Cesar Bernasconi, 7 Martin Acena, 6 Rafael Camacho, 5 Jesus Recuerda, 4 Sergio Souto, 3 Javier Salazar, 2 Chema Bohorquez, 1 Alejandro Onega Camacho.
Replacements: 16 Javier Arbelaitz, 17 Ion Insausti, 18 Sebastian Hattori, 19 Juan Gonzalez, 20 Ivan Criado, 21 Matthew Cook, 23 Carlos Arenas.
Date: Friday, December 11
Kick-off: 19:00 (18:00 GMT)
Venue: Stade Yves du Manoir
Referee: Carlo Damasco (Italy)
Assistant referees: Giovanni Traversi (Italy), Mauro Dordolo (Italy)