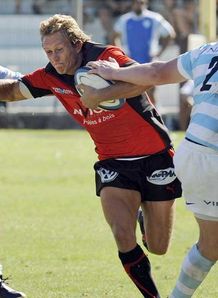 Related links
Also see
Toulon visit Racing Métro on Saturday as the Top 14's new kids on the block join the race for the play-offs while Bayonne make a trip to the Stade de France.
Surprise championship leaders Castres will look to cement their place at the top of the standings on the road in Bourgoin while Toulouse, Perpignan and Biarritz reload their guns in preparation for next weekend's Heineken Cup action.
Of course all of this depends on the clubs in question remaining healthy. The latest estimates reckon there are over one million H1N1 cases in France, with a new drug-resistant strain of the virus already responsible for two deaths. Nothing like a scrum or a maul to spread infection...Perpignan's late cancellation of their match in Bayonne last week and Brive putting their players in quarantine are signs of trouble.
The other news this week was Maxime Mermoz being awarded the Oscar d'or, the equivalent of player of the year.
Back to the action and a quick glance at the standings revels two clubs in desperate need of a win this weekend. Giants Stade Français and Biarritz lie seventh and eighth respectively - outside of the play-offs.
The Parisians face a tough challenge against Bayonne in front of 70 000 spectators at the Stade de France, where they haven't won in five games. Biarritz however will back themselves away to Albi. For both teams the return of their internationals could not have come at a better time.
Montauban host Clermont in Friday's match, hoping to build on their encouraging 17-12 defeat to Toulouse, who travel to Brive on Sunday.
Toulouse v Brive has been moved from Saturday to Sunday due to the H1N1 outbreak in Brive.
Fixtures:
Friday, December 4
Montauban v Clermont
Saturday, December 5
Bourgoin v Castres
Perpignan v Montpellier
Stade Français v Bayonne
Sunday, December 6
Albi v Biarritz
Brive v Toulouse
Racing Metro v Toulon
Standings:
1 Castres 46
2 Perpignan 41
3 Clermont 41
4 Toulouse 40
5 Racing Metro 39
6 Toulon 38
7 Stade Français 33
8 Biarritz 33
9 Brive 29
10 Montpellier 29
11 Montauban 26
12 Bayonne 23
13 Bourgoin 23
14 Albi 15
________________________________________________________________________
Previews:
Friday, December 4
Montauban TG v Clermont Auvergne
Stade Sapiac, Montauban
After smashing Bourgoin by nearly 30 points last week (and ending a four-match win-less streak in the process) Clermont have bounced back to second in the standings, regaining some confidence at the same time.
They've also regained their internationals - but only France scrum-half Morgan Parra will play as Head Coach Vern Cotter has given players like Julien Bonnaire, Thomas Domingo, Martin Scelzo and Jason White a rest. Napolioni Nalaga is also missing with a hand injury.
For Montauban, it's not the best time to be hosting a heavyweight even though Puma Alejandro Campos is back. Three matches without a win have seen MTGXV slip to eleventh in the standings. Another loss and they could be deep in the relegation battle
Previous result:Clermont won 37-16
Prediction: It's unlikely that Clermont will storm Sapaic, but they should have enough to win. Clermont by five
Kick-off:20:45 (19:45 GMT)
Referee:Pascal Gauzere
________________________________________________________________________
Saturday, December 5
CS Bourgoin-Jallieu v Castres Olympique
Stade Pierre Rajon, Bourgoin
Impressive in the manner in which they dispatched Toulouse and Biarritz in the last two weeks, Castres will be looking for five more points against struggling Bourgoin.
Chris Masoe has been in barnstorming form for les Tarnais, whose no-frills rugby is proving very hard to match.
Les Berjalliens haven't won in five games and look like favourites to be relegated with Albi. The financial situation at CSBJ is once again causing an unwelcome distraction and Bourgoin fans will be praying for a miracle.
Previous result: Castres won 29-9
Prediction: Stade Pierre Rajon has been trap for a couple of big teams this year, but the way Castres are going, they don't look like stopping. Castres to win by ten
Kick-off:14:30 (13:30 GMT)
Referee: Jean Pierre Matheu
________________________________________________________________________
USA Perpignan v Montpellier HRC
Stade Aimé Giral, Perpignan
Unbeaten at home this season, Perpignan will be looking to get the train moving again after missing last week's trip to Bayonne because of a swine 'flu outbreak in their ranks.
Having most of their squad in quarantine at the start of the week wouldn't have been the ideal preparation for the champions, but they do welcome back their internationals as they look to close the gap on the leaders. They started training again on Wednesday - behind closed doors. Maxime Mermoz is still out injured though.
Montpellier represent a healthy test of Perpignan's mid-season form considering the Héraultais won their meeting in Round two. The loss of captain Fulgence Ouedraogo is massive blow for Montpol but the return of France fly-half François Trinh-Duc will add to their attack.
After four straight wins, Montpellier were thrashed at home to Brive last week, so some regrouping is needed.
Previous result:Montpellier won 18-12
Prediction: Montpellier will be hoping for a losing bonus point. Perpignan by ten points.
Kick-off:16:25 (15:25 GMT)
Referee: Akim Hadj Bachir
________________________________________________________________________
Stade Français v Aviron Bayonnais
Stade de France, Paris
Stade Français, who suffered defeats to Parisian rivals Racing-Metro and then Toulon during the November internationals, host Bayonne at the Stade de France with more than 70,000 tickets already sold for the event. Owner Max Guazzini has once again set up plenty of fanfare.
Stade Français coach Jacques Delmas' honeymoon period is over and he'll be hoping the return of eleven players from international duty (Marconnet, Szarzewski, Dupuy, Mirco and Mauro Bergamasco and Roncero) and injury (Palmer, Burban, Leguizamon, Beauxis and Camara) will revive the Parisian giants' fortunes.
Delmas admitted that the club needed a win against the Basque club who are languishing in twelfth spot after missing out on a chance to pick up points against Perpignan last week.
"We knew that this period would be tough," said Delmas.
"In two matches, we had the intention of taking five points from ten but we only took two.
"We hope we'll get our internationals back and that everyone will arrive with the desire of getting the club back afloat in the knowledge that we'll have to go looking for points away from home."
Delmas added that the team were eager to win at the Stade de France, a stadium that has proved to be a financial and promotional windfall for the club but where they have failed to win in five outings.
"We have to take away this negative pressure because it's true that Stade lost games here last season and against Perpignan this year because we had a terrible start. The quicker we win there, the better it will be."
Previous result:Bayonne won 38-24
Prediction: Stade Français back at full-strength should be too much for Bayonne. Stade Français by eight points
Kick-off:16:25 (15:25 GMT)
Referee: Hervé Dubes
________________________________________________________________________
Sunday, December 6
SCA Albi v Biarritz Olympique
Stadium Municipal, Albi
Albi requested that this game be postponed as they have been struck down by H1N1. The LNR have confirmed that the game will go ahead as planned.
After a nightmare of a first half to the season, Albi have picked up five points in their last two games, including a shock win over champions Perpignan. Is it too late for a surge to save themselves from relegation? Probably.
Ten cases of H1N1 have been reported in the Albi ranks - an unwelcome disturbance considering Biarritz have been bolstered by the return of their Test players.
The Basques will head to Albi in desperate need of a win after defeats to Castres and Racing on Wednesday saw them drop three points shy of the play-off zone. In their third game in eight days, the pressure is on.
Previous result:Biarritz won 39-6
Prediction:Surely Biarritz will have too much firepower. Biarritz to win by seven
Kick-off:15:00 (14:00 GMT)
Referee: David Rosich
________________________________________________________________________
CA Brive-Corrèze v Stade Toulousain
Stade Amédée Domenech, Brive

Brive finally seem to be getting a bit of momentum after their excellent win away in Montpellier last week. But are they ready to take on a full-strength Toulouse side - the same side that gave them a 38-point hiding in Round Two?
Les Corréziens have also been hit by an H1N1 outbreak, so it's possible that the match will be called off.
If the game does go ahead, Toulouse will be out to climb back into the top two in the standings. They did some damage control by edging past Montauban last week, but with many of their stars back - including David Skrela - it's time to get the machine up and running before the next round of the Heineken Cup.
Toulouse welcome back seven French internationals but are without a number of others including injured Louis Picamoles, Yann David and Jean Baptiste Elissalde. Guy Novès will be concerned about the Toulousain's record of five losses in six away games. There will be no room for excuses if they lose again.
Previous result: Toulouse won 38-0
Prediction:Brive are looking better, but not good enough to beat a Toulouse side in need of a big performance. Toulouse by six points
Kick-off:15:00 (14:00 GMT)
Referee: Mathieu Raynal
________________________________________________________________________
Racing Métro 92 v RC Toulon
Stade Yves Du Manoir - Colombes (Paris)
Seven consecutive wins have lifted Racing to fifth in the standings, one point ahead of their former ProD2 rivals, Toulon.
Mid-week victory against Biarritz has confirmed Pierre Berbizier's team has real candidates for a spot in Europe next season. Beaten just once on their home turf this season (by Perpignan) les Racingmen are growing in confidence every week.
Toulon have even larger ambitions. Having already claimed the scalps of Clermont and Toulouse this season and after beating Stade Français in Paris last week, their second straight match in the capital will be stern test of their credentials.
The Toulonnaise also had a small swine 'flu scare but are back to near full-strength. Juan-Martin Fernandez-Lobbe and Joe El Abd are back in the pack but Joe van Niekerk - who was voted the best foreign players in the league- is still out with injury. Gabirieli Lovobalavu also return amongst the backs.
Previous result:Toulon won 27-13
Prediction: A tough one to call. We'll back the home side. Racing by a whisker
Kick-off:17:05 (16:05 GMT)
Referee: Jérôme Garces