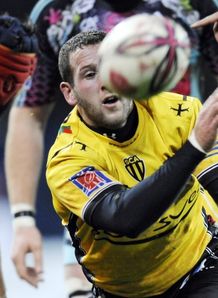 Albi pulled off easily the biggest shock of the Top 14 season on Friday by beating reigning champions Perpignan 24-23 at the Stade Municipal.
A 78th-minute penalty by scrum-half Kevin Boulogne gave the Albigeois the spoils, sending the home crowd into delirium after Perpignan's pack was put under immense pressure late in the game.
It was Albi's pack that had laid the foundation as well against a side not as weak as others have been by the international season, and the Catalan faithful were left fuming by a poor defensive display.
In a tight first half, Boulogne notched two penalties to one from Jerome Porical for Albi to hold a 6-3 lead, before they struck a significant blow just before half-time.
Having piled on the pressure in the Catalan 22 with a clever mix of running and powerful forward play, Albi forced a 5m scrum.
That yielded a penalty, which was quickly tapped and taken by flanker Laurent Baluc-Rittener for the opening try of the game and an 11-3 half-time scoreline.
It - likely coupled by a vicious half-time pep talk - stung Perpignan into action in the second half, and Olivier Olibeau's charge and offload sent Porical in for a try which he converted to make it 11-10.
But Albi dug in and stretched their lead once again. Perpignan centre Christophe Manas was sent to the bin for a punch at a maul and Boulogne made it 14-10, then a switch between Boulogne and centre Fred Manca had the latter taking two defenders over the line with him for a try, converted by Boulogne, which made it 21-10.
Perpignan responded immediately, with a searing counter-attack by Farid Sid, taken to the line by Porical and over it by lock Robins Tchale Watchou. Porical made it 21-17 with the extras.
The Catalans began to open things up a bit and reaped rewards through two penalties by Porical, the second, after he had gathered his own up and under near the Albi line, giving the champions the lead for the first time.
But Albi dug deep once more, squeezing out the late penalty against the run of play and clinching a famous win.