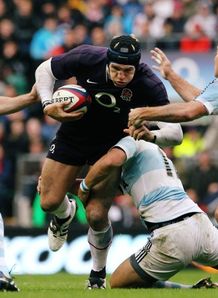 Related links
Teams
Also see
It was the win they needed, but it will sting like a loss. The performance that led to England's dismal 16-9 win over Argentina at Twickenham on Saturday made the rabble that succumbed to Australia look like world beaters.
A litany of handling errors, poor decisions and wonky white set-pieces was punctuated by a late try from Matt Banahan and four swings of Jonny Wilkinson's left leg. And that was just enough for the purple turtles.
Despite the new strip there was no disguising the curious inadequacies that have dogged England for far too long.
Worrying, there were also a few new ones to add to Martin Johnson's creaking in-tray: clueless in the face of the counter-attack, absenteeism in defence and lack of wet-weather skills - to name but three.
And, as referee Nigel Owens told England captain Steve Borthwick in no uncertain terms in one break in play, "all the problems are coming from your scrum".
Johnson coined a word this week - "tempo-ing" - but it looks like he didn't get around to teaching his charges how to actually effect it. Only at the very end did they choose to up the gears.
Hell, even Wilkinson's kicking went to pot!
In hindsight, purple was actually the perfect pick for this excuse for a game: Twickenham felt like a funeral parlour.
Such a rubbishing of England's performance might seem like a slight on the team that they beat. It is not. This vitriol is rooted in the injustice of the situation: the best side did not win today.
The Pumas were everything their hosts were not: confident, daring, canny and organised.
Although the weather was quintessentially English, it was the South Americans who made a better fist of the conditions. The ball - a virtual soap in the hands of the locals - swept through the Pumas' paws with aplomb.
Let us not forget that, like England, Argentina have been hit hard by injuries. Yet unlike England, they are unable to fill the breaches with seasoned pros.
The bare bones of the matter is that amateurs almost pipped England at Twickenham after less than a week of prep. It doesn't get much worse than that.
Johnson made three changes to the spine of the England team in the hope of injecting some urgency and dynamism into the performance, with Paul Hodgson given a first Test start at scrum-half while James Haskell returned at number eight and Dylan Hartley at hooker.
Whilst Wilkinson's tactical kicking was disappointing, he did stroke England into the lead with a sublime drop-goal after setting up the chance with a huge tackle on the visiting captain, the immense Juan Martin Fernandez Lobbe.
As the barrage of kicking continued, England earned their first real opening when Lobbe fumbled a steepling kick under pressure from tireless Lewis Moody, and Mark Cueto broke clear - but his top gear wasn't enough to shake off Horacio Agulla.
Despite missing so many key creative players it was Argentina who showed the most inclination to attack.
Martin Rodriguez shaved the post with a drop-goal attempt but drew Argentina level with a penalty after Tim Payne was penalised for not binding at the scrum.
And Rodriguez then drilled a second effort wide after Haskell was penalised for being offside, but Wilkinson responded with a successful long-range strike to nudge England back into the lead.
Monye, a stand-in full-back for England, was struggling badly as Fernandez continued to pepper him with high balls.
The Pumas had clocked it, but it took until half-time before England had the sense to switch him to his preferred position of wing and drop Cueto back to fifteen.
When Monye's third attempted catch went to ground, Haskell compounded the problem by diving on the ball and conceding another penalty which Rodriguez accepted gratefully.
The Twickenham crowd of nearly 78,000 was growing restless. Paper planes rained down on the pitch in a palpable demonstration of boredom. When Monye successfully claimed a wayward drop-goal effort from Fernandez he was greeted by ironic jeers from the stands.
Shane Geraghty was then booed for kicking the ball straight into touch instead of launching an attack.
When England were again penalised at the scrum, Rodriguez edged Argentina ahead with a third penalty, but the Pumas conceded almost immediately.
Wilkinson drew the scores level at half-time, but England departed for the break to more booing.
Despite what must have surely been a 'hairdryer' session under the stands, England didn't fare much better after the break.
The locals' kick-chase was almost non-existent - with Moody the only player haring around and he managed to get half a block on Agulla's clearance.
Wilkinson did well to spot Argentina offside and exploited it with a grubber kick to earn the penalty, but he drilled it wide from 40 metres out.
England received another let-off when Rodriguez missed from a similar range and Cueto took it on his shoulders to inject some pace into the game with a confident take and counter-attack.
Cueto's angled kick forward was chased again by Moody and the pressure forced Argentina to gift England a lineout ten metres from the line.
But there was little invention on England's attack and Cueto was chopped down by a ruthless tackle from Lucas Borges and the attack was snuffed out.
Finally, with ten minutes remaining, England managed to create one ounce of the dynamic rugby they had promised from the outset.
Haskell sparked the move with a midfield break, Steve Borthwick off-loaded and the ball was spread wide via Cueto and Moody for Banahan to score in the corner.
The giant Bath winger - otherwise anonymous - touched down under the posts for his third try in four Tests (and all scored against the Pumas) to allow the unusually wayward Wilkinson to slot a simple conversion.
Argentina piled on the pressure at the death in search of the draw, but England managed to hold on.
Next up for England: the All Blacks. Look away now.
Man of the match: The industrious Lewis Moody is the only Englishman who deserves a mention in dispatches. Were the likes of Danny Hipkiss, Louis Deacon and Tom Croft even on the pitch? The South Americans were impressive to a man, with Santiago Fernandez, Alfredo Lalanne and Horacio Agulla indicating that the Four Nations might not be a three-horse race that many expect it to be. Juan Martin Fernandez Lobbe was his usual brilliant self, but we'll thrust the honours towards the old warhorse who goes by the name of Patricio Albacete. Immense in the tight and dynamic in the loose. He was all the things that England promised to be.
Moment of the match: This match will not live long in the memory. At least we hope not. But perhaps the booing at half-time might come to be remembered as a turning point in Martin Johnson's tenure as England boss. His new priority is to simply win back the fans.
Villian of the match: Dylan Hartley and Mario Ledesma had a couple of tiny tussles, but the skullduggery ended there. In fact, a little more niggle might have helped proceedings. No award.
The scorers:
For England:
Try: Banahan
Con: Wilkinson
Pens: Wilkinson 2
Drop: Wilkinson
For Argentina:
Pens: Rodriguez 3
The teams:
England: 15 Ugo Monye, 14 Mark Cueto, 13 Danny Hipkiss, 12 Shane Geraghty, 11 Matt Banahan, 10 Jonny Wilkinson, 9 Paul Hodgson, 8 James Haskell, 7 Lewis Moody, 6 Tom Croft, 5 Steve Borthwick (c), 4 Louis Deacon, 3 Duncan Bell, 2 Dylan Hartley, 1 Tim Payne.
Replacements: 16 Steve Thompson, 17 Paul Doran-Jones, 18 Courtney Lawes, 19 Joe Worsley, 20 Danny Care, 21 Andy Goode, 22 Ayoola Erinle.
Argentina: 15 Horacio Agulla, 14 Lucas Borges, 13 Gonzalo Tiesi, 12 Martin Rodriguez, 11 Mauro Comuzzi, 10 Santiago Fernandez, 9 Alfredo Lalanne, 8 Juan Fernandez Lobbe (c), 7 Alfredo Abadie, 6 Tomas Leonardi, 5 Patricio Albacete, 4 Esteban Lozada, 3 Martin Scelzo, 2 Mario Ledesma, 1 Rodrigo Roncero.
Replacements: 16 Alberto Vernet Basualdo, 17 Marcos Ayerza, 18 Manuel Carizza, 19 Alejandro Campos, 20 Agustin Figuerola, 21 Benjamin Urdapilleta, 22 Federico Martin Aramburu.
Referee: Nigel Owens (Wales)
Assistant referees: Alan Lewis (Ireland), Peter Allan (Scotland)
TMO: Hugh Watkins (Wales)
By Andy Jackson