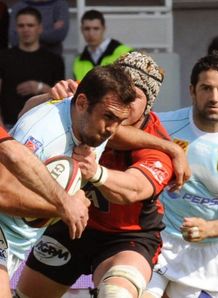 Related links
Also see
With a sixteen-day break on the horizon, expect plenty of fireworks on Thursday as Toulon visit leaders Perpignan while chasers Castres and Clermont face off.
Round Twelve has been moved forward to allow the French national side a couple more days together ahead of their test against South Africa.
The result is a gap of just five days since the last weekend's clashes which isn't much time to prepare.
The headline-grabbing game of the week is Toulon's trip to the defending champions. Unrecognisable from the expensively-assembled misfiring misfits they were last term, Toulon head towards the season's half-way mark above giants Biarritz and Stade Français in the standings.
Biarritz host Racing-Métro, who will also be pleased with their performance so far in the top flight after beating Toulouse last week to extend their winning streak to four games.
At wrong end of the table, Brive and Bayonne will clash in an unexpected battle on the edge of the relegation zone, with the losers set to be in massive trouble.
Elsewhere, Stade Français will not want to concede any more ground to the leaders - they trail Perpignan by eight points - but in a home match against tailenders Albi they should not have too many problems.
Montpellier will be out to make it three wins on the trot at home to Montauban.
Much of the news this week revolved around the French government's proposed tax reforms which are set to cost the clubs a bundle and have been greeted with unbridled contempt.
Fixtures:
Castres v Clermont
Toulouse v Bourgoin
Montpellier v Montauban
Brive v Bayonne
Stade Français v Albi
Biarritz v Racing Métro
Perpignan v Toulon
Standings:
1 Perpignan 35
2 Castres 34
3 Clermont 33
4 Toulouse 31
5 Toulon 30
6 Biarritz 28
7 Racing Metro 27
8 Stade Français 27
10 Montauban 25
9 Bourgoin 22
11 Montpellier 21
12 Brive 20
13 Bayonne 17
14 Albi 9
_____________________________________________________________________
Castres Olympique v Clermont Auvergne
Stade Pierre Antoine, Castres
It's been 32 years since Clermont won in Castres, and with only two wins on the road this season, Les Jaunards will know they have a massive challenge on their hands as second plays third.
Unbeaten at home this season, the Castrais are flying high on confidence. Narrowly beaten in Perpignan last week, they will be hoping for better in the second of four consecutive matches against heavyweight competition (with Toulouse and Biarritz up next).
Another success on Thursday will be enough to confirm Laurent Travers and Laurent Labit's team as genuine play-offs contenders.
The visitors will arrive with their brand-new signing, Tasesa Lavea. He is expected to start at fly-half or inside centre. Mario Ledesma and Gonzalo Canale are however doubtful.
Castres scrum-half Sébastien Tillous-Borde is out of action for eight weeks. Prop Luc Ducalcon is also an unlucky absentee after having to withdraw from the national squad with a knee injury.
Prediction: Three decades is a long time without a win at Pierre Antoine. Who are we to defy history? Castres to win by five.
Kick-off: 19:30 (17.30 GMT)
Referee: Christophe Berdos
______________________________________________________________________
Stade Toulousain v CS Bourgoin-Jallieu
Stade Ernest Wallon, Toulouse

Soon to be deprived of fifteen internationals during the Test window, Toulouse will be out to rack up a full house of points at home.
The Haut-Garonnais have not lost in Toulouse since April 2007 (22 matches) and it's highly unlikely Bourgoin will upset the apple cart.
Manager Guy Novès read the riot act after last week's loss to Racing-Métro, accusing a bunch of players of thinking more about the upcoming tests than the task at hand.
For a change, the Toulousain injury list is relatively short, but Jean Bouilhou is doubtful after breaking his nose in Paris.
Prediction: Bourgoin would probably be happy with a losing bonus point, but they shouldn't bank on it. Toulouse to win with a bonus point.
Kick-off: 19:30 (17.30 GMT)
Referee: Hervé Dubes
___________________________________________________________________
Montpellier HRC v Montauban
Stade Yves Du Manoir, Montpellier

Montpellier and Montauban have been close rivals in the standings in recent seasons and this time around it's no different. Both clubs have been horribly inconsistent this year, but have a common goal: get as far away from the relegation zone as possible, as soon as possible.
Both teams are capable of big things: Montauban's win over Biarritz last weekend is matched by Montpellier's success over Clermont a week before.
Montpol have been in great form at home, and finally got an away win when they beat Albi last Saturday. A third consecutive win will lift them into mid-table.
Montauban captain Matthew Clarkin will be back from serving his suspension but fastman Shannon Paku (ankle) and scrum-half Julien Audy (thigh) are unlikely to be fit.
For the hosts, French internationals Fulgence Ouedraogo and Francois Trinh-Duc will start while Grant Rees has recovered sufficiently from his shoulder injury to be in the squad.
South African utility back Len Olivier has been signed by Montauban to fill in for injured Regis Lespinas. The 23-year-old - who can play at fly-half, centre or full-back - arrives from the Sharks.
Centre Lespinas has been ruled out for eight months after undergoing surgery for ruptured knee ligaments.
Prediction:Montpellier hare looking good at home. We'll back them to continue the good work at Yves du Manoir. Montpellier to win by three
Kick-off: 19:30 (17.30 GMT)
Referee: Mathieu Raynal
____________________________________________________________________
CA Brive-Corrèze v Aviron Bayonnais
Stade Amédée Domenech, Brive

They're calling this one a 'match of fear' and never was a truer word spoken. With Bayonne in the red zone, and Brive one place above them, both clubs will see this as an eight-pointer.
Axes have been swinging at both clubs: Manager Richard Dourthe's exclusion from first team dealings at Bayonne seems to have had little affect as they were woefully boring and ineffective against Toulon.
After seven straight losses in France and Europe, Brive salvaged a draw in Bourgoin last week following the sacking of coach Laurent Seigne, but confidence is still lacking.
Brive have lost three out of their last four home games and the crowd at Amédée Domenech expect a revival. Bayonne have yet to win on the road this season, so perhaps this is their chance.
For the hosts, Fijian wing Viliame Waqaseduadua, has been ruled out with a sprained ankle and Fabrice Estebanez will continue to stand in at fly-half since Andy Goode is on England duty and Luciano Orquera is injured.
In the pack, loose forward Gerhard Vosloo is out with a hip complaint and Steve Thompson will be in England's front row at Twickenham.
Prediction:Bayonne can't buy a win at the moment. Brive to win by five points
Kick-off: 19:30 (17.30 GMT)
Referee: Jean-Pierre Matheu
____________________________________________________________________
Stade Français v SCA Albi
Stade Jean Bouin, Paris

Against an Albigeoise side with little chance of avoiding relegation, Stade Français have an ideal chance to break into the top five or six.
An excellent performance in Clermont was just the tonic the Parisians needed after losing to Perpignan at the Stade de France. A win against such lowly opposition is a non-negotiable and coach Jacques Delmas will expect a bonus point.
With Lionel Beauxis sidelined, Argentine fly-half Ignacio Mieres will get his second start outside Falie Oelschig.
Antoine Burban is out of action so Italians Mauro Bergamasco and Sergio Parisse are expected to run on, but hooker Dimitri Szarzewski has been given the week off before joining up with les Bleus.
Scottish international Simon Taylor is facing an eight-week lay-off with a torn bicep after playing just a single game this season.
Prediction:Stade Français to wil by plentyKick-off: 19:30 (17.30 GMT)
Referee: Cyril Lafon
____________________________________________________________________
Biarritz Olympique v Racing Metro 92
Parc des Sports d'Aguilera, Biarritz

Biarritz were looking so good. Seven straight wins have been followed by two losses and now BO have to start building momentum all over again.
Last week's defeat in Montauban would have been especially unwelcome as it leaves the Basques just a single point ahead of their opposition on Thursday as they face three weeks without their internationals.
There will be none of the excess in confidence and of lack of enthusiasm Biarritz displayed last week when they face one the championship's form sides.
Racing's impressive win over Toulouse last week was their fourth success in as many games. The Franciliens will travel to the Atlantic coast without pressure after a solid start to the season.
Young fly-half Jonathan Wisniewski, has shown that he has the temperament and the skill to take over from the ageing Andrew Merthens, while Sebastian Chabal and Francois Steyn are proving to be their money's worth.
Prediction:Travelling to the Aguilera is always tough so we'll back the hosts. Biarritz to win by seven

Kick-off: 19:30 (17.30 GMT)
Referee: Cédric Marchat
___________________________________________________________________
USA Perpignan v RC Toulon
Stade Aimé Giral, Perpignan

The game of the weekend is sure produce plenty of sparks as Perpignan aim to stamp their authority on the Top 14.
USAP were pushed all the way by Castres last Friday but the Catalans held their nerve to win their nineteenth consecutive game at fortress Aimé-Giral.
The visitors make the trip West down the Mediterranean coast without Jonny Wilkinson, but will still present a serious challenge for their hosts.
The Varois will have been encouraged both Castres' performance against the champs and their own in Bayonne - a rare success on the road.
Toulon have confirmed their status as genuine contenders for a place in Europe and even the play-offs - Thursday will be an acid test of their ability to run with the big dogs.
Perpignan will welcome back a quartet of players including fly-half Nicolas Laharrague, who was rested against Castres while Jérôme Porical and Marius Tincu have both extended their contracts.
Grégory Le Corvec, Damien Chouly, Nicolas Laharrague, Olivier Olibeau, Jean-Philippe Grandclaude and Rimas Alvarez-Kairélis are ready for action but Julien Candelon and Jean-Pierre Perez will watch from the stands.
Toulon's former Australian international Matt Henjak will want to bow out on a winning note, as the fiery scrum-half has given up one of the two non-European Union playing licences to Argentinean Felipe Contepomi.
Fabien Cibray has been signed from Biarritz as Henjak's replacement .
Prediction:Toulon's form on the road might not be good enough to cause an upset. Perpignan by eight points.

Kick-off: 21:00 (17.30 GMT)
Referee: Pascal Gauzere