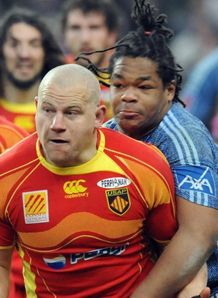 Related links
Also see
A week after a highly successful weekend in Europe, four of France's domestic title contenders go head-to-head as Perpignan visit Paris and Biarritz travel to Toulouse.
Midweek, 70,000 tickets had already been sold at Stade de France for the visit of the defending champions while Ernest Wallon in Toulouse has been full for weeks.
Leaders Clermont will see this weekend as the perfect opportunity to open a gap on their championship rivals, although a trip to inconsistent Montpellier is not without its perils.
In fact five different teams could take the lead by the end of Saturday's programme.
Very few pundits would have predicted that Castres would be lying second after ten rounds, but they genuinely seem good value for their excellent start to the season. Whether or not they have the squad depth to push France's big games for the duration of the season remains to be seen. A trip to Bayonne on Friday will be a test of their credentials.
Elsewhere, Brive's off-season spending has failed to bear significant fruit and they will be under pressure to produce against Racing Métro, whose shopping has been somewhat more successful.
Toulon will back themselves to get the better of Bourgoin while Montauban will know they must produce the goods against Albi if they are to stay clear of the red zone.
Fixtures:
Friday, October 9
Bayonne v Castres
Saturday, October 10
Toulouse v Biarritz
Montpellier v Clermont
Toulon v Bourgoin
Montauban v Albi
Brive v Racing Métro
Stade Français v Perpignan

Standings:
1 Clermont 30
2 Castres 29
3 Biarritz 28
4 Perpignan 27
5 Toulouse 26
6 Stade Français 24
7 Toulon 21
8 Bourgoin 20
9 Racing Métro 19
10 Brive 18
11 Montauban 17
12 Bayonne 16
13 Montpellier 13
14 Albi 8
______________________________________________________________________
Previews:
Friday, October 9
Aviron Bayonnais v Castres Olympique
Stade Jean Dauger, Bayonne
Bayonne will do well to maintain their unbeaten home record against a Castres side eyeing the top of the standings. Lying a surprising second after nine rounds, even Castres fans will concede that they've been given a relatively easy start to the season. The next four weeks however will be far tougher: Perpignan, Clermont, Toulouse and Biarritz are on the menu.
Back to this weekend where both sides come off the back of Challenge Cup wins. While Bayonne would have enjoyed taking a revenge win away to Racing, Castres stretched their legs against Rovigo, scoring 76 points after going down to Toulon a week earlier.
Castres did not play at full strength in Europe and, with fresh legs, will fancy their chances in Bayonne considering their hosts' loss to Albi a month ago.
Only Stade Français and Clermont have scored more tries than Bayonne but Richard Dourthe's side have failed to produce on the road.
Craig Gower and Salvatore Perugini returned to Bayonne on Wednesday after training with the Azzurri in Rome. Winger Pepito Elhorga has still not recovered from a torn thigh muscle and number eight Marc Baget's season is over because of a ruptured cruciate ligament.
For Castres, scrum-half Alexandre Albouy (calf), former All Black prop Carl Hoeft (calf) and South Africans Michael Coetzee (hamstring) and Daron Nell are missing.
Prediction: Tough one to call considering that in two games last season, just a single point separated these sides after they drew in Bayonne and the Basques won 27-26 in Castres. We'll back Castres to continue their solid start. Castres by three
Kick-off: 20:45 (18.45 GMT)
Referee: Mathieu Raynal
_______________________________________________________________________
Saturday, October 10
Stade Toulousain v Biarritz Olympique
Stade Ernest Wallon, Toulouse
Coming off the back of seven straight wins (in all competitions), Biarritz will head inland with plenty of confidence. Their demolition of Gloucester in the HEC was yet more proof that they will be one of the teams to beat this year, both domestically and in Europe.
Toulouse also seem to have hit a vein of form. Vincent Clerc repeatedly crossing the whitewash is an ominous sign for anyone set to face France's most successful club.
After finding their legs against Montpellier, impressive wins against Sale and Harlequins has given the Toulousains plenty of confidence, especially amongst the backs. The forwards have been smashing everything in their path this year, and with the fast men now coming to the party, Toulouse look dangerous.
The Basque visitors have however decided to rotate their squad and lock Jérôme Thion, who has played all of BO's eleven games this year, has been given a rest. Loose forward Magnus Lund and centre Damien Traille are also being kept on ice.
While the loss of loose forward Yannick Nyanga for six months is a huge blow for Toulouse, they do have a couple of players leaving the infermerie. International full-back Clément Poitrenaud has played a game with the youth side and is eager to pull on a first team jersey again. Centre Maleli Kunavore (broken arm) and lock Yohan Montès (hamstring) have started training again, but are not yet fit to take the field against Biarritz.
In other news, Biarritz's 'medical joker' Karmichael Hunt has arrived from the Brisbane Broncos. Judging by interviews so far, Hunt seems to be a no-nonsense kind of guy. He should fit in just fine at BO.
Prediction: Toulouse at home? Biarritz resting some key players? Toulouse to win by seven.
Kick-off: 14:15 (12.15 GMT)
Referee: Jean-Pierre Matheu
_____________________________________________________________________
Montpellier HRC v Clermont Auvergne
Stade Yves Du Manoir - Montpellier
Montpellier's up-and-down form seems destined to drag them into a long and difficult battle to avoid relegation. Their loss to Connacht with a below-strength side will be for less of a concern than their lowly place in the domestic standings.
That said, Montpellier have lost only once at home this season (to Toulouse) after upsetting Biarritz, Perpignan and Toulon. The Heraltais are yet to win on the road in the Top 14 this season, so they will be banking on their form at Yves Du Manoir.
Clermont, on the other hand, have been consistently good both home and away, in Europe and in France. Bar their blip in Perpignan, the Jaunards have once again been the benchmark this season and deserve their status as leaders. With Stade Français next up, they'll want to gain some momentum on Saturday.
Clermont centre Marius Joubert is crocked again. The South African has undergone the same groin operation that he did last year, putting him out for three months.
Lionel Faure, Thibaut Privat and Mario Ledesma are being rested. Loïc Jacquet is back but Anthony Floch needs another week to be fully fit.
With Joubert's injury leaving a gap in midfiled, Clermont are now impatiently waiting on the arrival of utility back Tasesa Lavea, who is expected in the Auvergne at the end of the month.
Prediction: The last time Clermont visited Montpellier, the hosts were given a 27-point drubbing. In fact Montpellier have not beaten Clermont in three and half years. Clermont to win by ten
Kick-off: 14:30 (12.30 GMT)
Referee: Patrick Pechambert
_______________________________________________________________________
RC Toulon v CS Bourgoin-Jallieu
Stade Felix Mayol, Toulon
Seventh plays eighth on the Mediterranean coast.
Unbeaten at home this season, Toulon will be keen to build on two impressive wins in the Challenge Cup. Victory over Guinness Premiership leaders Saracens underlined the class of Philippe Saint-André's side.
However, tries have been few and far between at Felix Mayol. Saint-André and coach Tana Umaga would surely like to see their team rely less on the boot of Jonny Wilkinson.
Only Albi have scored fewer tries than Toulon - not a stat you would associate with a team harbouring both domestic and European ambitions.
Bourgoin have caused a few upsets themselves this season, and a string of wins (against Montauban, Albi, Leeds and Bucharest) have confirmed Les Berjalliens' good form. But Eric Catinot seems pre-occupied with the reception of Brive next week and a couple of players are being rested.
Toulon are not taking any chances as Wilkinson, Joe Van Niekerk and Pierre Mignoni are all in the extended matchday squad.
Georgian prop Davit Kubriashvili signed a new two-year deal to stay in Toulon this week.
Prediction: Toulon to win by ten points
Kick-off: 14:30 (12.30 GMT)
Referee: Eric Soulan
______________________________________________________________________
Montauban TG v SCA Albi
Stade Sapiac, Montauban
After a promising start to the season, three straight losses have seen Montauban slip down the standings. Two Challenge Cup wins - one of which was against Albi a fortnight ago - have provided Marc Raynaud's side with a timely boost in confidence.
Albi have signed USA internationals Matekitonga Moeakiola and Johan Van der Giessen to bolster their injury-hit squad.
Moeakiola is a 31-year-old Tonga-born prop while 27-year-old Van der Giessen is a lock (and, no, he isn't South African, despite what the name may suggest).
Meanwhile Laurent Baluc-Rittener has been banned for 40 days for his part in the half-time scuffle with Bayonne(Albi's only win in eleven starts in all competitions this season). Kevin Boulogne and Christophe Lafoy have been suspended for ten days for their conduct on the field the same day.
Both sets of coaches have were handed a warning.
Prediction: Montauban win by at least ten
Kick-off: 14:30 (12.30 GMT)
Referee: Christophe Berdos
_____________________________________________________________________
CA Brive-Corrèze v Racing Métro 92
Stade Amédée Domenech, Brive
After another troubling week behind the scenes (which saw President Patrick Sébastien forced to resign), Brive need to start producing the goods on the pitch.
Outclassed by Leinster last week, the Corréziens are as good as out of the Heineken Cup and things aren't much better in the Top 14 either.
Sébastien pointed to a "too many cooks" situation, but then got axed, so it looks like the kitchen will continue to be very full. Another poor performance against Racing and the soup could turn sour.
Good news for Brive is that François Steyn (ankle) and Jérôme Fillol will not be in the Parisians' side. Both have returned to training, but they aren't ready for competition. However, French international locks Sebastian Chabal and Lionel Nallet are both back from their injuries.
Racing have signed 19-year-old South African Willem Le Roux from the University of Stellenbosch as their own medical joker for injured Azzurra Andrea Masi.
Prediction: Brive to win by six points
Kick-off: 14:30 (12.30 GMT)
Referee: Romain Poite
_______________________________________________________________________
Stade Français v USA Perpignan
Stade de France, St. Denis (Paris)
A sold-out 80,000 seater Stade de France is expected for a rematch of last season's semi-final, complete with all the razzmatazz that Paris boss Max Guazzini has become famous for.
Perpignan will have bitter-sweet memories of the last time they played Stade Français in Paris. The Catalans snatched a late draw but were forced to see Dan Carter taken from the field in what would be his last game for USAP.
Stade Français have not won at the national stadium for since last June, losing three times and drawing once since their last success (against Biarritz at the end of the 2007-2008 season).
But off the back of victory in Bath, the Parisians will fancy their chances this time around as they aim to take their unbeaten streak to seven.
Perpignan have been poor away from home his season, having already stumbled in Montpellier, Bourgoin and Treviso - not what you'd expect from the defending champions.
The Catalans will head to the capital without Nicolas Durand, Perry Freshwater and Farid Sid, but Benoît Bourrust, Robins Tchale-Watchou, Damien Chouly, David Mélé and Gavin Hume are fit again.
Stade Français loose forward Juan Manuel Leguizamon has been sidelined for three weeks with sprained knee.
Prediction: The hosts' home form - four bonus-point wins in as many starts - suggests a pink party in Paris. Stade Français to win by a whisker
Kick-off: 16:25 (14.25 GMT)
Referee: Jérôme Garces