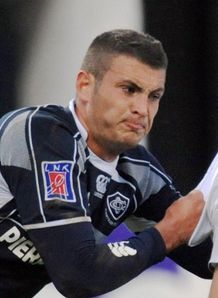 Castres have made a whopping twelve changes to the starting XV that lost to Toulon in the Amlin Challenge Cup last week, for the trip to Rovigo.
The only survivors of the defeat are Thomas Bouquié at full-back, Phil Christophers in the centre and local hero Joe Tekori at number eight as coaches Laurent Labit and Laurent Travers look to keep things fresh ahead of the continuation of the Top 14.
There are also a number of changes to Rovigo's side, most of them in the backs where Stefan Basson, Andrea Sartoretto, Emmanuel Pellegrini come in at full-back, wing and centre respectively.
Marcello de Gasperis drops to the bench, while Roberto Pedrazzi and Andrea Sartoretto are out of the squad altogether.
At number eight, Alejandro Abadie's replacement of the injured Jaco Immelman is the only change in the forwards.
Rovigo: 15 Stefan Basson, 14 Andrea Sartoretto, 13 Andrea Pratichetti, 12 Emanuel Pellegrini, 11 Andrea Bacchetti, 10 German Bustos, 9 Pietro Travagli, 8 Alejandro Abadie, 7 Shalk Van der Merwe, 6 Niccolò Badocchi, 5 Daniele Tumiati, 4 Tomasso Reato, 3 Giovanni Boccalon, 2 Luke Mahoney, 1 Andrea de Marchi.
Replacements: 16 Flavio Damiano, 17 Gonzalo Buquete, 18 Massimiliano Ravalle, 19 Marco Barion, 20 Younes Anouer, 21 Stefano Canale, 22 Riccardo Bocchino, 23 Marcello De Gasperi.
Castres:15 Thomas Bouquié, 14 Matthieu Nicolas, 13 Yoan Audrin, 12 Philip Christophers, 11 Marc Andreu, 10 Romain Teulet, 9 Thomas Sanchou, 8 Joe Tekori, 7 Yannick Caballero, 6 Ibrahim Diarra, 5 Rodrigo Capo Ortega, 4 Matthias Rolland, 3 Daniel Saayman, 2 Akvsenti Giorgadze, 1 Gideon Lensing.
Replacements: 16 Mathieu Bonello, 17 Yoann Rayssac, 18 Luc Ducalcon, 19 Ludovic Michaux, 20 Steve Malonga, 21 Kirill Kulemin, 22 Matthieu Bourret, 23 Paul Bonnefond.
Date: Saturday, October 17
Venue: Stadio Mario Battaglini
Kick-off: 15.00 (14.00 BST)
Referee: Referee: Greg Garner (England)
Assistant referees: Ashley Rowden (England), Roger Baileff (England)