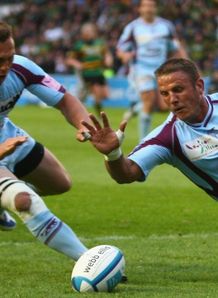 Bucuresti have named an all-new front row of Cristian Balan, Andrei Radoi and Sami Maris for the visit of Bourgoin in the ACC on Saturday.
Two of the previous front row - Bogdan Zebega and Silviu Vasiliu - drop to the bench, while Nicolae Nere drops out altogether.
The only other change is at full-back, where Bote Botezatu comes in for Florin Vlaicu, who drops to the bench.
Bucuresti: 15 Bote Botezatu, 14 Catalin Fercu, 13 Csaba Gal Minya, 12 Ionut Dimofte, 11 Stefan Ciuntu, 10 Dan Dumbrava, 9 Vali Calafeteanu, 8 Vasile Rus, 7 Mihai Macovei, 6 Stelian Burcea, 5 Valentin Ursache, 4 Cosmin Ratiu, 3 Cristian Balan, 2 Andrei Radoi, 1 Sami Maris
Replacements: 16 Bogdan Zebega, 17 Silviu Vasiliu, 18 Daniel Ianus, 19 Viorel Lucaci, 20 Ciprian Caplescu, 21 Catalin Nicolae, 22 Florin Vlaicu, 23 Misu Adascalitei.
Bourgoin: tbc
Date: Saturday, October 17
Venue: Satdium Arcul de Triumf
Kick-off: 13.00 (11.00 BST)
Referee: Gwyn Morris (Wales)
Assistant referees: Huw David (Wales), Huw Williams (Wales)