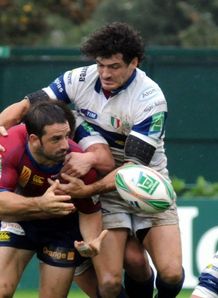 Treviso pulled off one of the biggest shocks in Heineken Cup history by beating Perpignan 9-8 at Stadio Comunale di Monigo on Saturday.
Three penalties from fly-half Marius Goosen were enough to give the Italians the edge by a solitary point in the Pool One clash.
Jerome Porical's late try went unconverted for the visitors and that proved crucial in the outcome, with Treviso of course set to enjoy long celebrations after this historic European victory.
Treviso held on for their only win in the past four seasons was against the Dragons in 2007.
Perpignan, who went to the final of this competition in 2004, slumped to another defeat in a season that has only seen them win once on the road in four games in their domestic division.
Few pundits would have predicted a win for Treviso after six successive wins for the French team over their Italian rivals.
Pooled together in the last three campaigns, it has been Perpignan who have a prefect six-nil record.
Next week Treviso travel to Thomond Park to take on two-time champions Munster, their winning run may not last, but they will have been delighted to have halted their losing streak.
The scorers:
For Treviso:
Pen: Goosen 3
For Perpignan:
Tries: Porical
Pen: Porical
Treviso: 15 Luke McLean, 14 Emiliano Mulieri, 13 Alberto Sgarbi, 12 Gonzalo Garcia, 11 Andrew Vilk, 10 Marius Goosen, 9 Fabio Semenzato, 8 Dion Kingi, 7 Alessandro Zanni, 6 Benjamin Vermaak , 5 Cornelius van Zyl, 4 Antonio Pavanello, 3 Ignacio Fernandez Rouyet, 2 Leonardo Ghiraldini, 1 Michele Rizzo.
Replacements: 16 Diego Vidal, 17 Augusto Allori, 18 Pedro di Santo, 19 Enrico Pavanello, 20 Robert Barbieri, 21 Marco Filippucci, 22 Tobias Botes, 23 Brendan Williams.
Perpignan: 15 Jérôme Porical, 14 Farid Sid, 13 David Marty, 12 Maxime Mermoz, 11 Julien Candelon, 10 Nicolas Laharrague, 9 Florian Cazenave, 8 Henry Tuilagi, 7 Gerrie Britz, 6 Damien Chouly, 5 Robins Tchale Watchou, 4 Guillaume Vilaceca, 3 Nicolas Mas, 2 Guilhem Guirado, 1 Sebastien Chobet.
Replacements: 16 Marius Tincu, 17 Kisi Pulu, 18 Rimas Alvarez Kairelis, 19 Bertrand Guiry, 20 Steve Meyer, 21 Joffrey Michel, 22 Christophe Manas, 23 Jérôme Schuster.
Referee: Andrew Small