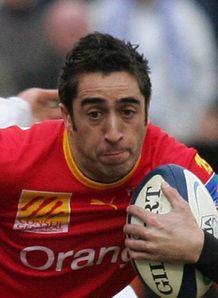 Bayonne's team once again features former Australia A fly-half Manny Edmonds at scrum-half for the visit of Roma in the Challenge Cup.
Edmonds has played the past two games at the base of the scrum for the French, who have many injuries in the position.
Several first-team regulars are on the bench for the match, including prop Salvatore Perugini and lock Rob Linde, but Italian international fly-half Craig Gower starts.
Roma's side features former Newcastle prop Tino Paoletti as well as former international lock Valerio Bernabo and South African number eight Jonathan Gagiano.
The teams:
Bayonne: 15 Jean Baptiste Peyras, 14 Benjamin Fall, 13 Vincent Inigo, 12 Sam Gerber, 11 Clement Lagain, 10 Craig Gower, 9 Manny Edmonds, 8 Jacques Deen, 7 Julien Puricelli, 6 Guillaume Bernad, 5 Mikaera Tewhata, 4 Ross Filipo, 3 Renaud Boyoud, 2 Ace Tiatia, 1 Pierre Philippe Lafond
Replacements: 16 Salvatore Perugini, 17 Francois Da Ros, 18 Nicolas Laffite, 19 Robin Linde, 20 Cedric Garcia, 21 Pierre Bernard, 22 Thibault Lacroix, 23 Denis Avril.
Roma: 15 Juan Gauthier, 14 Giovanni Manozzi, 13 Nanni Raineri, 12 Max Freschi, 11 Edoardo Rotella, 10 Andrew Skeen, 9 Riccardo Casasanta, 8 Jonathan Gagiano, 7 Paolo Damiani, 6 Filippo Giusti, 5 Valerio Bernabo, 4 Emiliano German, 3 Tino Paoletti, 2 Marcelo Martino, 1 Adrien Vigne Donati.
Replacements: 16 Nicolas De Gregori, 17 John Rawson, 18 Fabio Gentili, 19 Michael Aldrige, 20 Andrea Pegoretti, 21 Alberto Saccardo, 22 Carlo Vannini, 23 Diego Varani.
Date: Friday October 9
Venue: Stade Jean Dauger
Kick-off: 19.30 (18.30 BST)
Referee: Graham Knox (Scotland)
Assistant referees: Andy Ireland (Scotland), Graeme Marshall (Scotland)