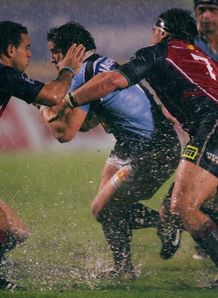 Tasman recorded a gritty 21-16 win over Northland on Sunday to take them into the top four of the Air New Zealand Cup on Sunday.
Having been held at 13-13 in the first half and needed a breakaway try to keep the scores even, Tasman dug deep in the second half to record the win, with hooker Quentin MacDonald scoring the crucial try.
Driving rain in the first half meant there was little chance for running rugby and it was the home side that made the better of the conditions with its kicking game, and eventually scored the first try through Roy Griffin, who owed plenty to the efforts of his fellow members of the pack off a line-out
Lachie Munro added the conversion, along with his two earlier penalties, but was caught out on defence to allow Tasman to draw level - through a try from Pelenise - and deny the Taniwha a deserved halftime lead.
Indeed Tasman could have been ahead were it not for Andrew Goodman's profligacy from the tee - he missed three penalties.
Nevertheless, Northland would have been delighted to turn with the wind at their backs but another outstanding rolling maul, this time from Tasman, saw the visitors strike minutes into the second half.
Keeping the ball in hand into the gale, the Makos rumbled strongly over the 22m line and eventually collapsed into the in-goal, where hooker Quentin MacDonald was confirmed to have picked up the try.
Goodman's conversion missed, giving him two successful kicks from six on the day, and Munro nailed another penalty minutes later to draw Northland back to 16-18 in arrears.
Not having a lot of luck with his place kicking, Goodman decided drop goals were the better option. His successful kick from straight in front, with a penalty advantage being played, put his side out to a five-point lead again with 15 minutes remaining.
Northland tried hard to fight back in the dying stages with field position but couldn't break down desperate Tasman defence.
The scorers:
For Northland:
Try: Griffin
Con: Munro
Pens: Munro 3
For Tasman:
Tries: Pelenise, MacDonald
Con: Goodman
Pens: Goodman 2
Drop goal: Goodman.