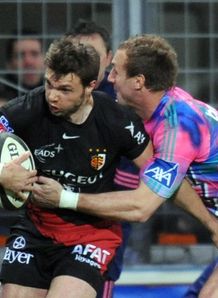 Related links
Also see
It's the weekend Top 14 fans have been waiting for: Toulouse host Stade Français in French rugby's version of the superclassico while Clermont visit Perpignan for a rematch of last season's final.
If that isn't enough to whet your palate, third-placed Toulon head to fifth-placed Biarritz while Springbok Francois Steyn is set to make his debut for Racing-Métro against Montpellier.
There's a crunch game for big-spending Brive on Friday as they try to drag themselves up the standings against high-flying Castres.
To start it all off, Albi will be desperate for their first win at home to Bayonne.
Fixtures:
Friday, September 25
Albi v Bayonne
Brive v Castres
Saturday, September 26
Perpignan v Clermont
Racing Metro v Montpellier
Montauban v Bourgoin
Biarritz v Toulon
Stade Toulousain v Stade Français
Standings:
1 Clermont 25
2 Perpignan 22
3 Toulon 20
4 Toulouse 20
5 Biarritz 19
6 Castres 19
7 Stade Français 17
8 Bayonne 15
9 Montauban 15
10 Brive 14
11 Montpellier 12
12 Bourgoin 12
13 Racing-Métro 11
14 Albi 3
________________________________________________________________
Previews:
Friday, September 25
SCA Albi v Aviron Bayonnais
Stadium Municipal d'Albi
Six games, six losses including three at home, Albi are not enjoying their return to the top flight. With a long injury list to contend with, things don't look like getting better any time soon as Bayonne arrive in town with their tails up after easily disposing of Montpellier last week.
The Basques will travel East with centre Sam Gerber, lock Ross Filipo and fly-half Manny Edmonds back in their squad. Craig Gower is not certain to travel due to family reasons.
Albi have acquired a "medical joker" in the form of journeyman Julian Dumitras, who can play full-back and fly-half.
Prediction: Bayonne to win by six
Kick-off: 19.30 (18.30 GMT)
Referee: Akim Hadj Bachir
________________________________________________________________
CA Brive-Corrèze v Castres Olympique
Stade Amédée Domenech, Brive
Brive are facing some desperate times. At the start of the season they were aiming for a top-six finish, but with just two wins after seven rounds there are a few red faces in the Corrèze.
Coach Christophe Laussucq didn't mince his words after going down to Biarritz last week: "We're in the sh**!" he exclaimed. Indeed.
Plenty of injuries and a lack of patience on the field resulting in some poor finishing have left Brive at the wrong end of the standings. Not a good place to be if you're about to play Castres, one of the form sides this season.
Castres hooker Mathieu Bonello has been given a ten-day ban after being sent off against Montauban. Romain Boscus replaces Cameron McIntyre at fly-half with the latter starting on the bench.
Brive's latest signing, scrum-half Nicolas Jeanjean is in the squad, but is yet to receive his licence, so probably won't play. Shaun Perry, Andy Goode, Jamie Noon and Alexis Palisson are all in the extended squad.
Prediction: While Brive have lacked results, they've shown some promising signs on the pitch. It's crunch time so we'll back Brive over a tired Castres side who play their fifth game in less than three weeks. Brive by a whisker
Kick-off: 20:35 (20.35 GMT)
Referee: Jérôme Garces
_______________________________________________________________
USA Perpignan v Clermont Auvergne
Stade Aimé Giral, Perpignan
First plays second on the Mediterranean coast. Try as they might, leaders Clermont can't convince us that they won't be thinking of revenge for last season's final lost to Perpignan.
Both sides are in fine form after racking up bonus-point wins last weekend. Clermont were particularly impressive, running six tries past Albi as Australian Brock James kicked four conversions to set the pace as the Top 14's leading points scorer on 84.
The hosts were made to work much harder against Montauban as the Catalans relied heavily on their scrum to secure five points.
With the Heineken Cup fast approaching, this will be a stern test for both side's mettle.
Perpignan will be without star centre Maxime Mermoz (thigh) and wing Farid Sid (knee) but Steve Meyer and David Marty return to the back-line.
The Clermontois are giving Aurélien Rougerie a break. Julien Pierre has malaria while prop Martin Scelzo and full-back Benoît Baby are still struggling with injury.
Prediction: Tough to call considering Clermont's barnstorming form, but we're not brave enough to bet against the champions at home. Perpignan by three or four.
Kick-off: 14:15 (12.15 GMT)
Referee: Christophe Berdos
________________________________________________________
Racing-Métro 92 v Montpellier HRC
Stade Yves Du Manoir - Colombes (Paris)
Four consecutive defeats have left Racing second to last - a far cry from their lofty early season ambitions. A home win is now imperative for Pierre Berbizier's men and Francois 'the Rocket Launcher' Steyn has arrived just in time. He should start from the bench beforing coming on at full-back.
"I am feeling great, I've been able to train over the last few days and I am really impatient to get back on the field," he told Racing-Metro's website.
"My priority is to perform well for Racing and if I can bring something to the club I'll be stoked. I'm raring to go with Racing, as soon as possible." he told L'Equipe after arriving on Monday.
Montpellier have mixed the sublime (at home) with the woeful (on the road), but welcome back two internationals - scrum-half Julien Tomas and Puma fly-half Federico Todeschini. Prop Juan-Martín Figallo could make his debut appearance.
Prediction: Racing-Métro by ten.
Kick-off: 14:30 (12.30 GMT)
Referee: Jean-Luc Rebollal
________________________________________________________________
Montauban v CS Bourgoin-Jallieu
Stade Sapiac, Montauban
Ninth-placed Montauban and twelve-placed Bourgoin have claimed a couple of big scalps this year and will be eager to stay clear of the red zone.
After a five-match unbeaten run, a below-strength Montauban side went down to Perpignan last week, but should be a handful at Sapiac. After their heroic win over Perpignan, Bourgoin were outclassed in Paris last week.
Montauban have lost fly-half Régis Lespinas for the season due to a bad knee ligament injury. Bourgoin welcome back Matias Viazzo and Sylvain Charlet but they are without Florian Denos and Erwan Lapteff.
Prediction: Montauban at home? Montauban to win by eight
Kick-off: 14:30 (12.30 GMT)
Referee: Bruno Bessot
_________________________________________________________________
Biarritz Olympique v RC Toulon
Parc des Sports d'Aguilera, Biarritz
Biarritz are riding high on rich vein of form. Three consecutive wins - against Stade Français, Bayonne and Brive - have put them back in the top half of the table.
Despite beating Toulouse last week, a couple of well-respected pundits are of the opinion that Toulon are not worth third place in the standings. A trip to Aguilera seems like a perfect place to silence those critics.
Toulon need to prove that they can do more than just rely on Jonny Wilkinson to kick them to victory. With so many talented players in their team, it's a shame Toulon have played such a restricted game, effective as it is. With the England star expected to start on the bench they have an opportunity to show they have more than one dimension.
However after a gruelling start to the season, Philippe Saint-André and Tana Umaga have decided to rest prop Laurent Emmanuelli, hooker Sébastien Bruno and centre Mafileo Kefu. Skipper Joe Van Niekerk is uncertain and scrum-half Pierre Mignoni is expected to accompany Wilkinson on the bench. Matt Henjak should start at nine.
Biarritz's Samoan lock Pelu Taele has also been suspended for 20 days after being red carded in the Basque derby with Bayonne.
Prediction: Toulon have already beaten Clermont and Toulouse at home but Biarritz on the road could be a bridge too far. Biarritz by five.
Kick-off: 14:30 (12.30 GMT)
Referee: Jean-Pierre Matheu
_______________________________________________________________
Stade Toulousain v Stade Français
Stadium de Toulouse
The clash of the Stades is never to be taken lightly. A sold out Stadium de Toulouse awaits the visitors from Paris as both teams look for a reassuring performance.
The lack of confidence at both clubs has perhaps been reflected in an unusually quiet week in the press. We're normally treated by plenty of disguised digs and an insinuations from the respective owners and coaches, but this time around all is quiet on the handbags front.
Toulouse have blown a bit hot and cold this season. More cold than hot if you're a Toulousain and manager Guy Novès knows that his side will have to come up with the goods on Saturday.
"The Parisians have won their last two matches with the bonus point. They've rediscovered the enthusiasm and are progressing ...so for us it will be the big reference match for the start of the season," he said.
"We have to stay focussed on our work, not be discouraged. Results will come," Novès predicted.
Stade Français have not won in Toulouse since September 2006 - when they went on to clinch the title the following June. The Parisians lie seventh after successive bonus-point victories against Castres and Bourgoin and new coach Jacques Delmas is promising further improvements.
Already the best attack in the league, the Parisians have tightened up their defence which will be needed as Toulouse have made no secret of their intentions to run it from everywhere this season.
Frédéric Michalak and Jean-Baptiste Elissalde will form a creative, but lightweight axis pair for Toulouse, but Byron Kelleher could be on the bench after returning to training this week.
Injured Clément Poitrenaud, Maleli Kunavore, Yoann Maestri, Julien Ledévédec and Alberto Vernet-Basualdo are definite non-starters.
Prediction: Toulouse have flattered to deceive this season but are always up for a big game. We'll back the 'big red machine' to come good when it matters. Toulouse by five.
Kick-off: 16:25 (14.25 GMT)
Referee: Romain Poite