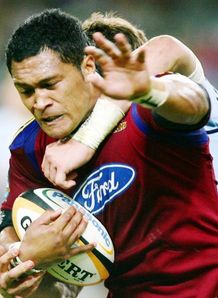 Three matches, three wins, plenty more still to come from Chris Hickey's Waratahs side. After downing the Highlanders 34-16 at Aussie Stadium in the Super 14 on Friday, 'Tahs supporters can also reflect that their side has mastered the art of winning when not at their best.
Having weathered some free-spirited early Highlanders attacking, the Waratahs clinically struck twice in the first half to go into the sheds 17-9 ahead and never looked back.
For the visitors, this was another frustrating day. Had passes gone to hand early on it could have been a very different match but the team still needs a couple of classes in finishing school. Unfortunately for them, the one move in the first half which was finished was halted by referee James Leckie for a supposed knock-on as Daniel Bowden struggled to control the pass - a ludicrous decision.
Even when the Highlanders did score a try in the second half, it had to be gifted to them by some dreadful communication in the home defence which left an enormous overlap on the right-hand side open for nearly a minute before Jason Shoemark scampered home.
Both sides with work to do then. Yet the Waratahs sit - however briefly it may turn out to be - at the top of the Super 14 with three wins from three.
They kicked a lot of ball away early on, almost inviting the exciting runners at the Highlanders rear to have a go. Fetu'u Vainikolo rarely failed to beat a man, neither did Ben Smith. When space was dear, Israel Dagg was given ample chance to show his monster boot and pin the 'Tahs back in their own half.
It caused frustration in the home ranks, and a stream of free-kicks and penalties came the Highlanders' way. Clint Newland gave Benn Robinson a torrid time at the scrums, with two penalties converted by Bowden, and the swarming home defence was a little too enthusiastic at charging up early on, a source of a further three points for Bowden.
Still, it was the Waratahs who threatened the line first, with Tom Carter's touchdown ruled out as he had scampered a yard ahead of the chipping Beale.
After 24 minutes, it was the Waratahs who scored first as well, when Beale grubbered through on the short side and Lote Tuqiri sprinted to grab the ball in far more space than he should have been allowed. Beale's conversion from the touchline was a suitably stern retort for those who had slammed him for his profligacy a week before.
Five minutes before the break Beale struck again from the tee to make it 10-9, then right on half-time the Waratahs scored a killer try with the move of the game. Sam Norton-Knight's was the initial break after he took an inside ball at pace from Carter, terrific support running and angles saw flank Ben Mowen haring in from 15m in the left-hand corner. Beale addedthe extras.
Two minutes into the second half, Wycliff Palu thundered over from close range with Beale once again converting, before the Highlanders finally finished off a spell of pressure through Shoemark.
Beale eased the Waratahs further ahead with a penalty though and the lapse in defensive concentration that had allowed Shoemark so much space was not repeated. Neither, unfortunately, was the kind of movement that led to the second try as the game drifted to an inevitable conclusion.
Only right at the end did the Waratahs complete the mission, when Brett Sheehan nipped through the midfield to get the bonus-point try.
Man of the match: Johnny Leota never stopped threatening and posing questions of the Waratahs defence for the visitors and came close. But considering the lack of support given by his props, Adam Freier performed admirably in both tight and loose and scoops the plaudits.
The scorers:
For the Waratahs:
Tries: Tuqiri, Mowen, Palu, Sheehan
Cons: Beale 4
Pens: Beale 2
For the Highlanders:
Try: Shoemark
Con: Bowden
Pens: Bowden 3
Waratahs: 15 Sam Norton-Knight, 14 Lachie Turner, 13 Rob Horne, 12 Tom Carter, 11 Lote Tuqiri, 10 Kurtley Beale, 9 Luke Burgess, 8 Wycliff Palu, 7 Phil Waugh (c), 6 Ben Mowen, 5 Will Caldwell,4 Dean Mumm, 3 Al Baxter 2 Adam Freier 1 Benn Robinson
Replacements: 16 Tatafu Polota-Nau, 17 Dan Palmer, 18 Chris Thomson, 19 Scott Fava, 20 Brett Sheehan, 21 Daniel Halangahu, 22 Timana Tahu.
Highlanders: 15 Israel Dagg, 14 Ben Smith, 13 Jason Shoemark (c), 12 Johnny Leota, 11 Fetu'u Vainikolo, 10 Daniel Bowden, 9 Sean Romans, 8 Steven Setephano, 7 Alando Soakai, 6 Adam Thomson, 5 Hayden Triggs, 4 Josh Bekhuis, 3 Clint Newland, 2 David Hall, 1 Chris King.
Replacements: 16 Jason Rutledge, 17 Anthony Perenise, 18 George Naoupu, 19 Tim Boys, 20 Scott Cowan, 21 Mathew Berquist, 22 Kendrick Lynn.
Referee: James Leckie (Australia)
Touch judges: Nathan Pearce (Australia), Daniel Cheever (Australia)
Television match official: George Ayoub (Australia)
Assessor: Wayne Erickson (Australia)