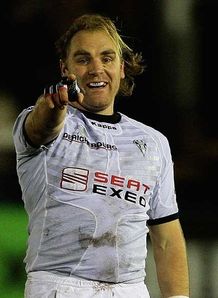 Andy Goode capped his England recall with the winner for Brive in their 10-9 win at blustery Newcastle on Saturday.
The fly-half converted Norman Ligairi's 73rd-minute try to clinch a first win for Brive in England.
The Falcons looked to have done enough to win after Tom May kicked three penalties to lead 9-3 until late on.
But Ligairi stepped past Tim Visser eight minutes from time to set up Goode's conversion.
Brive arrived at Kingston Park the in-form team in France after winning seven of their last eight - but they found the Falcons a different prospect.
Newcastle mounted a rearguard action but failed to make the most of the wind at their back and a 9-0 half-time lead always looked precarious.
The defeat leaves Newcastle third in Pool Four and must beat Cetransa El Salvador in Spain next week if they are to qualify for the quarter-finals as one of the best runners-up.