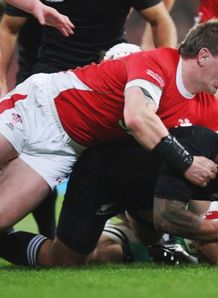 Related links
Teams
New Zealand continued their 55-year hold over Wales on Saturday, winning 29-9 at the Millennium Stadium.
After surviving a Welsh first-half onslaught, the All Blacks came out after the break tighter, more controlled, and with a new tactic. They had a plan B, while the Welsh were caught short.
Ma'a Nonu's try midway through the second half sealed the deal for the All Blacks, who will surely now claim another Grand Slam in Twickenham next Saturday. Meanwhile, the Welsh welcome Australia next week, knowing they will need to both vary their game and find a keener cutting edge if they are to prevail.
We had a thriller on our hands even before the kick-off. New Zealand did their 'Kapa o Pango' haka, which they tend to reserve for the bigger occasions, and the Welsh stood in a line. They remained standing in a line after the haka had finished. The All Blacks remained in formation as well. If looks could kill, not a soul on either side would have survived the eyeballing and nor would Jonathan Kaplan, who shuffled with the match ball into the space between the two teams almost innocently, like a six-year-old wandering into a business meeting whilst unwrapping a sweet.
Kaplan tried to get New Zealand to break rank. The All Blacks declined. Kaplan turned to the Welsh, who also declined. Someone had to break, and in the end it was New Zealand who moved away earlier, to the delight of the home fans. Round one to the Welsh - which would have pleased the onlooking Joe Calzaghe.
The first half belonged to the Welsh as well. They won the penalty count 6-5, had an edge in the scrums, and conceded fewer turnovers. All four flankers on the day were outstanding, but Martyn Williams was the best. Again that qualifier though: in the first half. The All Blacks went off at half-time 9-6 behind, analysed their faults, and came out after the break tighter, more controlled, and with a new tactic. They had a plan B, while the Welsh were caught short.
The technical groundings of both coaching teams were evident. Both sides spent long periods in possession, keeping the ball away from the marauding opposition. Both defences held up in their different ways, New Zealand stringing men out across the park and trying to get numbers to each breakdown, the Welsh rushing up and hassling. Both sides exuded control on the ball, and calmness off it. It was a fine game of pure rugby.
But New Zealand prevailed, on account of their ability to take the chances presented to them and a terrific performance from the pack, a yard faster than their counterparts in the second half and twice as disciplined (the penalty count was 6-2). It could have been that they read the game better as well as being quicker, but the sheer numbers of black shirts to red at times was phenomenal. Wales never had a chance in the second half.
The home side started with their usual enthusiasm, and had earned a 3-0 lead before New Zealand had even touched the ball when Nonu high tackled Williams.
New Zealand claimed their own restart and marched through the phases, but conceded another penalty in their determination to break the red wall.
This marked Wales' best spell. Ryan Jones and Williams combined at a line-out to break into the All Black 22 but the support numbers let them down. Shane Williams nearly wriggled away, and his tackler was penalised for not rolling away to enable Jones to give his side a 6-0 lead.
With ball in hand, New Zealand passed as flat as possible, using Brad Thorn and Ali Williams in the middle as battering rams. Once the timing of the passing and running had aligned properly, New Zealand got a head of steam up and made good ground. They earned a penalty for Carter when Martyn Williams went in the side of a ruck, and Carter should have equalised moments later after Matthew Rees repeated the offence, but instead his kick thumped the post. 6-3 to Wales, and a quarter of the game gone.
Wales continued to threaten more with ball in hand. Shane Williams' deft reverse pass nearly had Stephen Jones home - instead Jones landed a penalty to make it 9-3 after Tony Woodcock killed the ball - and Lee Byrne made a scintillating break followed by an asinine no-look pass which gave the ball away.
All the chances to Wales so far, but no breakthrough. Instead Carter made it 9-6 with the final kick of the first half.
He made it 9-9 with almost the first kick of the second half as Williams was once again caught offside, and the tide turned. The All Blacks thundered into breakdowns in defence, and began bringing Joe Rokocoko and Sitiveni Sivivatu off the wing, as well as kicking turnover ball into space behind the Welsh. All three tactics worked brilliantly. The Welsh lost their ball, struggled to cope with retreating, and found the extra pace and power in the middle too much to cope with.
New Zealand's scrum upped its game as well. Jimmy Cowan was clearly feeding for much of the game and was nicked for it a couple of times, but for the rest it gave his pack some good go-forward ball. The Welsh ended up enduring a series of 5m scrums on their line which they did survive - including a TMO call - but at the cost of too much energy.
Eventually Nonu crossed after several waves of pressure to give New Zealand the lead, and Carter extended the gap to more than two scores with a penalty on 64 minutes, and even further with another penalty on 75 minutes.
Wales tried a couple of final bursts, a couple of maverick attempts to notch a score and salvage something. Instead the black shirts washed over a ruck, the ball was turned over, and Jerome Kaino crashed over the line. Wales' wait goes on.
Man of the match: Martyn Williams played well in the first half, but faded in the second. Lee Byrne was a constant threat, and Alun Wyn Jones stood out from the Welsh pack for a superb defensive work-rate. On the All Black side, Joe Rokocoko's threat was ever-present, Tony Woodcock's pushing immense, and Richie McCaw his usual self at the breakdown. But Rodney So'oialo was the biggest terror for the Welsh in loose and tight.
Moment of the match: A break by Joe Rokocoko in the second half that eventually led to the try. It was a new weapon in the All Black arsenal, one too many for Wales to cope with.
Villain of the match: Tempting to give it to Jonathan Kaplan for breaking up the pre-match eyeballing! But the players might never have moved... so no award.
The scorers:
For Wales:
Pens: S. Jones 3
For New Zealand:
Tries: Nonu, Kaino
Cons: Carter 2
Pens: Carter 5
Wales: 15 Lee Byrne, 14 Leigh Halfpenny, 13 Tom Shanklin, 12 Jamie Roberts, 11 Shane Williams, 10 Stephen Jones, 9 Gareth Cooper, 8 Andy Powell, 7 Martyn Williams, 6 Ryan Jones (c), 5 Ian Evans, 4 Alun-Wyn Jones, 3 Adam Jones, 2 Matthew Rees, 1 Gethin Jenkins.
Replacements: 16 Richard Hibbard, 17 John Yapp, 18 Luke Charteris, 19 Dafydd Jones, 20 Dwayne Peel, 21 James Hook/Dan Biggar, 22 Andrew Bishop.
New Zealand: 15 Mils Muliaina, 14 Joe Rokocoko, 13 Richard Kahui, 12 Ma'a Nonu, 11 Sitiveni Sivivatu, 10 Daniel Carter, 9 Jimmy Cowan, 8 Rodney So'oialo, 7 Richie McCaw (c), 6 Jerome Kaino, 5 Ali Williams, 4 Brad Thorn, 3 Tony Woodcock, 2 Keven Mealamu, 1 Neemia Tialata.
Replacements: 16 Hikawera Elliot, 17 John Afoa, 18 Anthony Boric, 19 Kieran Read, 20 Piri Weepu, 21 Stephen Donald, 22 Isaia Toeava.
Referee: Jonathan Kaplan (South Africa)
Touch judges: Dave Pearson (England), Cobus Wessels (South Africa)
Television match official: Shaun Veldsman (South Africa)
Assessor: Paul Bridgman (England)