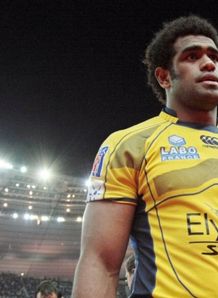 Clermont overcame a potential banana-skin in Montauban on Sunday, winning 24-19 and making Pool One of the Heineken Cup look watertight going into December's double-header against Munster.
The Auvergnats were the better team throughout despite anotehr guts display from the home side, and possessed enough penetration and energy to make it count.
Montauban clung on grimly to the scraps that came their way, but the writing was on the wall as early as the second minute when Napolioni Nalaga finished off a trademark Clermont counter-attack begun by the effervescent Pierre Mignoni, and converted by Brock James.
A heavy piece of work by the green-clad pack of Montauban enabled Petre Mitu to reduce the arrears with a penalty, but James replied in kind after ten minutes.
It seemed each time one of the teams hit the opposing team's 22, points would come. Next was Mitu, capitalising on Nalaga's inability to free the ball after covering a long kick, and making it 10-6.
Montauban fly-half Regis Lespinas sliced a drop goal attempt, but the chasers earned Mitu another three points, hounding down Malzieu who caught the wayward drop attempt and earning another penalty.
Nalaga set up his team's second try, tearing down the left before being hauled down 5m short, but Audebert peeled off the back of the ruck to dot down his side's second, with James converting.
Montauban still plugged away. Vilimoni Delasau, playing against his old club, caused consternation in the Clermont defence to get another penalty which Mitu missed. But Matthew Clarkin's charge yielded yet another penalty, and this time Mitu made no mistake, making it 12-17 at the break.
Motnauban began the second half under immense pressure, but the defence which had proved so solid against Munster last week once again rose to the task.
James missed a penalty after an offside, and a potential scoring pass to Malzieu was ruled forward by referee Chris White.
Then the game turned. Wing Yoann Audrin chipped a ball through, Anthony Floch hesitated fatally under it, and flanker Antoine Battut collected on the bounce and stormed under the posts. Mitu converted to give his side the lead.
Floch tried to atone for his error with a penalty from 50m, but saw it drift to the right, ande Clermont fell increasingly foul of the referee's whistle as the tension mounted.
Enter that man Nalaga again, who took the ball short side after a succession of Clermont drives and scored the killer try, with James converting.
The scorers:
For Montauban:
Try: Battut
Con: Mitu
Pens: Mitu 4
For Clermont:
Tries: Nalaga, Audebert
Cons: James 2
Pen: James
Montauban: 15 Julien laharrague, 14 Yoan Audrin, 13 Jean-Philippe Viard, 12 Rida Jahouer, 11 Vilimoni Delasau, 10 Régis Lespinas, 9 Petre Mitu, 8 Matthew Clarkin, 7 Marc Raynaud (c) 6 Yannick Caballero, 5 Rowan Frost, 4 Karim Ghezal, 3 Nick Adams, 2 Brice Mach, 1 Goderzi Shvelidze.
Replacements: 16 Grégory Parriel, 17 Laurent del Boulbes, 18 Benjamin Sa, 19 Scott Murray, 20 Abdellatif Boutaty, 21 Fabien Fortassin, 22 Julien Audy.
Clermont: 15 Benoît Baby, 14 Napolioni Nalaga, 13 Gonzalo Canale, 12 Seremaïa Baï, 11 Julien Malzieu, 10 Brock James, 9 Pierre Mignoni, 8 Elvis Vermeulen (c), 7 Alexandre Audebert, 6 Julien Bonnaire, 5 Christophe Samson, 4 Julien Pierre, 3 Jacobus Roux, 2 Mario Ledesma, 1 Simms Davison.
Replacements: 16 Mirko Lozupone, 17 Thomas Domingo, 18 Loic Jacquet, 19 Emmanuel Etien; 20 John Senio, 21 Anthony Floch, 22 Arnaud Mignardi.
Referee: Chris White (England)
Touch judges: Sean Davey (England), Bruce Robertson (England)