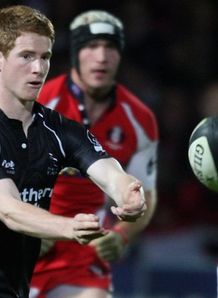 Newcastle Falcons worked off a few of their domestic frustrations by kicking off their European Challenge Cup campaign with a huge nine-try 63-0 victory over El Salvador, the champions Spain, at Kingston Park on Saturday.
The Falcons ran in nine ties with Rory Clegg, Jonny Wilkinson's new understudy, converted all.
Steve Jones, Jamie Noon, Tom May, Ed Williamson, Andy Long, Tim Visser, Tim Swinson and Phil Dowson all scored tries, whilst pressure exerted on the limited Spaniards accounted for a penalty try.
The scorers:
For the Newcastle Falcons:
Tries: S Jones, Noon, May, Williamson, Long, Visser, Penalty Try, Swinson, Dowson
Cons: Clegg 9
For Cetransa El Salvador:
The teams:
Newcastle Falcons: 15 Steve Jones, 14 Danny Williams, 13 Jamie Noon, 12 Tom May, 11 John Rudd, 10 Rory Clegg, 9 Hall Charlton, 8 Phil Dowson (c), 7 Ed Williamson, 6 Ross Beattie, 5 Mark Sorensen, 4 Tim Swinson, 3 Carl Hayman, 2 Matt Thompson, 1 Joe McDonnell.
Replacements: 16 Andy Long, 17 Jon Golding, 18 Micky Ward, 19 Andy Perry, 20 Russell Winter, 21 James Grindal, 22 Spencer Davey.
Cetransa El Salvador: 15 Redgarht Van Eyk, 14 Raúl Turrión , 13 Meeuwis Stanley, 12 Nava Nava , 11 Luis Gascón, 10 Justin Wilson, 9 Sale Ibarra, 8 Charlie O'Connell, 7 Iván Criado (c) , 6 Fabio Galloppa, 5 Craig Lyons, 4 Sergio Souto, 3 Manuel Serrano , 2 Daniel Marrón, 1 Taz Lewis.
Replacements: 16 César Caballero, 17 Diego Zarzosa, 18 Gaston Gaston, 19 Francisco Carracedo, 20 Jorge Molina, 21 Ignacio Gutiérrez, 22 Manuel Raposa.
Referee: Patrick Pechambert (France)
Touch judges: Jérôme Garces (France), Bruno Bessot (France)
Assessor: Steve Lander (England)