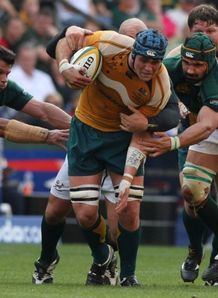 Related links
Teams
Australia ended South Africa's tilt at Tri-Nations glory by notching up a solid 27-15 win over the world champions in Durban on Saturday - a result that sends vultures swooping over the heads of Bok boss Peter de Villiers and his cohorts.
If you feel that smacks of media hysteria, let's examine the facts. South Africa won the World Cup just ten short months ago - there they were, standing on the shoulders of giants. Last week they were nilled at home. Today they were booed off the field by their own supporters. Something is rotten in the Republic. Something really stinks.
It's not the back-to-back defeats on African soil that irked the fans, it was that their heroes looked completely ill-equipped for the task in hand.
South Africa needed a bonus-point win to stay in the race for the Tri-Nations, and the lengthy to-do list proved to be their undoing. With minds set on bagging four tries, the Boks forgot the basics. At times they went out of their way to avoid them. Victories are built on solid foundations, yet the locals set out with plans to construct a cathedral on custard.
All but two South African raids petered out due to lack of support and/or poor skills. Faced with such a lack of unity all Australia had to do was to sit back and wait for the opportunities to present themselves.
Indeed, the real worry for the Boks is that the Wallabies were far from a study in authority. They were good but not great.
But credit where credit is due - the young visitors showed remarkable maturity in a country where Australia had not won since 2000.
The Boks threw everything at their opponents in the opening moments of the game and it seemed that the Wallabies were having trouble getting their eye in.
But all the while they were sussing out their hosts, identifying chinks in the green armour and planning their response. Then, with three clinical jabs of the golden lance, the Boks - and the millennium bug - were dead.
As was the case in their last two outings, South Africa's breakdown play was found wanting. Three promising raids in the first ten minutes all died in the arms of isolated players.
With the Boks lacking the finishing touch, it was left to the Australians to collect the first points of the day - and they stemmed directly from local frustrations.
CJ van der Linde took out Sam Cordingley with what can only be described as a flying headbutt to the face.
The Bok prop will surely be receiving a call from the citing officials, but in the heat of the battle the incident was deemed to be no more than a simple penalty, which Matt Giteau dispatched between the sticks.
The Boks got a chance to draw level when Peter Hynes strayed off-side at a ruck, but Butch James was off-target with his kick at goal.
The near-miss, and an another sweeping but unconsummated green attack, stirred the Wallabies into action and they began to boss the game via clever positional play from Giteau and Stirling Mortlock.
Jongi Nokwe was soon caught out by a bobbling kick upfield and conceded a free-kick in an isolated position. Cordingley ushered his forwards to lay siege to the green line and Benn Robinson was on hand to burrow under a herd of Boks, but did he make contact with the whitewash?
It was left to video official Rob Denbey to untangle the impromptu game of Twister, and he ruled that the prop had done enough. Giteau converted and Australia had a 10-point lead with just under 30 minutes on the clock.
The crowd grew more subdued still as Andries Bekker was pinged for a high-tackle on Hynes. It was not South Africa's first or last of the game, but the only one that received the appropriate sanction.
Giteau failed to plant a line-out in the corner from the dead-ball situation, with Conrad Jantjes batting the ball back over his dead-ball line to force the drop-out, a decision that was also referred 'upstairs'.
The Boks started well after the break, appearing more structured after Percy Montgomery came on for the out-of-sorts JP Pietersen.
Butch James got South Africa on the scoreboard with a penalty for their first score in 153 minutes of rugby, doing the honours after Victor Matfield had been manhandled at the line-out by Rocky Elsom.
One box was ticked - another nilling had been avoided - but two remained: four tries and a win.
Giteau made box three a little tricker by restoring the 10-point lead by slotting his second penalty of the day after Tendai Mtawarira was penalised at a scrum.
Lote Tuqiri then almost got on the end of a well-weighted grubber from the impressive Drew Mitchell, only to be beaten to the punch by the back-tracking Adrian Jacobs.
With alarm bells sounding in South African ears, Peter de Villiers responded by throwing his star-studded bench at the match, tasking Francois Steyn to weave his magic at fly-half.
But far from galvanising the side, the changes made South Africa look more disjointed still, and Australia took full advantage of the mess of misunderstanding.
An innocuous ball was sent down the Australian line and Tuqiri rounded the last man to score the simplest of tries.
As so often before, it was the sharp mind of Jean de Villiers that conjured South Africa's belated response. The elegant centre cut a hole in the gold lines and it was left to Jacobs to score the Boks' first Tri-Nations try since their win against New Zealand in Dunedin on July 12 - a result which now seems almost unreal.
But whatever Jean de Villiers can do, Stirling Mortlock can do better. As whispered hopes began to circulate around the green-clad crowd, Australia's skipper found a gap in the green lines and powered through the tackles and over the line in trademark fashion.
The Boks got another try back via Jacobs, thanks to a fine inside-pass from Montgomery, but the Australians were all but out of sight and never looked in danger of seeing their plump cushion diminished in the closing minutes.
Whilst Australia's win tees up a series decider against New Zealand in Brisbane in September, South Africa's immediate future might prove as dramatic. The curse of the Webb Ellis Cup endures despite of its change of abode - the Boks are in grave danger of becoming the new England.
Man of the match: Not really that much to write home about. Adrian Jacobs took his tries well and Tendai Mtawarira proved to be a handful in the tight and in the loose. Drew Mitchell impressed for Australia, as did George Smith and Matt Giteau. But our man of the match is Stirling Mortlock, not so much for his display - although his try was a peach - as for his leadership. He savoured that win here in 2000 and allowed his young troops to believe a repeat was eminently possible. Indeed it was.
Moment of the match: Mortlock's strike was a stunner, but we'll opt for Lote Tuqiri's try - it killed off the game as a contest and summed up South Africa's shortcomings.
Villian of the match: Easy. A lengthy ban would be too good for CJ van der Linde, his flying headbutt was disgraceful.
The scorers:
For South Africa:
Tries: Jacobs 2
Con: Montgomery
Pen: James
For Australia:
Tries: Robinson, Tuqiri, Mortlock
Cons: Giteau 3
Pens: Giteau 2
The teams:
South Africa: 15 Conrad Jantjes, 14 JP Pietersen, 13 Adrian Jacobs, 12 Jean de Villiers, 11 Jongi Nokwe, 10 Butch James, 9 Fourie du Preez, 8 Pierre Spies, 7 Juan Smith, 6 Schalk Burger, 5 Victor Matfield (c), 4 Andries Bekker, 3 CJ van der Linde, 2 Bismarck du Plessis, 1 Tendai Mtawarira.
Replacements: 16 Adriaan Strauss, 17 Brian Mujati, 18 Joe van Niekerk, 19 Luke Watson, 20 Enrico Januarie, 21 Francois Steyn, 22 Percy Montgomery.
Australia: 15 Drew Mitchell, 14 Peter Hynes, 13 Stirling Mortlock (captain), 12 Berrick Barnes, 11 Lote Tuqiri, 10 Matt Giteau, 9 Sam Cordingley, 8 Wycliff Palu, 7 George Smith, 6 Rocky Elsom, 5 Daniel Vickerman, 4 James Horwill, 3 Matt Dunning, 2 Stephen Moore, 1 Benn Robinson.
Replacements: 16 Tatafu Polota-Nau, 17 Al Baxter, 18 Hugh McMeniman, 19 Phil Waugh, 20 Brett Sheehan, 21 Timana Tahu, 22 Ryan Cross.
Referee: Lyndon Bray (New Zealand)
Touch judges: Bryce Lawrence (New Zealand), Romain Poite (France)
Television match official: Rob Debney (England)