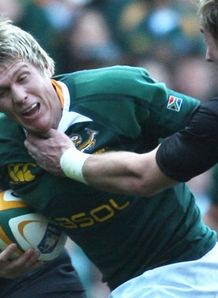 Related links
Teams
Crisis? What crisis? New Zealand exorcised a host of demons by recording a solid 19-0 victory over the Boks at Newlands in Cape Town on Saturday, a result that leaves the world champions with a mountain to climb.
The Springbok faithful had arrived on a gorgeous afternoon in high spirits, aware of an All Blacks backlash following their recent loss against the world champs in Dunedin, but all the while knowing another South African victory was there for the taking.
How very wrong they were.
That the Springboks failed to score a solitary point could spell the end for their Tri-Nations campaign where even a losing bonus-point can go a long way in deciding who the eventual winners will be.
In fact, this was the first time South Africa had failed to score a point at home against the All Blacks.
It was also a Test match Springbok centurion Percy Montgomery would rather forget, with the veteran full-back not having the best day at the office in his 100th appearance in the green and gold.
The two simple chances South Africa had at grabbing three points went up in smoke with Montgomery failing to score on both occasions.
In fact, it was a poor kicking display all round with All Blacks fly-half Dan Carter who, despite registering his 800th point in Tests, uncharacteristically missed four kicks at goal in the first half that kept the score at 5-0 until the last quarter of the match.
Eleven points (one conversion and three penalties), all of them simple attempts for his ability, were pushed left, right, left and then left again.
But it matter not. The hosts were soundly outplayed and never showed the purpose the All Blacks brought to the match. The Springboks attempted to run the ball but unfamiliarity led to mistakes under pressure.
South Africa had made a nervous start with fly-half Butch James landing the kick-off in touch, and then a tap-penalty was kicked dead by returning scrum-half Fourie du Preez, who was starting his first Test match of 2008 after a long injury lay-off.
It didn't get much better for the Springboks, a well-timed grubber kick ahead by Richie McCaw caught the South African back three sleeping and the wide-awake Conrad Smith was only happy to take advantage.
The TMO was called in to double check the grounding, but it was rightly agreed that Smith had put enough downward pressure on the ball for the All Blacks' opening score.
Carter's conversion missed the left upright by a whisker, but New Zealand were on the board - a perfect start.
Five points down, the hosts awoke from their slumber and had a five-man overlap to boot. However, hooker Bismarck du Plessis was still sleepwalking and opted to take the pigskin up himself which resulted in another turnover and - even worse for South Africa - an early try-scoring opportunity gone a-begging.
The set-piece - bar the scrum - was a nightmare for the Springboks. Two line-outs lost in the space of five minutes to the superior Ali Williams, who was a dominant figure all afternoon.
Ill-discipline, too, could have cost the world champs dearly, with the home side giving away far too many free kicks and penalties that halted any momentum they did manage to gather through the little phase play they were presented with.
South Africa were also let off for constant infringing on the ground with referee Matt Goddard several times telling captain Victor Matfield that he was giving a last warning.
South Africa's biggest chance came three minutes from half-time, a Tendai Mtawarira break may have had the Springbok supporters in raptures but it was Bryan Habana that had the 46,500 sell-out Newlands crowd on their feet after stepping his way in and out for a would-be five-pointer had it not been for his left boot straying into touch.
With forty minutes already ticked away on the stadium clock, Goddard sent the teams in for their oranges and pep talks. Both sides would have heard more of less the same rants from their respective coaches: be patient, limit the mistakes and make the penalties count.
South Africa did well to carry out two of their three orders, but the two missed penalty attempts by Montgomery in the same amount of minutes kept the home side scoreless with 54 minutes up on the clock.
James had an ordinary match but provided a neat nudge behind the All Blacks defence that was well chased by the Bok backs. The hosts won the five-metre scrum after sacking a retreating defender over his own tryline, but the subsequent attack again came to nil when the ball was slowed and eventually turned over. There's no other way to describe it - it was painful to watch if you were a Springbok supporter.
South Africa's gallant defence is what kept them in the game, as the All Blacks struggled to get over the gain line. Replacement prop John Afoa thought he was over in the 55th minute until Montgomery effected a heroic tackle in the corner.
It would be the last time Montgomery would have any say in the match with Francois Steyn taking over full-back duties from South Africa's centurion. Du Preez, responsible for knocking another three kicks out on the full, was also given an early shower after coach Peter de Villiers had decided enough was enough.
Ricky Januarie was called on to repeat the magic he produced in Dunedin four weeks ago, but his rabbit was nowhere to be seen as the All Black defence continued to halt South Africa's charge.
Instead it was the All Blacks own magician, Dan Carter, who waved his magic wand and left the Springbok defence spellbound with a brilliant solo effort that resulted in the New Zealand pivot under the posts for the visitors' second try in the 65th minute.
With green and gold jerseys lined up in abundance, Carter backed his strength and agility to stretch over - backwards - for a wonderful score that was duly followed by a simple conversion.
Again, the Boks tried to fight back, but with little success as desperate passes ended up in the hands of the assistant match referee and aimless kicks were left for the All Blacks to counter-attack back to where the ball went skyward.
The second half was bruising with some hard hits from both sides but the pace of the game, and it was frenetic, seemed to take a greater toll on the South African forwards. The only injury loss was to the All Blacks with wing Sitiveni Sivivatu forced to leave the field with a leg injury. His place was taken by Isaia Toeava.
With the game all but lost, the final nail came crashing down into South Africa's coffin when a wayward Jean de Villiers pass was intercepted by replacement hooker Keven Mealamu who couldn't believe his luck as he run in unopposed for the All Blacks third and final try.
At this stage, the Bok fans were streaming out of the stadium gates faster than it took them to get in. And who could blame them? The match was always going to be won by the team who wanted it most, in this case it was New Zealand.
The All Blacks are now on 14 points in the Tri-Nations, after five games and with one game to go. Australia, with three Tri-Nations games left - two against South Africa and one against the All Blacks - are second on nine points. The Springboks, who need a miracle to now win the Tri-Nations, are on five points with just two games left.
South Africa will have to cope with the fact that they are all but out of the Tri-Nations. They will have to cope with the fact that they scored zero points in a home match where they were slight favourites. Worst of all, they will have to cope with the fact that they were beaten by an average New Zealand outfit and were ultimately undone by their own incompetence.
Man of the match: Simple. Richie McCaw, playing in his second Test back from an ankle injury, was again at his best. The All Blacks' captain fantastic battled on after suffering a painful blow to the ribs to lead his charges to victory. Throughout the match he dominated the breakdown, pulled off numerous telling tackles and gave errant referee Matt Goddard several reminders on what the rule book actually states.
Moment of the match: For South Africa, it could have been the final whistle, however they had to first deal with Dan Carter's solo effort that saw the All Blacks pivot turn his body with little difficulty for a superb show of gymnastics that would have won him at least a bronze at the Olympics.
Villain of the match: Take a bow world champions for denying your home crowd a single point to cheer about.
The scorers:
For New Zealand:
Tries: Carter, Mealamu, Smith
Cons: Carter 2
The teams:
South Africa: 15 Percy Montgomery, 14 JP Pietersen, 13 Adrian Jacobs, 12 Jean de Villiers, 11 Bryan Habana, 10 Butch James, 9 Fourie du Preez, 8 Pierre Spies, 7 Juan Smith, 6 Schalk Burger, 5 Victor Matfield, 4 Andries Bekker, 3 CJ van der Linde, 2 Bismarck du Plessis, 1 Tendai Mtawarira.
Replacements: 16 Adriaan Strauss, 17 Brian Mujati, 18 Danie Rossouw, 19 Luke Watson, 20 Enrico Januarie, 21 Francois Steyn, 22 Conrad Jantjes.
New Zealand: 15 Mils Muliaina, 14 Richard Kahui, 13 Conrad Smith, 12 Ma'a Nonu, 11 Sitiveni Sivivatu, 10 Dan Carter, 9 Jimmy Cowan, 8 Rodney So'oialo, 7 Richie McCaw (c), 6 Jerome Kaino, 5 Ali Willliams, 4 Brad Thorn, 3 Greg Somerville, 2 Andrew Hore, 1 Tony Woodcock.
Replacements: 16 Keven Mealamu, 17 John Afoa, 18 Anthony Boric, 19 Adam Thomson, 20 Piri Weepu, 21 Stephen Donald, 22 Isaia Toeava.
Referee: Matt Goddard (Australia)
Touch judges: Wayne Barnes (England), James Leckie (Australia)
Television match official: Geoff Warren (England)
By Dave Morris at Newlands