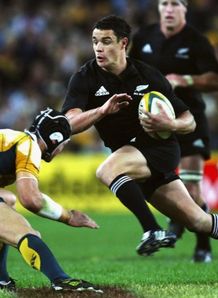 Related links
Teams
Australia's new dawn burst into brilliant day as the Wallabies recorded a sublime 34-19 victory over New Zealand in Sydney on Saturday, running four tries past the dumbfounded visitors.
As the golden swatches of the 80,000-strong crowd at ANZ Stadium absorbed this famous victory, the suits of New Zealand rugby fingered their collars in the executive boxes.
This win makes it five from five for Australia under Robbie Deans, the man who was whisked away from New Zealand after failing to oust Graham Henry from the All Black throne.
Full plaudits will be heaped at the feet of Australia's adopted Kiwi, and the NZRU will be asked, once again, how on earth they let him get away.
Australia's dominance of the All Blacks was nothing short of remarkable - and it was pure Deans.
They outplayed their visitors in every facet of play. One year ago the gold pack was the laughing stock of world rugby. Today, as against the Boks last week, they dominated the forward exchanges in the set-pieces and in the loose. New Zealand actually went out of their way to avoid scrums and line-outs.
The Wallabies also bossed the breakdown area. Injured New Zealand skipper Richie McCaw looked on in horror as his side was turned over - and over and over. The official figure stands at 25 stolen black balls. No team can win with that sort of stat on their back.
Elsewhere, without Stirling Mortlock and Chris Latham, there were worries that Australia's backline was a little greener than it was gold. But the youngsters proved more than a match for their counterparts, with Berrick Barnes to the fore. Ma'a Nonu had been tasked to target him, but the languid playmaker proved his defensive mettle time and time again. Charlie Hodgson he is not.
Moreover, the locals displayed a mental edge that belied their tender years as New Zealand threatened a comeback early in the third quarter of the match.
The Australian players deserve as much praise as Deans for this near-miraculous turnaround - they are obviously quick learners. It has taken them just five outings to perfect the sort of winning rugby that Deans made famous with the Crusaders.
Although they dominated territory, the Wallabies were happy to allow their opponents the time and inclination to run the ball - and to make mistakes whilst under relentless defensive pressure.
The All Blacks duly held up their end of this dodgy deal. They were at complete odds with themselves. The Wallabies made them pay for every error with intuitive counter-attacking and canny decision-making.
Likes his bosses, Henry will have to answer a number of probing questions. New Zealand's tactics looked stale and negative. They seemed wholly lacking in structure, leadership and cohesion. That they scored any tries at all was down to the individual brilliance of Daniel Carter and the workaholic tendencies of Mils Muliaina.
Henry deserves respect for staying true to himself with regards to his much-maligned rotational policy, but one wonders whether he is now just being stubborn. Yes, it will undoubtedly bear fruit for the future, but empirical evidence suggests that his players would do better in settled surrounds.
No country in world rugby can match New Zealand in terms of pure talent and ability with ball in hand, but the telepathic understanding that normally makes the All Blacks such a threat was conspicuous by its absence in Sydney. As pass after pass was knocked on or spilled, it became painfully obvious that Henry's troops are no longer functioning as a collective.
The opening passage of the game exemplified the tactics of both sides with Giteau kicking deep and New Zealand looking to keep the ball alive. It fell to Nonu to muscle it out of his own 22 but ferocious tackling caused him to cough up possession.
And so the stage was set. Australia would keep the pressure on and New Zealand would keep making mistakes, and their next being a biggy. Brad Thorn caught Giteau with a high tackle and was trudging towards the sin-bin with the game barely five minutes old.
New Zealand fans could rightly claim that the challenge was not designed with malice in mind, but it did deserve punishment: it killed Australian momentum and spared the All Blacks from conceding anything more than the three points that Giteau duly collected.
Australia soon had their guests pinned to their posts once again. Not for the first or last time in the match, New Zealand chose to relieve pressure by kicking down Lote Tuqiri's throat, and the big wing punished them severely. He skipped past three despairing tackles before off-loading to Nathan Sharpe. The lock off-loaded to Giteau who found Ryan Cross on his outside and unmarked. Ten minutes on the clock and Australia held a 10-0 lead.
New Zealand hit back in determined fashion, finally breaking out of their half and driving towards Australia's line. A penalty was awarded after the Australians killed the raid illegally. A penalty is a rare gift in these days of McRugby, but New Zealand chose to tap and go. The bizarre decision caught Carter by surprise - he received the unexpected pass and Giteau at the same moment and Australia were off the hook and out of their half.
Despite the setback, New Zealand now had a foothold on the game. Muliaina confirmed his side's ascendency with a brilliant counter-attack out of his own 22. The fullback skinned the gold backline with an arching run before kicking ahead. The ball bounced high on the hard turf, straight over the heads of the two chasers and into Muliaina's hands. He was taken down by the Australian cover-defence but was soon back on his feet to power over the whitewash for a try.
Carter missed the conversion but Australia's lead had been cut in half, and the All Blacks were on the up and up. The Australians were smashed at the next scrummage and when Carter found a gaping hole down the left it seemed that Australia had run out of puff.
But solid defence kept the Wallabies afloat and Giteau kick-started an attack with a fine break of his own. He fed Adam Ashley-Copper who put boot to ball and Peter Hynes won the race to dot down. Giteau duly landed his 50th conversion of his Test career to pull his side 12 points clear.
Again, New Zealand responded well, with a fine run from Sitiveni Sivivatu putting the visitors within range. A back-door pass from Andy Ellis almost put Muliaina through, but a great double tackle from George Smith and Rocky Elsom forced the knock-on just short of the line.
But this time New Zealand didn't budge. They drove their tent pegs into the gold 22 and soon had a free-kick out on the left. The ball was spun wide at speed and Sivivatu wore a face of horror as he realised his pass out of the tackle was destined for Andrew Hore. He need not have worried. The splendidly named hooker cut in off his right foot like a seasoned wing and raced over to score.
Carter slotted a fine conversion with the last kick of a hectic half and Australia went to the break nursing a precarious 17-12 lead.
There was no doubting the general gist of Henry's half-time talk: New Zealand looked very composed in the opening period of the second half, patiently building the phases and thinking two moves ahead.
With the platform set, Carter sprinkled his magic, making a clean break between Giteau and Barnes. Again, the Australians back-tracked well but they could not stop Ellis when he plunged over the line from short range.
Carter's conversion stole the lead and it looked like Australian resolve would finally start to crumble. It didn't. They actually edged back in front when Elsom galloped through broken field to score Australia's third try after another brilliant run from Ashley-Cooper.
New Zealand could not find a response this time, and for that the Wallabies might like to thank some pretty liberal officiating.
Sivivatu hacked on and was winning the race to the ball when he appeared to be brought down by Hynes in the shadow of Australia's sticks. Whether he would have scored is a matter of conjecture, yet a penalty under the sticks might have been fair result for New Zealand. But not a whistle sounded.
Perhaps referee Craig Joubert had one eye on the ruckus on the touchline. New Zealand had replaced Ellis with Jimmy Cowan and then brought back the former after the latter was forced off the field. The officials joined together to debate the legitimacy of the move and it was decided that it was all kosher. It seems that Cowan had been taken off for a blood problem even though it looked like he had limped off with a knee injury. Had the Wallabies lost the game, the local media would surely have stripped Cowan down to his underpants in a search for punctures.
The chaos, coupled to the usual raft of hour-mark replacements, killed New Zealand's bourgeoning momentum.
Sione Lauaki, on for New Zealand's only specialist openside Daniel Braid, clearly forgot to pack his hands for the trip across the Tasman Sea. His errors proved to be contagious and heads began to hang after Sivivatu made his first mistake of the game. It was a harbinger of the oncoming doom.
Giteau then provided Australia with an eight-point buffer with a smart drop-goal, but the cushion was not needed: James Horwill sealed the win and the bonus point by galloping through another gaping hole to score the final try of a compelling contest.
One coach from New Zealand will sleep peacefully tonight, one won't.
Man of the match: What can we say about Dan Carter that has not been said before? Perhaps only that he does not deserve to be part of the first New Zealand side to have lost two on the bounce since 2004. He was simply magical. Mils Muliaina, the unsung hero of New Zealand rugby, was also outstanding. Meanwhile, the Wallabies were brilliant to a man, with the contributions of Stephen Moore and Benn Robinson particularly impressive considering Australia's recent woes in the front row. Australia's victory was down to the collective rather than an individual, but how can we look past Matt Giteau? The cool-headed commander extinguished all doubts as to his rightful position with a fine display - even his illustrious opposite number looked awed.
Moment of the match: Plenty of noteworthy incidents and seven fine tries. The build-up to Elsom's try was very special, but New Zealand deserve something for their efforts so we'll opt to signal out Andrew Hore's try for special praise. Is it the new laws, or do they not make front-row forwards like they use to? He'll claim he was taking a breather out there on the wing, but don't believe a word of it!
Villian of the match: We'll excuse Brad Thorn for his yellow card - he's not a dirty player, and we'll leave Sione Lauaki well alone - he has enough misery to work through without having to take receipt of this ghastly gong. In deference to the spirit of the game we hate to point accusing fingers at the officials, but this time we just must. The chaos caused by the Ellis/Cowan/Ellis switches does rugby no favours. The laws are quite clear on the matter. Law 3.12 - If a player is substituted, that player must not return and play in that match even to replace an injured player. Exception 1: a substituted player may replace a player with a bleeding or open wound. Exception 2: a substituted player may replace a front row player when injured, temporarily suspended or sent off. So was Cowan bleeding or not? Do we really need to stop the game and stage a convention to establish whether a man is leaking his innards?
The scorers:
For Australia:
Tries: Cross, Hynes, Elsom, Horwill
Cons: Giteau 4
Pen: Giteau
Drop: Giteau
For New Zealand:
Tries: Muliaina, Hore, Ellis
Cons: Carter 2
Yellow card(s): Thorn (New Zealand) - high tackle, 5.
The teams:
Australia: 15 Adam Ashley-Cooper, 14 Peter Hynes, 13 Ryan Cross, 12 Berrick Barnes, 11 Lote Tuqiri, 10 Matt Giteau, 9 Luke Burgess, 8 Wycliff Palu, 7 George Smith (c), 6 Rocky Elsom, 5 Nathan Sharpe, 4 James Horwill, 3 Al Baxter, 2 Stephen Moore, 1 Benn Robinson.
Replacements: 16 Tatafu Polota-Nau, 17 Matt Dunning, 18 Daniel Vickerman, 19 Phil Waugh, 20 Sam Cordingley, 21 Timana Tahu, 22 Drew Mitchell.
New Zealand: 15 Mils Muliaina, 14 Anthony Tuitavake, 13 Richard Kahui, 12 Ma'a Nonu, 11 Sitiveni Sivivatu, 10 Dan Carter, 9 Andy Ellis, 8 Jerome Kaino, 7 Daniel Braid, 6 Rodney So'oialo (c), 5 Ali Willliams, 4 Brad Thorn, 3 Greg Somerville, 2 Andrew Hore, 1 Tony Woodcock.
Replacements: 16 Keven Mealamu, 17 John Afoa, 18 Anthony Boric, 19 Sione Lauaki, 20 Jimmy Cowan, 21 Stephen Donald, 22 Conrad Smith.
Referee: Craig Joubert
Touch judges: Mark Lawrence, James Bolabiu
Television match official: Shaun Veldsman
Assessor: Steve Hilditch
By Andy Jackson