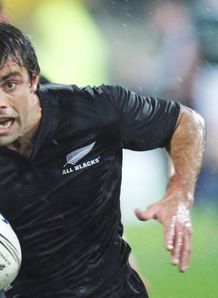 Related links
Teams
New Zealand took the first of their June Tests with an ultimately comfortable 21-11 win over Ireland on Saturday, in appalling conditions in Wellington.
With the wind backing the Irish in the first half, the visitors kept New Zealand tied to 8-8 at half-time, but the pressure exerted by the New Zealand forwards told in the third quarter, and a try from Ma'a Nonu 15 minutes from the end sealed the win.
Considering the conditions, it was an excellent match. Ireland played clever with the boot and using the strong nor'wester in the first half, making light of the obliteration of their front row in the scrums. New Zealand stuck to wet weather rugby in the pouring rain, making significant inroads into Ireland's vaunted forward defence. In the second half, Ireland kept their kicks low and kept the All Blacks pinned in their own 22, while New Zealand looked to use the wind to do the same, and prey on wet weather mistakes to launch a platform. Good old rules, good old tactical intrigue, good old tension. Yah boo sucks to the ELVs.
Ireland have got themselves back on track a little here. There was a real intelligence and focus to their play, even if the choice of tactic was restrictive to the game itself. Everybody knew who was doing what at each phase of the game, be the ball behind, in front, or in opposition hands. Only in the second half did it unravel, with the line-out going astray too often and presenting the All Blacks with the necessary field position. In the third quarter of the match, four successive line-outs were pinched by the All Blacks, and the frustration caused Marcus Horan to land a punch on Neemia Tialata, resulting in a penalty for Dan Carter that gave the All Blacks their winning position. The line-out ills were duly cured when Rory Best came on for Jerry Flannery, but the damage was done.
New Zealand still have a few tweaks to make, but considering the large proportion of this squad was playing together in an All Black jersey for the first time and taking into account the wind and rain, it wasn't bad at all. There were a few yips and moments of mis-communication - receiving kicks and restarts were perpetually nervy moments - but the collective forward effort was enough to send Ireland's scrum into convulsions at times, both at set-piece and breakdown. We await dry weather to see what the backs can really do, but the vital signs - both tries came outside - are good.
The early game belonged to New Zealand, yet it took a while for them to gather the lead. The All Blacks back row, led by the matgnificent Richie McCaw, turned over ball at the first two breakdowns, and they drove their first line-out to 2m out from the Irish line with a series of bruising mauls. It could have been a mission-statement try, but instead, flat backs meant Eoin Reddan had time to intercept Andy Ellis' pass to Carter, and only a desperate ankle-tap from Mils Muliaina kept Reddan at bay.
A minute later, Carter, not for the first time in his career, dithered over a clearance kick and saw it charged down. If the bounce of the ball had favoured Tommy Bowe, Ireland would have nicked a try-scoring lead. They did get the lead a couple of minutes later, when a good old hand in a ruck gave O'Gara a good old kickable penalty.
New Zealand's first try came after a quarter of an hour, and it was brilliant. They lost a line-out to the towering Paul O'Connell, but Andrew Hore turned the ball back over and the ball went out to Conrad Smith. Smith sold a dummy, and then out-stripped Brian O'Driscoll with a wonderful turn of pace before slipping a pass for Sitiveni Sivivatu to slide in at the corner. Smith was not everyone's choice for his position for this game, but he proved his doubters wrong, both at this moment and several others.
Four minutes later, Ireland were back in the lead. One of those moments of mis-communication - non-communication in this instance - at the restart gave the Irish a 5m scrum. Horan's backside was sticking so far up in the air during the four resets that you just yearned for an air rifle, but Chris White saw different and decided that the fifth collapse warranted an Irish free-kick. Four mauls later, Reddan slipped it blind side for Paddy Wallace to score. O'Gara's conversion miss meant it was 8-5.
The rot set into the Irish line-out on the half-hour. From the second loss of their own throw, the All Blacks once again mauled with intent towards the line and were halted illegally. Carter levelled the scores, and New Zealand might have stolen the lead had they made more of a charged-down O'Gara grubber.
The teams traded penalties in the opening five minutes of the second half, but there was no disguising the pressure on Ireland's scrum and line-out. The Irish repelled attacks and territory with some grand kicking, but All Black patience was rewarded by a knock-on at a maul in Irish territory. Horan aimed his punch - he had already been spotted doing a little barrel-dance on an All Black chest earlier in the game - and Carter gave his team the lead. Horan and Flannery went off, but the damage was done.
Five minutes later, the game was well and truly up. Carter made a scorching break, ably supported by Ali Williams, and John Schwalger marked his debut with a terrific scoring offload to Nonu, who was tackled five metres out but had enough surface water on the pitch to carry him home. Carter converted, and then joined his team-mates in calmly closing out the win.
Man of the match: Paul O'Connell was excellent for Ireland, despite his side's poor line-out. Conrad Smith played well, Andy Ellis had a good command of play from scrum-half, and the All Black front row was excellent - injury marred a particularly good debut for John Afoa. But pulling his new team together was All Black skipper Richie McCaw who beat O'Connell to the gong by picking up the big man and flipping him over in one monstrous tackle.
Moment of the match: It seemed innocuous, but the penalty from Dan Carter that gave his team a 14-11 lead was the moment when you realised that Irish luck would not be enough, even in the close game. McCaw's tackle on O'Connell two minutes later underlined that fact.
Villain of the match: Hang your head in shame Marcus Horan. The only two moments of genuine nastiness in the game both came from the same fellow.
The scorers:
For New Zealand:
Tries: Sivivatu, Nonu
Con: Carter
Pens: Carter 3
For Ireland:
Try: Paddy Wallace
Pens: O'Gara 2
New Zealand: 15 Mils Muliaina, 14 Anthony Tuitavake, 13 Conrad Smith, 12 Ma'a Nonu, 11 Sitiveni Sivivatu, 10 Dan Carter, 9 Andy Ellis, 8 Jerome Kaino, 7 Richie McCaw (c), 6 Rodney So'oialo, 5 Ali Williams, 4 Brad Thorn, 3 John Afoa, 2 Andrew Hore, 1 Neemia Tialata.
Replacements: 16 Keven Mealamu, 17 John Schwalger, 18 Anthony Boric, 19 Adam Thomson, 20 Jimmy Cowan, 21 Stephen Donald, 22 Leon MacDonald.
Ireland: 15 Robert Kearney, 14 Shane Horgan, 13 Brian O'Driscoll (c), 12 Paddy Wallace, 11 Tommy Bowe, 10 Ronan O'Gara, 9 Eoin Reddan, 8 Jamie Heaslip, 7 David Wallace, 6 Denis Leamy, 5 Donncha O'Callaghan, 4 Paul O'Connell, 3 John Hayes, 2 Jerry Flannery, 1 Marcus Horan.
Replacements: 16 Rory Best, 17 Tony Buckley, 18 Mick O'Driscoll, 19 Shane Jennings, 20 Peter Stringer, 21 Geordan Murphy, 22 Girvan Dempsey.
Referee: Chris White (England)
Touch judges: Nigel Owens (Wales), Matt Goddard (Australia)
Television match official: Christophe Berdos (France)
Assessor: Stuart Beissel (New Zealand)
By Danny Stephens