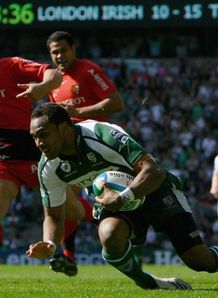 They came, they saw, they conquered. Toulouse are through to an unprecedented fifth Heineken Cup Final after recording an epic 21-15 win over brave London Irish at Twickenham on Saturday.
The three-time champions of Europe arrived in London looking somewhat vulnerable. A rare loss at home had sown the seeds of doubt in French minds, and a lengthy injury list - including even coach Guy Novès - had the Exiles dreaming of an major upset.
Alas, it was not to be.
London Irish gave it their all, running two magical tries through Toulouse's fabled defence, but could not match the nous of the French giants. They were beaten by that sheer instinct for survival, that will to flick the switch when most needed.
Each time the Exiles struck, Toulouse simply answered back with points of their own. Worse, they made the response look easy. It's what throttles the life out of opponents.
Despite the lack of some of the bigger names, Toulouse's wider squad is nothing if not streetwise. It's the only upside of playing over 40 games a season, and their ability to react to changing circumstances without resorting to panic is the stuff of which champions are made.
Novès had done his homework. Perpignan fell to London Irish's towering line-out in the quarter-final, and he was not about to let the same fate befall his side. But instead of excluding the touchline from his gameplan, he decide to take the Exiles on at their own game. The visitors duly stole three throws in the first half alone. It was a gutsy move and enough to give the English side pause for thought.
But when the dust has settled, London Irish should take pride from their performance - not only in getting to their first Heineken Cup semi-final, but for out-Toulousing Toulouse for much of the afternoon.
With a collective heart to match their fine individuals skills, this is a team which could soon become a magnet for precious metals.
The locals did not shirk the challenge of being Toulouse's eighth semi-final pairing and were full of adventure from the off.
Shane Geraghty was only too happy to send his runners at the decidedly make-shift French backline, and Peter Richards, playing out of position but employing his usual Tigger-like bounce, gave Yannick Jauzion a torrid time in midfield.
A deft grubber by Geraghty in the early moments of the game sent that fear pulsing through the visitors as Topsy Ojo sped clear to dot down, but some good defensive work from Yves Donguy saved the day.
Despite Toulouse's vast experience, the team on the pitch looked slightly rudderless in the initial exchanges. Until, that is, Bryon Kelleher decided to stamp his authority on proceedings with a mixture of barked English, broken French and wild gesticulating.
Soon enough, the reds had worked their way into Irish territory and Jean-Baptiste Elissalde opened the scoring with a shot at goal after Nick Kennedy strayed off-side at the breakdown.
Richards immediately answered back by working his way behind the first line of defence and drawing the French in at the side of the ruck. Peter Hewat called for his tee and levelled the score after 13 minutes.
The Exiles continued to put width on the ball, mixing the bulk of Seilala Mapusua and Sailosi Tagicakibau with the electricity of Richards and Hewat.
Several dead-ended runs just inside Toulouse's half suddenly opened an avenue on the right for Ojo. The speedster could hardly believe his luck as he slipped around Elissalde's attempted tackle before simply powering through Cédric Heymans's challenge to score under the sticks.
Hewat converted and Irish eyes began to smile - and believe. The feeling took root moments later as Elissalde made a mess of a shot at goal, and he was soon joined in the dog house by his captain, Fabien Pelous, who butchered a try-scoring pass to Donguy.
Were the Kings of Europe heading to the guillotine? Never!
Sensing a half-time roasting, Toulouse upped the ante. Elissalde wrong-footed the defence by opting to explore the short-side. There he found Maxime Médard who held his line before setting Manu Ahotaeiloa on a course to the corner for a try that stank of intent.
Elissalde failed to find the target with the conversion, but the momentum had shifted away from the locals and the interval could not come quick enough for the Exiles.
Suddenly the passes were starting to stick for Toulouse and they were camped in the corner within a minute of the restart. A good take at the tail of the line-out by Yannick Nyanga set up the perfect platform and William Servat drove over the line to take the lead. Elissalde converted and Toulouse departed for the break bearing ominous smiles and a 15-10 lead.
Sensing the end of their European adventure, London Irish exploded into the second half, choosing to gamble all their chips out wide; it paid immediate dividends.
As so often with this side, the Exiles' second try stemmed from a beautiful line-out and the vision of Geraghty. The ball was soon in Richards's possession and he fed Tagicakibau. The wing had it all to do, but a shoddy first-up tackle from Heymans - not his first or last such tackle of the game - opened up an acre of space, and the big Samoan international was off and away for the most unlikely of scores.
Hewat failed to add the extras, and Toulouse - arch-professionals that they are - took full advantage of the miss, soon cancelling out the try with two penalties as they began to snuff out Irish ambition with tidy forward-orientated play.
Despite emerging from the break with a hospital's supply of strapping on his right thigh, it was Elissalde who nailed both shots at goal - even if he did moved the second a yard or two closer to the posts behind the back of referee Allan Lewis.
The six-point cushion came accompanied with a swagger from the Frenchmen. Their unshakable self-confidence has made many great teams crumble at the knees, but not London Irish. The Exiles pride themselves on their fitness levels, and another fine break from Ojo kept French intentions in check.
But without the requisite territory, the Exiles were left to pin their hopes on more miracle runs from deep. Failing that, long-range penalty attempts - and when an effort from Hewat dropped short it seemed that Toulouse were through to yet another final.
But Geraghty had another ideas. He did it here once before against the French, and he did it again today. A clean break out of his own half set up the Exiles for a titanic ten minutes of pressure.
One converted try would have turned the whole of Europe on its head, but Toulouse showed their muscle in defence, thwarting the locals' every move and allowing the clock to deliver the killer blow.
Man of the match: Full marks to the Jean-Baptiste Elissalde, who kicked 11 points and expertly marshalled his weakened side. But we will hand our gong to Topsy Ojo, whose lines of running were simply exquisite.
Moment of the match: Four nice tries, but we'll opt for Shane Geraghty's late line-break - it set up ten frantic minutes of pressure and raised the prospect of a serious upset.
Villian of the match: All good clean fun, but we feel obliged to rib Jean-Baptiste Elissalde for moving his tee a couple of yards closer to the poles behind the referee's back. He nailed the long-range kick by some distance, but would he have been put off by an extra couple of paces? Who knows? To the cheeky go the spoils!
The scorers:
For London Irish:
Tries: Ojo, Tagicakibau
Con: Hewat
Pen: Hewat
For Toulouse:
Tries: Ahotaeiloa, Servat
Con: Elissalde
Pens: Elissalde 3
The teams:
London Irish: 15 Peter Hewat, 14 Topsy Ojo, 13 Peter Richards, 12 Seilala Mapusua, 11 Sailosi Tagicakibau, 10 Shane Geraghty, 9 Paul Hodgson, 8 Phil Murphy, 7 Steffon Armitage, 6 Declan Danaher, 5 Bob Casey (c), 4 Nick Kennedy, 3 Faan Rautenbach, 2 David Paice, 1 Dan Murphy.
Replacements: 16 Tonga Lea'aetoa, 17 Stuart Mackie, 18 James Hudson, 19 Richard Thorpe, 20 Juan Leguizamon, 21 Nils Mordt, 22 Eoghan Hickey.
Toulouse: 15 Cédric Heymans, 14 Maxime Médard, 13 Manu Ahotaeiloa, 12 Yannick Jauzion, 11 Yves Donguy, 10 Jean-Baptiste Elissalde, 9 Bryon Kelleher, 8 Shaun Sowerby, 7 Yannick Nyanga, 6 Jean Bouilhou, 5 Patricio Albacete, 4 Fabien Pelous (c), 3 Salvatore Perugini, 2 William Servat, 1 Daan Human.
Replacements: 16 Alberto Vernet Basualdo, 17 Omar Hasan, 18 Romain Millo-Chluski, 19 Grégory Lamboley, 20 Valentin Courrent, 21 Maxime Mermoz, 22 Finau Maka.
Referee: Allan Lewis (Ireland)
Touch judges: George Clancy (Ireland), Peter Fitzgibbon (Ireland)
Television match official: Brian Fitzgerald (Ireland)
By Andy Jackson