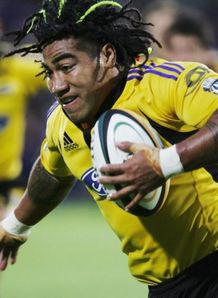 The Hurricanes got their South African tour off to the best possible start on Saturday with a bonus-point 50-22 win over the Bulls in Pretoria.
The bonus point was secured within 22 minutes as the visitors came roaring out of the blocks, but two yellow cards late in the first half halted the momentum and allowed the Bulls back into the game briefly.
The Hurricanes never really got the same momentum back until the Bulls lay down near the end, but the game was won already.
The match was over nearly as fast as it had begun. The Hurricanes scored tries with almost metronomic rhythm every five minutes, ripping their hosts' lack-lustre tackling to shreds and offloading with elegant style.
Lack-lustre is perhaps a little lenient: the Bulls missed 23 tackles in the first half, 17 in the first 20 minutes. Indeed, they only really shored it up once both Conrad Smith and Jerry Collins had been sent to the bin. Even the flicker of fight that showed in the Bulls between minutes 23 and 30 was only against a team with 13 men. Big deal! Something is rotten in the offices of Loftus.
The visitors continue to blow hot and cold in the tournament, but today was a hot day. When even a prop - John Schwalger - is confident enough to side-step through a gap, you know your team probably has a little something special buzzing through it. Some of the Hurricanes' play was brilliant.
The opening try came after five minutes, and already it had been on the cards. It was Ma'a Nonu who scored it, taking a simple switch off Jimmy Gopperth and accelerating through no less than five sets of flapping arms in exhilarating fashion to score under the posts.
Derick Hougaard replied with a penalty for offside, but on eleven minutes the visitors scored their second.
It was probably the pick of the bunch, with some delightful soft hands among forwards and half-backs alike through three phases down the short side, before Piri Weepu expertly sent Gopperth through a gap with a perfectly-timed pass, and Gopperth offloading to Chris Masoe to dash for the corner. Gopperth converted from the touchline; such a try deserved nothing less.
On seventeen minutes Nonu again was the catalyst, this time slipping through a half-gap before popping the ball up for Smith. Smith was stopped short by Zane Kirchner, but somehow carried himself and Kirchner across the line before forcing the ball to ground.
The Bulls, already with nothing to lose, began to try and open the game up prematurely, but it backfired on them horribly when Bakkies Botha tried to spin a cut-out pass to JP Nel, and Nonu picked the ball off and hared away under the posts, dreadlocks trailing in his wake. Gopperth's conversion made it a staggering 28-3, four tries to nil, after just 22 minutes. Loftus was like a tomb.
Nel administered a form of ammonia to the punch-drunk fans with a break of his own up the middle of the Hurricanes defence, and his pass was batted to ground by Smith who earned a yellow card for his efforts.
From that penalty there came a spell of heavy pressure on the Hurricanes line, which included five penalties, three driven mauls, two scrums, two balls held up over the line, one yellow card for Collins for killing the ball, one very fortunate Nonu after a nasty high tackle stopped Akona Ndungane scoring, and finally, finally, a try for Pierre Spies. Hougaard converted, but Smith, and then Collins returned, and parity was restored until half-time, with the Hurricanes going in 28-10 to the good.
It got no better for the Bulls in the second half, with Derick Hougaard's appalling restart going straight out, and by the time Gopperth had extended the Hurricanes' lead with a penalty after 51 minutes, every single head on the home team's bench was down. Three minutes later, Wikus van Heerden, supposedly a senior player in this Bulls team, gave away an astonishingly stupid penalty for playing the ball on the ground. Gopperth missed a shot at goal, but the damage was done to morale merely by giving the penalty away.
The game became as subdued as the crowd in the second half. Fourie du Preez had an exciting break down the left, but Cory Jane did excellently to cover it. Another Bulls attack could have culminated in a score, instead Kirchner's pass floated over the head of Ndungane and into touch. The Hurricanes contained rather than going for the jugular, no doubt aware that stiffer tests await, and waited for opportunities to come their way.
Replacement hooker Hikawera Elliot was driven over from a line-out as the Bulls' discipline faltered again and they conceded good territory with a number of silly offences, and Shannon Paku went over two minutes later after Jane broke brilliantly from open play.
Jane himself slipped through a couple of tackles to bring up the seventh try, and Weepu's conversion brought up the 50. Van Heerden scored an utterly cosmetic try for the Bulls five minutes from the end, as did Jaco Engels, as both teams seemed to lose the intensity in contact.
The Hurricanes now hold a handy advantage over the log-jam of teams below second place in the Super 14 table, the Bulls hold nothing handy whatsoever. There will be some soul-searching on Loftus over the next few days.
Man of the match: Well, no Bulls, obviously. Ma'a Nonu did well but had his game cut short by injury, Chris Masoe started well but faded out of it a bit, but one who didn't, and shone despite all the fancy stuff outside him, was Piri Weepu. told this week he was not playing to his full potential, he issued the perfect riposte.
Moment of the match: There are so many tries to choose from, but there was another moment which could have been and was only just kept out by a scrambling defence, when Paku went on a run down the right then cross-kicked into the middle for Smith. It brought back memories of Philippe Saint-Andre's try for France against England in 1991, a super piece of play.
Villain of the match: Nonu needs to learn about that high tackle rule still.
The scorers:
For the Bulls:
Tries: Spies, Van Heerden, Engels
Cons: Hougaard 2
Pen: Hougaard
For the Hurricanes:
Tries: Nonu 2, Masoe, Smith, Elliot, Paku, Jane
Cons: Gopperth 5, Weepu
Pen: Gopperth
Yellow cards: Smith (Hurricanes, 24, deliberate knock-on), Collins (Hurricanes, 30, slowing the ball down), Olivier (Bulls, 63, early tackle)
Bulls: 15 Zane Kirchner, 14 Akona Ndungane, 13 JP Nel, 12 Wynand Olivier, 11 Bryan Habana, 10 Derick Hougaard, 9 Fourie du Preez (c), 8 Pierre Spies, 7 Wikus van Heerden, 6 Pedrie Wannenburg, 5 Danie Rossouw, 4 Bakkies Botha, 3 Rayno Gerber, 2 Derick KuŘn, 1 Gurthr÷ Steenkamp.
Replacements: 16 Bandise Maku, 17 Werner Kruger, 18 Jaco Engels, 19 Wilhelm Steenkamp, 20 Heini Adams, 21 MornÚ Steyn, 22 Deon Stegmann.
Hurricanes: 15 Cory Jane, 14 Hosea Gear, 13 Conrad Smith, 12 Ma'a Nonu, 11 Shannon Paku, 10 Jimmy Gopperth, 9 Piri Weepu, 8 Rodney So'oialo (captain), 7 Chris Masoe, 6 Jerry Collins, 5 Jason Eaton, 4 Jeremy Thrush, 3 Tim Fairbrother, 2 Andrew Hore, 1 John Schwalger.
Replacements: 16 Hikawera Elliot, 17 Neemia Tialata, 18 Jacob Ellison, 19 Craig Clarke, 20 Scott Waldrom, 21 Alby Mathewson, 22 Tamati Ellison.
Referee: James Leckie (Australia)
Touch judges: Geoff Acton (Australia), JC Fortuin (South Africa)
Television match official: Shaun Veldsman (South Africa)